Celebrating Maha Navami 2022: Significance, Date And Important Rituals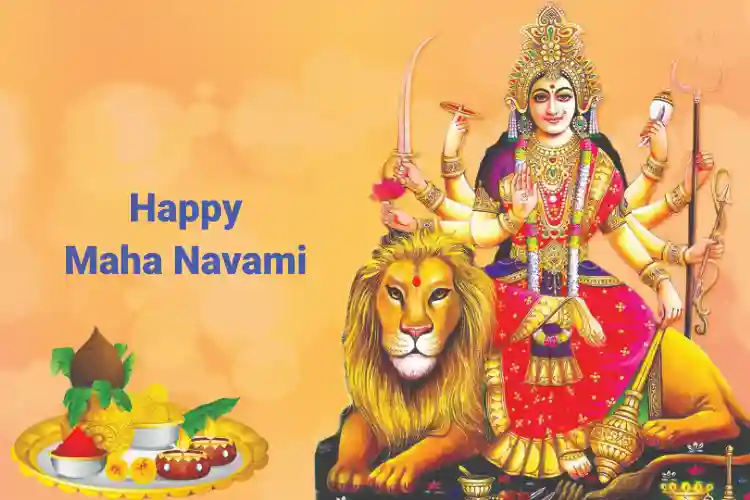 The festive season is on, and the weather is transforming rapidly as we are moving towards colder days. There is a series of back-to-back festivals planned, beginning with Navratri and ending with Dussehra, all the way up to Diwali. Maha Navami, also known as Navami, is one such important festival that marks the end of Navratri's nine days of fasting. Maha Navami is a highly spiritual festival dedicated to the goddess Durga and her nine vigorous avatars. During these nine days, a feminine incarnation of the goddess Durga is worshipped and celebrated as "Mahisasuramardini," which means "Annihilator of the Buffalo Demon Mahishasura." Durga Maa performed her last assault on the demon Mahishaura on the Ninth day of the festival and defeated him the next morning that is on Vijayadashmi.
Maha Navami Puja Date and Important Timings
Maha Navami is celebrated on the navam i.e the 9th day of the Shukla paksha in the Indian month of Ashwina. The last day of Sharad Navratri is revered as Maha Navami of Durga Navami. According to the English calendar, Maha Navami falls in the months of September or October. Here are the important muhurat timings of Durga Puja:
Maha Navami Date: Oct 04, 2022
Navami Tithi Begins – 04:37 PM on Oct 03, 2022
Navami Tithi Ends – 02:20 PM on Oct 04, 2022
Maha Navami Meaning
Maha Navami means the great ninth day. It is believed that on this day Maa Durga took the form of Mahisasur Mardini to destroy Mahishaura, the demon who was spreading terror in the universe. Goddess Durga wages war with demon Mahishasura and Maha Navami marks the final day of the battle with the demon.
Maha Navami Significance
In India, Hindus across the country celebrate this nine-day festival with great enthusiasm and gratitude, especially in parts of North and West India. Worshippers from various states gather to worship the eight aspects of the Durga Devi. The last and final day of Navratri has a special significance all across the world. According to the Hindu calendar, on the 9th day of Chaitra Navratri, Ram Navami is celebrated. Navami is a good day to start a new venture or purchase new things.
According to mythology, the battle of Durga Devi against Mahishasur, the king of demons, lasted for nine days. The ninth day is the last day before the Goddess Durga won over evil with her divine powers and wisdom. This is why Maha Navami is celebrated and since then, a special pooja has been performed in her honour.  It is celebrated as the victory of good over evil.
Perform Personalised Durga Puja with strict Vedic rituals and customs to achieve victory over your enemies.
Maha Navami Rituals
Different religions perform different rituals on the day of Maha Navami. Here is how Maha Navami is celebrated in different states and according to the different cultures:
On this auspicious day, Goddess Durga is worshipped as Saraswati – the goddess of knowledge and wisdom. In Southern states of India, Ayudha Puja is arranged on the occasion of Maha Navami and along with the Goddess, tools, musical instruments, automobiles equipment are decorated and worshipped. This day is considered very important before starting any new venture on Dussehra.
In many places of Southern India, children start going to school on this day.
In the Northern and Eastern parts of  India, Kanya Pujan is done on this day. As per this ritual, nine young virgin girls are worshipped as nine forms of Goddess Durga. Their feet are washed, kumkum and sandalwood paste is applied over them. Then they are offered new clothes to wear and are worshipped with mantras and incense sticks. Special traditional food is cooked for them and they are offered gifts as tokens of respect by the worshippers.
In eastern India, Durga Puja's third day is celebrated as Maha Navami. Devotees wake up early in the morning, take the holy bath and do Shodashopachara puja. On this day Devi Durga is worshipped as Mahishasuramardini, meaning the Goddess who killed Mahishasur. As per the beliefs, on this day the demon was finally annihilated.
Navami homa is also done at the end of Navami puja. It is a special ritual that is done on this day and is equivalent to puja done on all nine days of the Navratri festival.
In Andhra Pradesh, Batthukamma festival is celebrated with zeal and devotion on the day of Navami. The name is inspired by a beautiful flower. This divine puja is done by Hindu women and flowers are arranged and decorated in a typical seven-layer form in a conical shape and is offered to Goddess Gauri – avatar of Durga. This festival celebrates the glory and beauty of womanhood. Women take holy baths and wear new clothes and jewellery on this day.
Powerful Durga Mantra
Astrologically, Maha Navami is of great significance. For natives who are facing difficulties due to the malefic effects of planets or evil energies, worshipping Goddess Durga on Durga Navami can prove beneficial for them. You get the divine blessings of Goddess Durga which protect you from all the evil energies and reduce the malefic impacts of planets. It helps to attract more prosperity and happiness into your life. Here's is the most powerful Durga Stotra for Maha Navami:
ayi giri nandini, nandita medini, visva vinodini, nandinute ||
giri vara vindhya shirodhini vasini vishnuvilaasini jisnunute ||
bhagavati he shitikaNthakutumbini bhoorikutumbini bhoorikrute ||
Chant the above stotra to gain the divine blessings of Goddess Durga and invite health, wealth, and prosperity into your life. Also, chanting 700 verses from Durga Saptashati and ahuti on the day of Maha Navami brings blessings of Devi Durga and creates an aura around you to protect you from all the evil energies.
Happy Maha Navami
Maha Navami is the auspicious day of celebrating the Nine avatars of Goddess Durga. With the blessings of Maa Durga, may you achieve success in all your endeavours.
Wishing you a very Happy Maha Navami to you and your family.
Attract Good Luck With Your Personalised Horoscope On The Auspicious Day Of Maha Navami! – Talk To Expert Astrologer Now!
With Ganesha's Grace,
The GaneshaSpeaks.com Team
Astrologers trained by Shri Bejan Daruwalla.