Yash Gowda Birthday forecast: Yash's entry in Bollywood!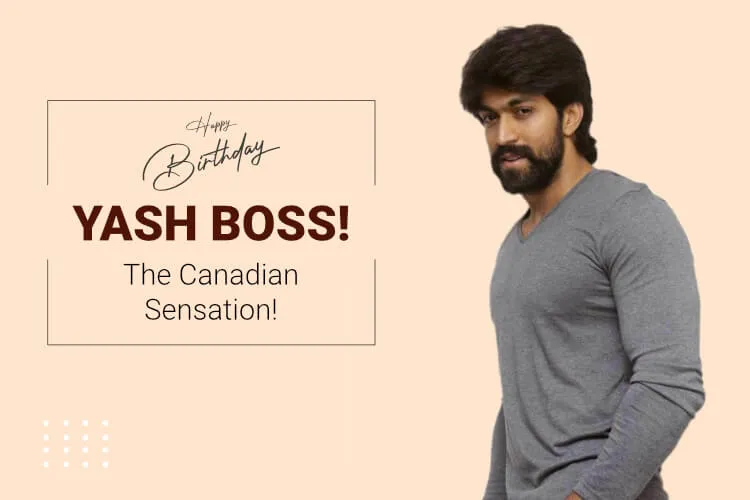 A high-prolific actor and rocking sandalwood of the Kannada film industry has earned her name and fame by making his brilliant presence felt in several Kannada movies. And a big thanks to the super success of his last venture KFG chapter-1, the film that created and broke new ground in the Kannada film industry by record-breaking box office collection that led Yash to earn name and fame overnight. The sequel of the work is right now under production with Bollywood actor Sanjay Dutt.
On Yash's birthday, let's take a look at some lesser-known facts about our KFG Star. Yash's birth name is Naveen Kumar Gowda and born to his father Arun Kumar, who worked as a driver in KSRTC (Transport service). Before venturing into films, he had to prove himself by acting in teleserials in Kannada. He enacted many supporting roles in director Shashank's Moggina Manasu for which he won the best supporting actor award. Over the years due to the auspicious planetary support and auspicious yoga in Yash Gowda's horoscope, the actor did many hit films that made him one of the highest-paid stars in Kannada. Yash has donned several hats in sandalwood to prove his worthiness in the film industry.
Now Yash has become a household name across the globe, so on Yash Gowda's birthday let's find out what new and exciting projects have been waiting for him in the future as per his Birth Chart.
Do you know what your Janampatri unveils about you? Might be not, so now is the time, uncover the life secrets it has for you in the coming years.
---
About Yash
Birth Date: 8 January 1986
Birth Place: BhuvanaHalli, Hassan, Karnataka
Birth Time: Unknown
Yash Gowda Kundali
---
Yash Gowda Birthday Prediction
This cool superstar actor is the native of Capricorn Zodiac Sign, so being ambitious, persistent, and disciplined comes naturally to Naveen Kumar Gowda. Yash began his career with the movie Moggina Manasu in 2008. After that, he has appeared in many famous movies as a lead actor, like Rajadhani, Mr and Mrs Ramachari, and Googly. But he came into the public hawk eye view from his last hit movie KFG(Chapter One), through which he earned the fame that he is enjoying. And the second series, The KFG (Chapter Two) is likely to release on 14th January 2021, and his fans are looking eager to see him once again in the theatre. Yash is one of the bankable and high-profile actors of the Kannada industry and because of his popularity and content-based role, he will be able to achieve the new height of his professional life.
Big conjunction of Rahu and Mars, eclipse, and retrograde, 2021 is full of opportunities and challenges, thus, don't let these big energies slip by you! Get your personalized 2023 Yearly Report now!
---
The series of decent Months! Predicts Yash Gowda Birth Horoscope
The new year is just around the corner, and his fans are eagerly waiting for the arrival of vaccination so that they can come out of the new normal. And again, backtrack their journey to the theatre to watch his stardom. They have to wait a little longer as the upcoming three months of 2021 is likely to be decent for Yash. But after June, he is likely to get an offer of new movies.
---
A Journey to Bollywood in 2021! What do stars have in store for Yash?
Currently, Yash is enjoying the success of his last released venture film KFG 1. And the second chapter of the same series is slated to release in Jan 2021. Since Yash is becoming a bankable star, in 2021, he is likely to get offered some movies from Bollywood also. After September 2021, there is a possibility that he may enter Bollywood by doing the remake of his south films, which may earn him more fame.
Unveil your journey in 2023 with 2023 Horoscope Report!
---
Yash, A Canadian Sensation!
Yash now has become renowned and a bankable star of Kannada, and thus in the upcoming year, he will be more mindful in choosing the script before signing the movie and might begin the shoot after August. The upcoming year might be successful for him, and he also would be recognized by his fans. In the year 2021, the actor might also enjoy his love life by taking a break from work.
Is your sign Luckiest in 2023? Check Now!
---
Yash fitness might not be in shape reveals Yash Horoscope Prediction!
In 2021, the actor might come across some mental issues between March and September. In the year to come, he will be more health-conscious, due to which he might not have any significant health-related issues. Yes, several ups and down may cross his way due to the mental stress and habit of rash decision making.
---
---
---
Get 100% Cashback On First Consultation