Will the relationship of Brad Pitt and Angelina Jolie sustain the test of time?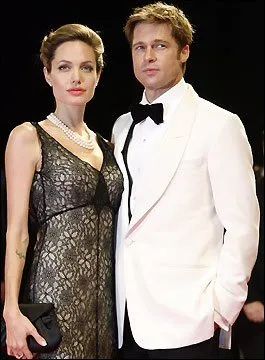 American actor, film producer and social activist, William Bradley "Brad" Pitt, was born on December 18, 1963. Pitt won the Golden Globe Award for the 1995 film 'Twelve Monkeys'. His marriage with Jennifer Aniston proved ephemeral. The gossip machine was oiled with the rumors of Brad Pitt's affair with Angelina Jolie, an American film actress and a Goodwill Ambassador for the UN Refugee Agency. It was not uncommon when both of them denied of having any relationship. They proved themselves wrong when Angelina Jolie gave birth to Brad Pitt's child in May 2006.
The grapevine whispers that they are planning to tie nuptial bonds. With a record of unsuccessful relationships, that they both hold, the chances of a enduring relationship, are lean. Ganesha uses his astrological cognizance to know whether the Jolie-Pitt relationship will be enduring or will it vanish in thin air.
---
Brad Pitt's birth chart
Get Your Hand-Written Janampatri By Our Experts.
---
Angelina Jolie's birth chart
Will you have affluence in your future life? Access Janampatri and get the answer.
Synastry Brad Pitt's Sun sign is Sagittarius and Angelina Jolie is Gemini and Venus and Sun opposite Ascendants. Such aspects give a great deal of attraction. Because Brad's Mercury is opposite to Angelina's Saturn, communication between the two is often constrained and frustrating, especially for Brad. With her Mars conjunct his Jupiter, Angelina and Brad spark each other's ambitions and creativity. He gives her confidence and encouragement to charge ahead.
Angelina's Sun square Brad's Uranus guarantees that their relationship is exciting and unpredictable. However, it tends to be explosive too. There is a possibility that they will come together suddenly and break up just as fast. So they have to be careful here.
One of the couple's biggest challenges has to do with Angelina's Mars square Brad's Mars, causing a great deal of feisty energy that can quickly get out of control.
Through their relationship, there is a deepening of their faith. Angelina's Venus opposite Brad's Venus ensures that they appreciate and see the beauty in each other.
Current planetary influences
Brad Pitt is currently running Jupiter Mahadasha and Saturn Bhukti which will end on May 12, 2008. Then he will be under the influence of Mercury Bhukti. Mercury the Lord of 11th house is placed with the Lord of 9th house Moon and the transiting Jupiter is moving over the Mercury-Moon conjunction.
Angelina is currently under the influence of Venus Mahadasha and Jupiter Bhukti which will end on July 23 this year. Then she will be under the influence of Saturn Bhukti. The transiting Jupiter would be aspecting the signifier of love Venus in the month of December this year.
What next?
Jolie and Pitt never publicly commented on the nature of their relationship and speculations continued throughout the year. Considering the planetary influences they might think seriously about their relationship and marriage cannot be ruled out during August and December this year. But the period between October 2009 and mid January 2010 could be very crucial for their relationship and separation cannot be ruled out during that phase.
To Get Your Personalized Solutions, Talk To An Astrologer Now!
With Ganesha's Grace,
Tanmay K.Thakar,
www.GaneshaSpeaks.com
---
---
Get 100% Cashback On First Consultation