Slated for release on 26th March, 'Well Done Abba', a political satire, has already won critical acclaim at film festivals around the world. Story of the Shyam Benegal film is an adaptation from 'Still Waters', a screenplay treatment by Jayant Kripalani and two short stories,'Narsaiyyan Ki Bavdi' & 'Phulwa Ka Pul'. The film focuses on the oppressed section of the society. Benegal, who believes in not being sombre every time he deals with a serious issue, has portrayed a serious matter taking aid of dark humour. With Shyam Benegal as the director and Boman Irani and Minisha Lamba playing pivotal roles, the film is expected to attract the intellectuals.

Ganesha, using Vedic astrology, finds out if the film will do well at Box office.

Well Done Abba
Release Time chart
26th March 2010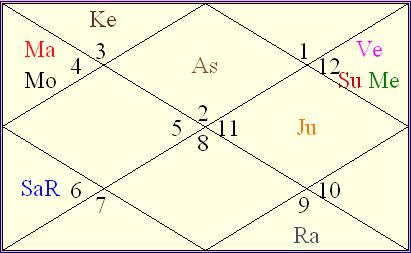 Astrological observations
Well Done Abba is releasing with Taurus Ascendant and Lord of Ascendant Venus is exalted. It is placed with debilitated Mercury, creating Neech Bhang
Retrograde Saturn is placed in the fifth House of performance
Jupiter is placed in the 10th House
12th House Lord Mars is with Moon in Cancer, again a Neech Bhang
Rahu is placed in the 8th House of difficulties

Astrological Predictions
Ganesha notes that as retrograde Saturn is aspecting Ascendant Lord Saturn, although the film has the scope of a good start, it may have very average or below average opening at the box office.
With the word of mouth, this film may do well till end of the first week but as soon as transiting Moon conjuncts Rahu in the second week, film's business may deteriorate a bit.
From the point of view of performance and dialogues, this film would be worth watching.
Ganesha feels that despite good directorial effort that's signified by Jupiter's strong position in the 10th House, the film may end up generating average business at the box office as retrograde Saturn also aspects the 2nd House of finances with the 10th aspect.
Exalted Venus and powerful Moon indicate that all the creative areas of this film may have been handled well, but it may unfortunately not attract the masses.

In short, 'Well Done Abba' may do average business at the box office, feels Ganesha.

Ganesha's Grace,
The GaneshaSpeaks Team