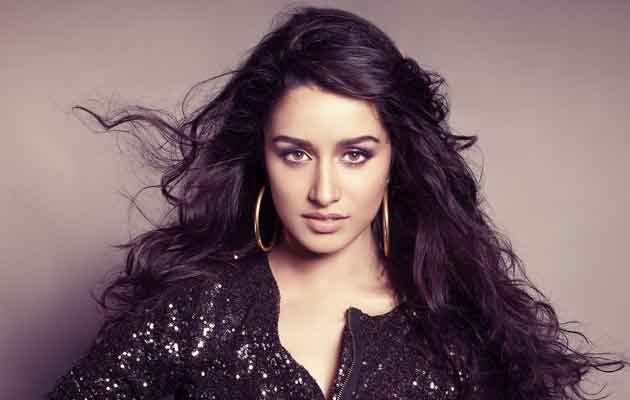 Petite and pretty Bollywood actress Shraddha Kapoor, daughter to yesteryears' actor Shakti Kapoor, made her Hindi film debut with 2010 drama Teen Patti. For a film that starred biggies like Amitabh Bachchan and Ben Kingsley, Teen Patti failed to make any mark, but the Kapoor girl was noticed, and was also nominated for the Filmfare Best Female Debut Award. The radiant young actress was soon roped in for advertisement campaigns and movies, including a 3-movie contract with Yash Raj Banner, which she later ended (after doing the movie Luv ka the end) to do her most successful project till date – Vishesh films' Aashiqui 2.

Until recently,Shradda was known to be in a romantic relationship with her Aashiqui 2 co-star – the dashing Aditya Roy Kapoor. Lately, though, there have been news snippets doing rounds that the sweet duo have broken up. Well, the grapevine is rife with the rumours, and industry insiders have many stories to say. But, the couple (or should we say the ex-couple) have chosen to remain quiet on the matter. Here, Ganesha takes a look at Shraddha's Solar Horoscope, and also that of Aditya Roy Kapoor to predict the way ahead for this relationship.

Meanwhile, Shraddha has continued to make her mark in the industry. She has featured in commercially successful Ek Villian and critically acclaimed Haider, securing a place of pride already amongst the lovely herd of contemporary Bollywood actresses. Shraddha is now all set to appear in a meaty role opposite Varun Dhawan in soon-to-be-released ABCD 2, which currently happens to be talk of the town. How will this young lady's filmy fortune shape up in the times to come? Ganesha tries to find that too from her Solar Horoscope. Read on!


Shraddha Kapoor
Surya Kundli (Solar Horoscope/ Chart)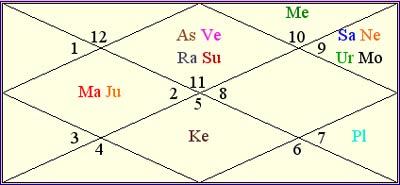 Astrological Observations
The transiting Jupiter will be directly aspecting the Sun, Rahu and Venus in Shraddha's chart, post July 2015. At this time, Jupiter's 5th aspect will be on Shraddha's Natal Saturn.
The transiting Saturn, currently passing through Scorpio, is in a Square aspect with her Natal Sun, Rahu and Venus, and it has been in an Opposition aspect to her Natal Mars and Jupiter.
From January 2016 onwards, the young actress will be under the influence of the Rahu Ketu's half return phase.
Astrological Predictions
Ganesha feels that Shraddha's time and fortune will improve a bit, post July 2015, when the transiting Jupiter will aspect her Natal Venus. She may bag some new and more interesting projects, in the period between July 2015 and January 2016.
After January 2016, however, once her Rahu Ketu half return phase begins, her struggle to get good films and roles may intensify. She will have to guard against disillusion at this time.
As it is, the transiting Saturn will be maintaining its Square aspect with her Natal Sun till January 2017, which generally happens to be a time of considerable struggle in anyone's life. However, the benefit of such Saturn transit is that it makes one work harder than ever, says Ganesha!
Thus, Ganesha feels that Shraddha will be working harder than ever, as an actress, in the days to come, and that will help her rise and shine—as Saturn is known to benefit anyone who puts in his/ her best efforts, in the most disciplined manner.
As Shraddha's Venus is Natally afflicted by Rahu, she is also likely to work behind the camera, but some time in distant future.
The Relationship with Aditya Roy Kapoor
Aditya Roy Kapoor
Surya Kundli (Solar Horoscope/ Chart)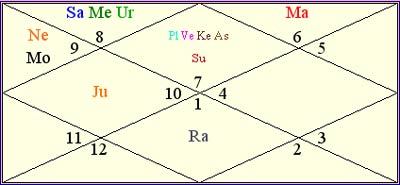 On reading both the Charts, from this perspective, Ganesha observes that Aditya's Venus (the signifier of love and relationships) is in Libra Sign, while it is in Aquarius in Shraddha's Chart.
Astrologically, this is a good configuration, as far as love relationships are concerned.
However, it is to be noted that Shraddha's Natal Venus is afflicted by Rahu, while Aditya's Natal Venus is afflicted by Ketu. This factor indicates instability in love relationship/s.
On matching the Charts, Ganesha notes that Aditya's debilitated Jupiter falls on Shraddha's Mercury in Capricorn. But, besides this, there are no other strong contact point found in both the Charts.
In view of Astrological points mentioned above, thus, Ganesha strongly feels that there are lesser probabilities of this couple having a very steady and smooth relationship path.
Fate of ABCD 2
The film ABCD 2 will be releasing with Venus, Moon and exalted Jupiter conjunction in the Zodiac Sign Cancer.
Gaj Kesri Yoga is formed in the film's Release Time Chart. \
Thus, Ganesha feels that this movie is going to have a pretty good start at the box office, and will also do well, at least during the first week.
Mars - the 10th House Lord of ABCD 2's Release Time Chart is in the 12th House with the 2nd House Lord - Sun, so it is likely that the film's overseas business will also be good.
Overall, thus, Ganesha feels that the film ABCD 2 is likely to do well at the box office. However, Shraddha's role or performance will not be noticed much. Still, it will be counted as one of her successful movies.

Ganesha wishes well to Shraddha Kapoor.

With Ganesha's Grace,
Bhavesh.N.Pattani
The GaneshaSpeaks Team