A dedicated brother keen on getting his elder brother married, and then a twist in the kahani as he himself falls in love with the same girl who happens to be his brother's bride-to-be. The rest of the story is for the audience to guess. How predictable can 'Mere Brother Ki Dulhan' get! But, what probably may draw viewers to the cinema halls is the incredible chemistry betweens Imran Khan and Katrina Kaif. After the huge success of 'Delhi Belly' for Imran and 'Zindagi Na Milegi Dobara' for Katrina, both the actors are on a high, and it would be a delight for the cinema-goers to watch them together. The film also stars Ali Zafar and John Abraham (in a cameo). Although he has earlier worked as an assistant director with Yash Raj Films in 'Jhoom Barabar Jhoom', 'New York' and 'Badmaash Company', 'Mere Brother Ki Dulhan' marks the debut of Ali Abbas Zafar, as a writer and as a director.

The film is slated to release on 9th September, 2011. Will 'Mere Brother Ki Dulhan' be successful at the box office? Ganesha, with the help of Vedic astrology, foretells the fate of the film.

Mere Brother Ki Dulhan
Release time chart for India's major territory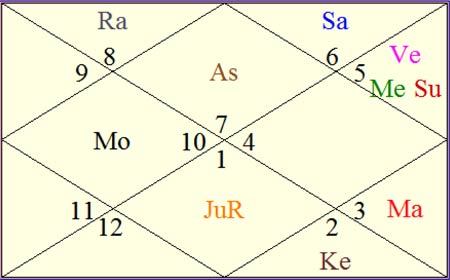 Astrological Observations


Libra Ascendant and Lord of the Ascendant, Venus is in the 11th House of gains with Mercury and Swagruhi Sun.
Saturn the Yoga Karaka planet is placed in the 12th House.
Rahu is placed in the 2nd House of finances.
Karma Bhuvan Lord, Moon is in Capricorn, but gives direct aspect to its own sign placed in the Karma Bhuvan.
Retrograde Jupiter in the 7th House of public image.

Astrological Predictions


Ganesha feels that 'Mere Brother Ki Dulhan' may get rave reviews at the box office.
After the release, first weekend and first two weeks' business is likely to be excellent in India. However, overseas business would be much better, feels Ganesha.
Performances will be satisfactory.
Mercury with Sun and Venus in Leo indicates that the script would be good, dialogues too would be entertaining and the screenplay would be good enough to hold audiences' attention.
Some dialogues/sequences may either create controversies or may get a red signal from the censor board, feels Ganesha.
According to the astro-analysis of the release time chart, the script is not 'blockbuster material'. However, Ganesha still feels that the film is likely to do great business at the box office.

Ganesha's grace,
The GaneshaSpeaks Team