Problem Kya Hai? Kartik Aaryan Birthday Prediction in Rajjo Style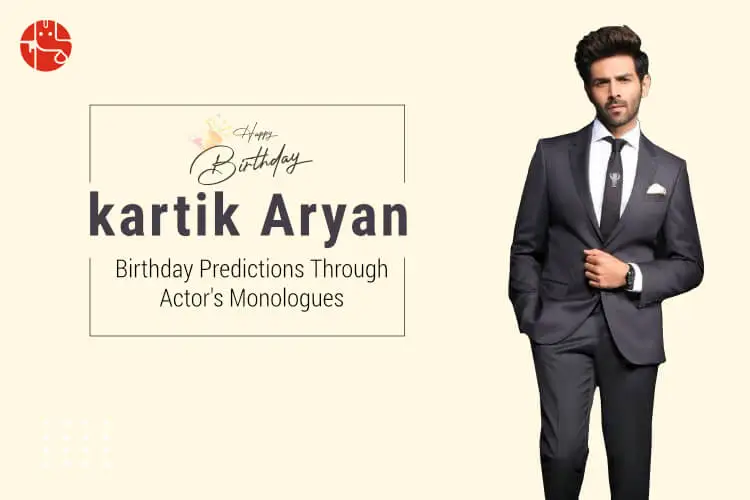 Yes, he has been around for quite a while now, and for many, Kartik Aaryan is not a new name at all. But for all those years, he was Rajat for the cult following that Pyar ka Punchnama had got. However, in the last two years, he has grown to become a household name, thanks to Sonu Ke Titu Ki Sweety, which helped him reach the wider audience. With films like Luka Chuppi opposite Kriti Sanon and Love Aaj Kal with Sara Ali Khan, he is enjoying the best time of his acting career.
The times ahead look just as promising. Bhul Bhulaiya 2 is one of the most awaited sequels around, and the fans cannot wait to see how he would fit in the role, which replaces Akshay Kumar! As he celebrates his 30th birthday on 22nd November, let's find out what 2021 has in store for him, in his own signature style. You guessed it right: the monologues. Long, single take speeches of Kartik Aaryan, be it for Pyaar ka Punchnama, or to fight Corona!
Find out what astrology has to say about your 2023 with a Personalised 2023 Highlights Report, handwritten by our expert astrologers.
---
Kartik Aaryan Birth Chart
Date of Birth: 22 November 1990
Time of Birth: Not Known
Place of Birth: Gwalior, Madhya Pradesh, India
Since the exact time of birth is not available, we will be analysing the Surya Kundli of Kartik Aaryan. Though the time of birth is essential for accurate prediction, a Surya Kundli can also reveal a lot about one's future.
---
Astrological Observations
In Planets Ka Influence na, Koi Rok Nahi Sakta, he would say, looking at the birth chart. Born on 22nd November, Kartik Aaryan's Zodiac Sign is Scorpio. In his birth chart, transiting Jupiter in Capricorn will be passing over planets positioned in the 3rd house of the chart. Also, Saturn in Capricorn will be moving over Rahu placed in the 3rd house of the chart. The transit of Rahu in Taurus will aspect Sun, Venus and Mercury in the Ascendant. Rajjo is under the influence of Major period of the Rahu and sub-period of Saturn, which will end on 5th March 2022. How will all this translate to his personal and professional life? Let's find out:
---
Bhool Bhulaiyaa 2 & Dostana 2: A Year of Sequels
In 2021, we are likely to see him in two sequels of two successful comedies. Now, the genre is his forte, but how will he perform in the place of the original actors for these movies need to be found out.
Behind the success of Kartik Aryan, there are stars and their placements …true… but koi nai batata how these planets play a role in turning his life. Luka Chuppi star is under the effect of Rahu Mahadasha which is placed in the 3rd house of his birth-chart. Also, Rahu aspects natal Jupiter in the 9th house. Moreover, Jupiter is placed in its exalted sign, Cancer. At the time of the release of Movie "Dostana 2" in December or post-December 2020, and later in August 2021, the release of "Bhool Bhulaiya -2", he will be under the influence of Rahu and Jupiter.
These may give him brilliant success in both the upcoming comedy movies. Under their power, he is likely to be at the best of his talent. His hard work and dedication may touch the audience. Finally, Ab Pata Chala Yeh planets and their placements play a magnificent role in transforming our career. Do you want to know how planets and their transits may help you transform your career in 2021? Find out now with the 2023 Career Report, written exclusively for you by our adept astrologers.
---
Remaking the Success: One Movie At a Time
We have already seen him in the spiritual remake/successor of Love Aaj Kal. Pati Patni Aur Woh was also a remake. Kartik Aaryan is now already working on the remake of a Telugu movie Ala Vaikunthapuramaloo. Not only the man for the sequels, but he is also a man of remakes.
Har ladke ki Kundli mein ek ascendant hota hai jo planetary placements, ascendant lord, aspects of other planets and their lord ke bina will not show complete impact. In Kartik's horoscope, the lord of 11th house, Mercury is positioned in the ascendant. Mercury aspects Ascendant Lord Mars from the 7th house of his Surya Kundali. Mercury stands for the kind of repetition of certain incidences, positive things or occasions in professional or personal life. Kartik loves to work in the remake of successful movies but asal baat yeh hai Mercury in ascendant would help him to have more than one chance to act in remakes of yesteryears. Not only would he act in these movies, but his performance is likely to be appreciated and applauded by his fans and other audience.
---
Suspense on the Success: A New Genre
After doing light-hearted comedy and romantic roles, it is time to turn a new page. Kartik Aaryan has signed a movie with Neerja director Ram Madhwani, and the movie is supposed to be a thriller. Now, that is something he has never tried before!
Kartik's ascendant sign is Scorpio and the lord of ascendant aspects the planets placed in it, iska matlab hi hota hai appearance in Forbes Indian Celebrities 100 list of 2019 at the 67th position. This also shows that he is competent enough to do the kind of role or acting, which would need thrills and combat actions in the movie. Any contemporary who may challenge him…majal hai joh jeet paye… He would definitely perform well in a new and serious genre by doing action scenes, stunts, etc. in the movies.
Which planets are placed in your ascendant? How do they affect your life? Find out today with a Free Janampatri Analysis!
---
Return to His Old PKP Team?
It would be criminal to talk about Kartik Aaryan's monologues and not remember the man who directed them, or the woman they were dedicated to! Luv Ranjan and Nusrat Bharucha, the names that started their journey with Kartik Aaryan at the same time. Is there anything cooking among this old team? Are we likely to see them repeat their success once again?
After the success of Pyaar ka Punchnama and Sonu Ke Titu Ki Sweety's success, usse toh celebrate karna chahiye. This team may get one more chance to celebrate as there are possibilities of them working together in the years to come ahead. Placements of stars and planetary transits are in favour of Kartik, and he would be lucky enough to sign such contracts for films post-February, 2022. So another blockbuster is certain because this is exactly what this team wants…
Enhance your chances of getting success in your life by worshipping a Ganesha Yantra
---
A Man with the Brands
One of the youngest actors in the entertainment industry to have more than 12 brand endorsements to his names, he is certainly a face that companies are looking forward to. …Koi Tension Nahi… the list of his brand endorsements will grow. Har Bollywood star ka siyapa hai ki they want big numbers at the box-office and would like to endorse top brands. Aisa siyapa kabhi nahi hoga for Kartik Aaryan as he would get a better offer from the leading brands at desired fees. Also, he would raise his contractual prices for new offers of movies that may be offered by Bollywood in the years to come, especially in the year 2021.
Password batao! The secret behind these upcoming opportunities! The Sun, lord of the 10th house is posited in the Ascendant with Yogakaraka planets, friendly signs of the lord of Ascendant aspect them from the 7th house. Besides this, the lord of the 2nd house, Jupiter aspects the great combinations of Sun, Venus, and Mercury in the Ascendant.
Do you want to know which planets combine to create favourable yogas for you in your birth chart? A personalised Janampatri handwritten by our expert astrologers can help you know benefic positioning of planets in your birth chart.
---
Happy Birthday, Kartik Aaryan!
All his rants and monologues included, there is so much to look forward to when it comes to Kartik Aaryan's career. All of us are collectively awaiting a year of several releases for him. On his birthday, we wish him the best of luck for a career that only seems to grow bigger with each passing year. Happy Birthday!
To Get Your Personalized Solutions, Talk to an Astrologer Now, First Consultation with 100%
With Ganesha's Grace,
GaneshaSpeaks.com
---
---
Get 100% Cashback On First Consultation