Is Bruce's marriage with Emma Heming 'unbreakable'?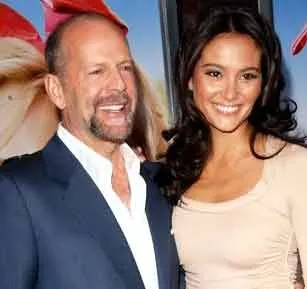 Hollywood heartthrob and popular actor of the famous Die Hard series of films, Bruce Willis, seems to have his way with women. Early in his career, he managed to woo sultry and sexy actor Demi Moore, with whom he had a 13-year marriage and three daughters.
And now, at age 54, Bruce recently walked down the aisle and tied the knot with 30-year-old sizzling Victoria's Secret model Emma Heming. Talk about being twice lucky!
The March 21 wedding, which was attended by Bruce's ex-wife Demi and her toy boy hubby Ashton Kutcher, was a culmination of the couple's romance that began in January 2008. At that time, The Sixth Sense star was also seeing another model Tamara Feldman.
Bruce's new bride Emma, on the other hand, is not new to the idea of dating men twice her age. Before she fell for the Pulp Fiction actor, Emma had an affair with Flavio Briatore, Italian businessman and managing director of the Renault Formula One team.
How strong will be the union of two beautiful people seasoned in the art of dating? Will their marriage survive the choppy waters of Hollywood glamour and showbiz? With the help of astrological tools, Ganesha predicts the fate of Bruce's second marriage with hottie Emma.
---
Bruce Willis
Date of birth: 19th March, 1955
Time of birth: 18 hours 32 minutes
Place of birth: Idar-Oberstein, Germany
Bruce Willis' Horoscope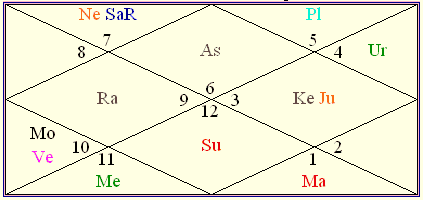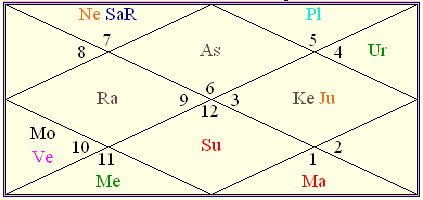 Get Your Hand-Written Janampatri By Our Experts.
---
Emma Heming
Date of birth: 18th June, 1978
Time of birth: Unknown
Place of birth: Valletta (Malta)
Emma Heming's Surya Kundli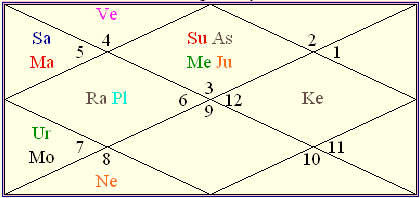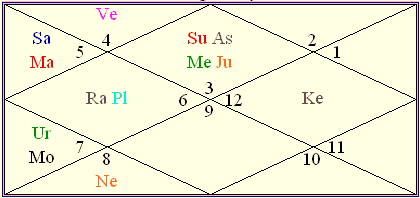 ---
Contact points in Bruce and Emma's charts
Ganesha observes that Venus, the Significator of love, is in Capricorn in Bruce's chart where as in Emma's chart, Venus is in Cancer. As both signs are opposite to each other, attraction is bound to happen. The same configuration is found in Brad Pitt and Angelina's chart. Brad has Venus in Capricorn and Angelina has Venus in Cancer, the main reason for their mutual attraction.
In Bruce's chart, Lord of 7th House, Jupiter, is in dual sign Gemini, with Ketu in the 10th House, which means the Unbreakable star may marry more than once; this is mainly because of the estrangement denoted by Ketu's presence with the 7th House's Lord.
Sun in the 7th House of Bruce's natal chart also indicates separation in relationships. Now, because his 7th House's Lord, Jupiter, is in the same sign Gemini in Emma's chart, their relationship started working out well. Tying the knot may seem to be a wise decision on their part, but Gemini doesn't offer stability, hence, confusion and dilemma may crop up.
---
Do Eros and Psyche favour Bruce and Emma?
As per Western Astrology System, Eros and Psyche indicate strength of a relationship. Eros is widely known as Cupid. In Indian mythology, this Eros-Psyche bond has its counterpart in Kaamdev and Rati's relationship.
Ganesha observes that as per Western Tropical Planetary positions, Eros is at 29 degree of Pisces in Bruce Willis' chart and Psyche is at Aries 3 degree. In Emma Heming's chart, Eros is at 24 degree of Gemini and Psyche is at 10 degree of Scorpio. There is Square aspect between Eros and Psyche in the inconjunct aspect. This isn't a very potent configuration as per Ganesha's view as it doesn't promise longevity of their relationship.
---
Trouble ahead for the newly-weds
While both Bruce and Emma may spend a happy time together for a year or so, Ganesha predicts marital trouble may creep in during the first quarter of 2010, when Ketu transits over Jupiter in Bruce's chart. This is also a period of Ketu Return for the actor, so he might want to do away with things that he doesn't desire any more. If the couple survives one and a half years' time starting November 2009, their marriage may succeed.
To summarise, Ganesha feels that Bruce and Emma's relationship may pass through a rough patch during the one and a half years from November 2009. In that, first quarter of 2010 is quite critical for the couple and if they are able to withstand differences till June 2011, there shouldn't be any problem, but Ganesha feels that some tornado will shake up their newly-acquired idyllic marital status.
Good luck and may Lord Ganesha bless the couple.
To Get Your Personalized Solutions, Talk To An Astrologer Now!  
With Ganesha's Grace,
Dharmeshh Joshi,
www.GaneshaSpeaks.com
---
---
Get 100% Cashback On First Consultation