Junior B to make a grand comeback with his better half Aishwarya Rai reveals Horoscope 2021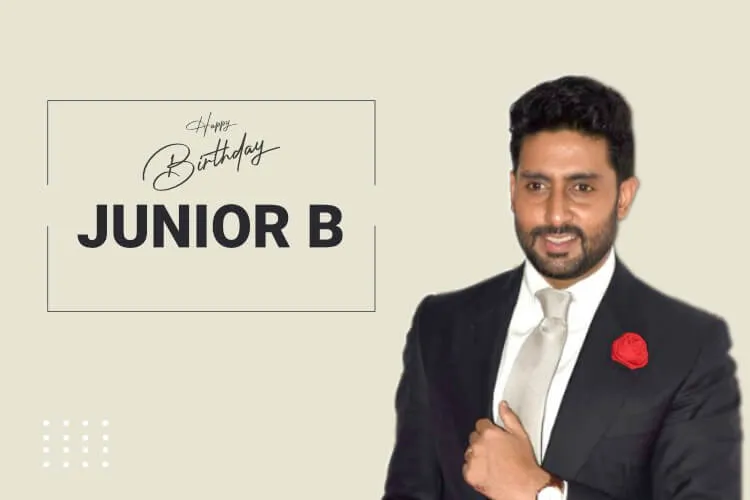 Our own 'Guru Bhai,' Abhishek Bachchan was born on February 5, 1976, to Bollywood superstars, Jaya Bachchan and Amitabh Bachchan. In the wake of finishing school, he went to extend his education at Aiglon College. However, the Indian film actor also studied Business in the United States, adjusted his perspective, and chose to attempt his luck in Bollywood. Beginning in 2000 with 'Refugee', he proceeded to star in numerous different movies. He has additionally been a playback vocalist in 'Bluffmaster', and 'Dhoom'.
Achievement evaded Abhishek from the outset, yet the general population began valuing him, particularly for his job in 'Yuva', 'Bunty Aur Babli', 'Sarkar', 'Kabhi Alvida Na Kehna' for which he has won a sum of six awards. He has also been the beneficiary of 'Yash Bharatiya Samman' from the Government of Uttar Pradesh.
To the extent of his own love life, he was engaged to Bollywood hottie, Karishma Kapoor, however, she broke the commitment inexplicably. At that point he met Aishwarya Rai, his co-star in a few motion pictures, they locked in and got hitched. After working with his better half Aishwariya Rai in eight movies, will they make a comeback with another film in the future? What the star has in store for Abhishek in Bollywood?
Check out what Salman Khan's stars tell about his success in 2021.
---
About Abhishek Bachchan
Date of Birth: February 5, 1976
Birth Time: 12:00 pm
Place of Birth: Mumbai (Maharashtra)
Abhishek Bachchan's Kundli
Abhisekh and Aishwarya worked in 'Kuch naa Kaho', 'Bunty Aur Babli', 'Dhai Akshar Prem Ke', 'Dhoom 2', 'Master', 'Umrao Jaan', 'Sarkar Raaj', and 'Ravaan'. After the average success of Ludo on OTT platform, now, hopefully, we may see Abhisekh's acting profession back in the groove again with his forthcoming film, 'Gulab Jamun'. Let's see if Abhishek can defeat this terrible period of his acting career or not, by working with his better half none other than Aishwarya Rai Bachchan. The forthcoming film will be a Bollywood Drama featuring Abhisekh and Aishwarya in lead roles, releasing on December 4, 2021.
How will your career shape? Unveil from Free Janampatri Now!
---
Abhisekh Bachchan's Astrology Chart Predictions for 2021
Now following their birth chart, let us check whether this husband-wife film will be a hit or not?
Aishwarya and Abhisekh Bachchan's film will probably make an effective run. In any case, Junior Bachchan working with his better half may not help the entertainer inspire his acting career as he is probably going to struggle more in Bollywood. Following the arrival of 'Gulab Jamun', Abhisekh may get a proposal to work in another film, web series, or may also host or judge in a TV show. However, none of these will perform well. The movie 'Gulab Jamun' may bring a change to Aishwarya's life, and we may see the shine all over. So, this film may not be a 'super hit' much the same as Abhisekh's past motion pictures, however, it will be a hit somehow.
Also, from that point, we can see that Bol Bachchan may find another path of struggle. The planet Sun is aspected by Saturn, so it will help Junior B accomplish some regard and popularity to his name.
---
New beginnings and New Roles for Abhishek Bachchan in 2021
Southern India's production company – 'Lyca creation' is happy to work with Junior Bachchan in a lead role. The film is briefly named '65 Carrot'. The last name of this forthcoming film is still in question. If we accept, the south course is viewed as fortunate for Abhisekh because planet Mars is in the Taurus sign and the natural significator of the eighth house occupied by Scorpio sign. According to Vedic Astrology, the ruler of Scorpio is Mars which is in Taurus. In this way, with the assistance of Taurus, the entertainer gets more strength from the south bearing.
This film might be one of the more fruitful motion pictures of Abhisekh Bachchan. Following the arrival of his film, he may get famous as an action hero. Besides, on the off chance that he keeps playing a similar character in each movie, his movies may make a fruitful run.
---
New beginnings and New Roles for Abhishek Bachchan in 2021
In the film 'Bob Biswas,' Abhisekh will be seen in a new look, and now it is the talk of the town. In Bob Biswas, producer Sujoy Ghosh portrays a comparative character dependent on his past film, Kahaani of 2012. In Kahaani, Saswata Chatterjee's character of 'Sway Biswas' will be played by Abhisekh Bachchan in this upcoming film. The year 2021 will be an excellent year for the Bluffmaster of Bollywood. He may acquire thankfulness and praise from the crowd for his character; however, his film may not perform well. Abhisekh will play the personality of a psychological patient, and it will be loaded with tension. What's more, if it is genuine that he is depicting a negative character in the film, at that point, the film may give him outstanding achievement.
---
Observations of Abhishek Bachchan's Surya Kundli
Rahu in Libra is placed in the tenth house and planet Mars joining with Rahu's foe Venus connotes that if the entertainer plays out dangerous jobs or plays the personality of a psychological patient, he is bound to make progress. Venus is in Sagittarius sign, so if the entertainer plays sentimental characters in the films, it might give him an ominous result.
Hence in 2021, Abhisekh is likely to receive appreciation for his character in 'Gulab Jamun', Lyca creation's '65 Carrot', and Annapurna Ghosh's 'Bob Biswas'. Nonetheless, it may take somewhat more to accomplish riches to his name.
---
How will Abhishek Bachchan's health be in 2021?
In 2021, Abhi needs to concentrate on his well being. Rahu is aspected by Saturn, so his well being may get influenced due to city pollution. He will be occupied in the year 2021 as well. Yet, on the off chance that he neglects to follow the regular food diet or devours unfortunate food, he may confront issues in the stomach related framework, or have acidity.
All in all, Abhishek will be extremely busy with his work in 2021, something to be thankful for from the entertainer's perspective. He should be cautious about his acting career as he may not make the ideal vocation progress. However, his film characters may get grateful for him. But a portion of his movies may create obstacles in his acting profession, and in this way, he is encouraged to remain alert.
GaneshaSpeaks wishes a great year ahead to Abhishek Bachchan on his birthday.
Want to Lead a Celebrity Life? Consult Our Top Astrologers Now!
With Ganesha's Grace,
Astrologers trained by Shri Bejan Daruwalla
The GaneshaSpeaks Team
---
---
Get 100% Cashback On First Consultation