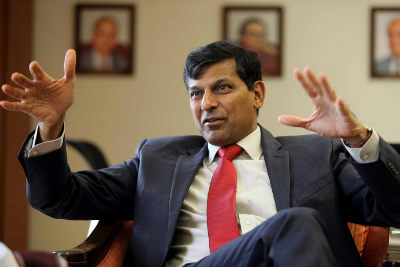 Raghuram Govind Rajan is a man whom almost every Indian looks at with incredible awe and respect! The approbation that Rajan commands is not only because of his enviable status, but also because of the extraordinary caliber that he possesses and the immense experience that he carries! Many would be aware that the dignified RBI Governor is the son of R Govindarajan, an IPS officer who worked in elite organisations like the Intelligence Bureau (IB) and the Research and Analysis Wing (R&AW). This is what you would call power of genes! An alumnus of the IIT-D and IIM-A, Dr. Rajan went on to receive the inaugural Fischer Black Prize. A book written by him – Fault Lines: How Hidden Fractures Still Threaten the World Economy won the Financial Times/Goldman Sachs Business Book of the Year award in 2010. He exhibits an unparalleled and unique charisma in the world of economics and he is recognized as one of the best central bank governors. 6Th August, 2013, was a big day for the big man, as he it was announced that he will be taking over as the new RBI Governor. Since then, there have been various challenges – right from controlling inflation to controlling the interest rates amongst a plethora of other issues. In this article, Ganesha takes a look at his stars and predicts what kind of an approach he may adopt post the Union Budget 2016-17 and what may be on top of his priority list. Read on...
Raghuram Govind Rajan
Date of Birth: 3rd February, 1963
Time of Birth: Not Available
Place of Birth: Bhopal, Madhya Pradesh
Raghuram Rajan's Surya Kundali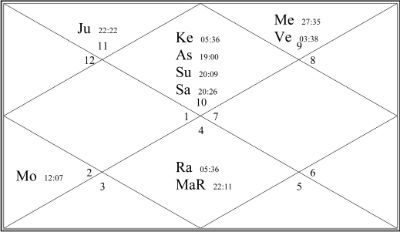 1) Post the Annual Budget 2016-17, what sort of a role will Raghuram Rajan play in the Indian economic game?
Considering the current planetary picture, Ganesha feels that Dr. Rajan will adopt a controlled approach. With poise and circumspection, he will be able to circumvent a lot of problems that may arise out of fluctuations in the upcoming months. He may focus more on stabilising the position of the Rupee.
He may take some drastic decisions related to the Repo Rate and may work towards creating a secure position wherein the confidence of the local players and domestic investors may increase.
2) Will the IIT-D and IIM-A alumnus and former chief economist of the IMF be able to deliver some path-breaking reforms in the banking sector in the coming months?
Ganesha foresees a torrid phase for the RBI Governor in the months between April and July and this may test his real skills. Though, the transiting Mars, which will be aspecting Dr. Rajan's Natal Jupiter will push him to take drastic decisions, it may also create some confusion due to which there may be certain areas which may get overlooked. On the other hand, the influence of Saturn will ensure that that he is also able to take the corrective actions. But expect push-and-pull sort of situations, Ganesha tells Dr. Rajan.
Moreover, the stars do not seem to be too positively aligned. The RBI chief may not be able to deliver path-breaking reforms, and will instead be forced to stabilise the situation rather than unleashing a string of changes. Ganesha also says that the Banking Sectors will have to bear the brunt of the erratic planetary alignments till around September 2016.
One heartening aspect in the upcoming months is the entry of the mighty Jupiter into the Sign of Virgo in August 2016. Aspecting important areas and key planets in the Chart of Dr. Rajan, the benevolent Jupiter will be acting like a catalyst and will help him to come up with some wonderful initiatives, policies and reforms. This favourable disposition shall remain till one year, that is till September 2017.
3) Will he, in tandem with Arun Jaitley be able to deliver well as a team?
As malefic Saturn is transiting in opposition with natal Moon, Rajan and Arun Jaitley may not be as impactful and hard-hitting as we would want them to be, and his decisions, even though strong, may not have immediate effect.
Due to the transit of Saturn in the 7th House from Dr. Rajan's Natal Moon, there may be some problems on some occasions in decision-making. Things may not necessarily work out as per plans and there may be unexpected delays. As regards the FM-Governor RBI equation Ganesha feels that though things may be pleasant between Jaitley and Rajan, there will be some challenges which may test the strength of this combine.
With Ganesha's Grace,
Dharmesh Joshi and Malav Bhatt
Special Inputs: Aaditya Sain
The GaneshaSpeaks.com Team