Introduction
Friday, 29 February, 2008 spoilt the overall sentiment of the US Market for the last week that ended on the same day. Barring that day, indices would have registered good gains for the week. Economic reports and Federal Chairman Ben Bernanke's testimonies at Capitol Hill for two straight days made the main headlines for the week.

At Chairman Bernanke's testimony at Capitol Hill, Bernanke continued to emphasize downside risk to growth more than inflation. However, he said upside risks to inflation are greater than what they were a month ago, noting commodity price gains. He said that this might cause an increase in the Fed's outlook on inflation.

The Dow Jones Industrial Average lost 115 points for the week. Tech - heavy Nasdaq lost 32 points. S&P 500 lost 22 points. You can see this in weekly graph given below.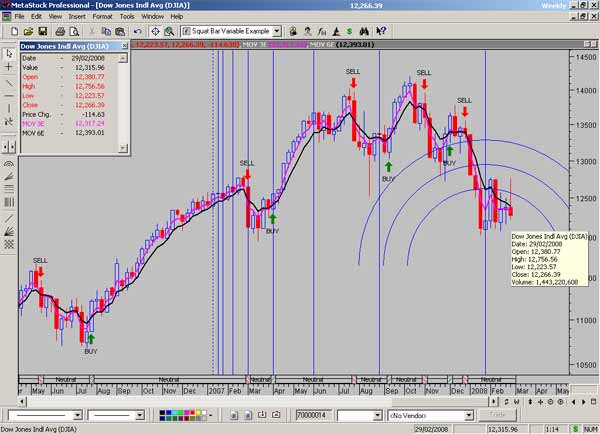 On Tuesday, 26 February, IBM spurred a good rally in the market and the stock was up nearly 4% after the tech giant raised its 2008 earnings forecast due to the positive impact of a $15 billion stock buyback plan. The Dow Jones industrial Average ended the day with a gain of 115 points. Additionally, the ratings agency affirmed the 'AAA' financial strength rating of Ambac Financial. Shares of MBIA and Ambac rose 20% and 16% respectively on that very day. US Market witnessed sea saw trading for the entire day but ultimately ended higher for the day. Federal Reserve Chairman, Ben Bernanke hinted that Fed in all possibility will go for another soft landing in its next meeting thereby reducing interest rates by another 50 bps.

We can also see in the below graph weekly Sensex figure that it has declined from its all time high of 21,206.77 to 15,322.43 (not E.O.D).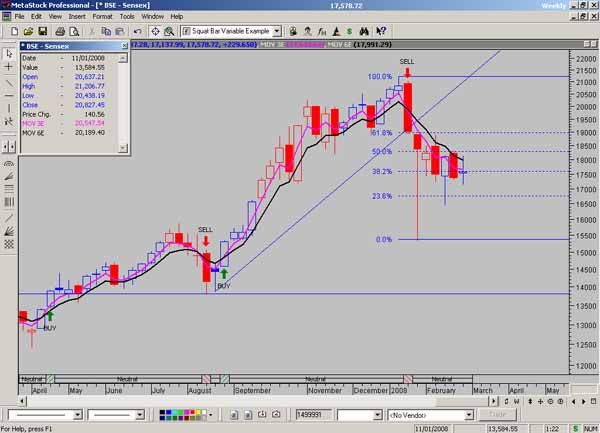 Astrological Analysis
Moon was transiting through Libra, Scorpio and Sagittarius signs during the last week. Moreover, the shadabala of Saturn is also below 0.80% which is the biggest consideration of Bear. On the other hand, Jupiter, Venus and Mercury are strong enough to push the market downwards. Mars is getting the highest percent of shadabala during the last two weeks.

Ganesha says that another big reason of this heavy volatility is the Solar and Lunar eclipse which occurred in the month of February. Transiting Jupiter and Rahu are in conjunction in Libra in Navamansha chart which causes unknown heavy volatility specifically in IT Sector. Transiting Saturn and Mercury are also in conjunction with Cancer and Saturn-Sun is in exchange.

Conclusion
Ganesha observes that Sun will change its sign on March 15, 2008. and Mercury will also change its sign on March 11, 2008. Bearish signal will continue till this week and the heavy volatility will continue till the month end. In the long term, Indian stock market looks very strong and as far as U.S Market is concerned, 12,920 is a strong level for Bull.

Ganesha wishes all the traders and investors all the best.

Ganesha's Grace,
Malav Bhatt
The GaneshaSpeaks Team