The recent hike in Repo Rate may help stabilise the rate of inflation, but not before March 2014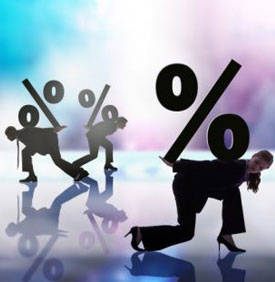 Raghuram Rajan, the new and much-in-news Governor of the Reserve Bank of India, bowled a googly as he announced his maiden policy review. He announced a hike in the repo rate* by 25 basis points to 7.50 percent.
*The repo rate is the rate at which the banks borrow from the Central Bank.

The move is set to have an effect in the near future on the interest rates for retail borrowers. Loans to purchase cars shall become costlier! Also, since this was as unexpected as it comes, this has left many stunned, sending the stock-prices and the rupee value towards a downward trail.

The rate hike is meant to take care of the growing inflation, and it indicates that the RBI will continue to focus on price stability, under Dr. Rajan's governorship. The new Governor also withdrew some emergency measures implemented by his predecessor to arrest Rupee's slide against the USD.

Will this sudden springer affect the common man and the economy, and will it really manage to do what it is meant to – quell the inflation? Ganesha looked at the position of the planet Mercury vis-a-vis independent India's Horoscope, applying the Vedic Astrology principles, and found out -

Will this affect the common man?
Yea, the planetary positions in India's Horoscope indicate that this move by the RBI will affect the common man. A major effect may be seen on the common people's budget and daily cash flow.

Whether this move will succeed in checking inflation – in short term or long term?
This cannot be said clearly, if the move by RBI will ably control inflation. In fact, the inflation may only be effectively controlled only by March 2014. Currently, the negative planets of Saturn and Rahu are adversely posited and affecting the sixth House of India's Horoscope – the House signifies daily earnings, finances, work and job.

Are there more financial surprises ready to be sprung soon?
Keeping in mind Mercury's current position, it may be surmised that Bank Nifty may slide down, during the given time slots -
03/10/2013 to 15/10/2013
28/10/2013 to 06/11/2013
18/11/2013 to 26/11/2013

With Ganesha's Grace,
Dharmesh Joshi
The GaneshaSpeaks Team

Disclaimer : Please note that these predictions are meant only for entertainment, academic and research purposes, and not intended for any other use. The organisation shall not be held responsible/liable for consequences arising out of interpretation and usage of the same by any individual/ entity in any manner. Also, these predictions have been given by the calculations, purely on the basis of AVAILABLE data.