When Will I Find My True Love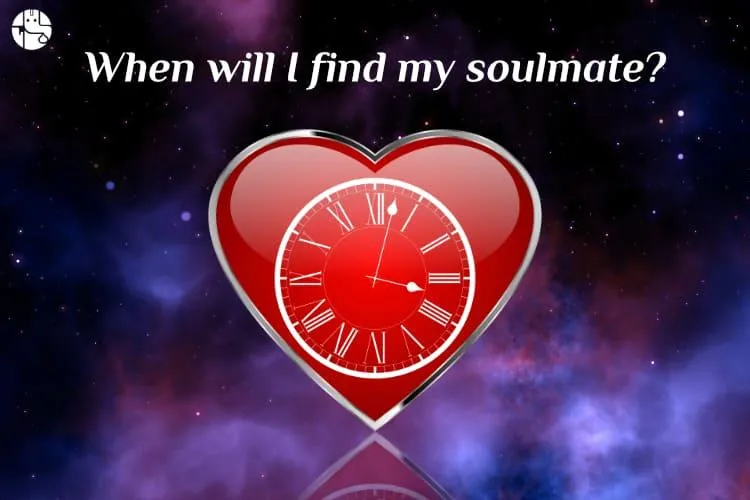 Have you missed your love cycle, or are you stuck waiting for years without finding true love? You may have come closer to someone, but things didn't make out in the right way, which leads to the curiosity of when will I meet my true love astrology. You will be eager to know when you can expect that person to walk into your life. Everyone wants to experience love and is always curious to know when I will find love?
Are you curious to know at what age you will meet your true love? Well, the planetary placements and transit have the answers to your curiosity. Ask An Expert Now
Many of you find love at a young age and know right away that this person is someone special. At the same time, some have to wait for long years to meet soulmates. Some may also later realise that their best friend or lost love is the one they have been waiting for for so long.
Hence, finding your true love is incredibly special as soulmates take relationships to a whole new level. It is because soulmates forever provide you with romance, affection, friendship, happiness, communication, and confidence. If you have found someone special, you will be eager to know whether it is true love or superficial love. You can have detailed insights into how compatible your partner is and how much he/she is complimenting you.
---
Wondering, 'When Will I Meet My True Love?'
Some people find their soulmate when they are very young and immediately recognise that they are not like the rest of the world. People may not meet them until they are much older, or they may discover that their best friend or lost love was their soulmate all along after all these years.
Realising you have a soulmate can be frightening at first. Sure, there will be moments when you are ecstatic to be in their company, but there will also be times when you don't want to be in the same room as them.
All relationships have their ups and downs, but what makes being with your soulmate different is that you can come back from something really ugly and still have so much love in your heart for them.
If you have not yet met the love of your life, expert astrologers can tell you the timeline in which you meet your soulmate. Planetary placements in your birth chart, current transits, and your Dasha period help to predict the amazing events of love and romance in your life. Your date of birth, place, and year will tell about your personality, your relationships with the outer world, and even the chances of encountering life's greatest blessings, love. With the help of expert astrologers, you can predict your love cycle from miles away and also know who is your true love and how you will find your true love.
Every relationship has its ups and downs, but being with your soulmate is unique in that you can recover from something truly dreadful and still have so much love for them in your heart. When you question when I will get my true love, you start to explore and experience many things.
Your birthplace, year, and date reveal a lot about your personality, your relationship with the world around you, and even your chances of falling in love, life's greatest blessing.
Falling in love is the domain of the 5th house in your birth chart. There may or may not be planets in the 5th house, but it doesn't matter – when planets in the sky trigger the 5th house or its governing planet in a positive way, it's a good thing because then you'll know that love is most certainly in the air.
The fifth house represents love affairs in the life of natives. If the planets in the fifth house or its lord are triggered in a positive way by the current planetary transition or Dasha, then it is time you find your soulmate. Love is most certainly in the air. 5th house and the domicile planet of that sign. The domicile planet, when triggered in a positive aspect in the current transits (conjunction, sextile, or trine), will put you in a cycle of love.
Jupiter, the planet of expansion and blessings, when involved in a positive way to your 5th house or the ruler of the sign in the fifth house, then it is an ideal time to fall in love. One should never underestimate the power of the Ascendant when it comes to finding your true love. Ascendant is the mask of an individual that shows the true identity of an individual. Not only ascendant, but descendant is also equally important when it comes to romantic relationships.
The placement of Venus is important as it can give an idea of what type of romantic partner will make you fall head over heels and even the circumstances you could meet your soulmate. The influence of Venus or Mars on the Moon will make you more romantic, especially if the conjunction is in the 1st, 5th, or 7th house.
When you enter that love cycle, the only thing you have to do is keep an open mind and keep your sights set on the stars. Your horoscope will steer you in the right direction for finding your soulmate. Your soulmate will be awaiting your arrival in some corner, and your love destiny will guide you to reach that place. You can Talk To Astrologers to get accurate insights into your love life.
---
Soulmates Exist, Whether You Like it or Not.
Some zodiac signs are eager to know, "When will I find my true love" while others do not believe in soulmates — or even want to find one — but one of the best things about soulmates is that they only appear when you're ready for them.
And when you're going through a difficult time in your life, they'll always be there to lend a sympathetic ear or cheer you up.
With Ganesha's Grace,
Astrologers trained by Shri Bejan Daruwalla
The GaneshaSpeaks Team
---
---
Get 100% Cashback On First Consultation