The unexpected, terrifying terrorist attack at Nairobi's (Kenya) upmarket Westgate Mall on 21st September, Saturday has left the world stunned – yet another time. At least 68 people have been killed, many were left injured while the terrorists are said to be still holding onto many more as hostages, as the struggle – now between the attackers and the Kenyan army and in its third day – still continues. The Islamist terror group al-Shabab has claimed responsibility for this horrific incident, saying that it was an action taken against Kenya's military involvement in Somalia. As per a Reuters news release – "Al Shabaab in Somalia said its fighters were demanding Kenya pull out troops from its northern neighbor, where they have put the al Qaeda-affiliated group on the defensive in the past two years." This is a shameful incident, and it raises many questions – many of which threaten the world peace and security.Are any planetary combinations responsible behind this shocking turn of events? Are there more to come? And, will there be long-term repercussions? Ganesha reads into the Country Chart of Kenya to predict the way ahead –
Kenya Country Chart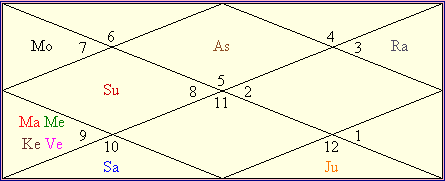 In Kenya's country chart, the Moon is placed in Libra in the Swati Nakshatra. It is to be noted that the transiting Saturn and Rahu are currently passing through the Swati Nakshatra in Libra Sign. Adding to this, the transiting Mars is aspecting both the transiting Saturn and Rahu and also receiving the aspect of Saturn. At the time of attack, the transiting Moon had just entered Aries Sign, Ashwini Nakshatra. The transiting Moon has triggered the attack on civilians. These deadly planetary influences can be blamed for the brutal attack and killing of innocent people in Kenya.
The transiting Mars' connection with the 12th House and the 12th House Lord Moon is also a clear evidence in Kenya's Chart that indicates a possibility of a terrible attack or warlike activity, due to secret and foreign plots. It should also be noted that the last quarter of 2013 will be very sensitive for Kenya's internal security.
From the world's perspective, it is noteworthy that the Saturn-Rahu conjunction in Swati Nakshatra and the forthcoming eclipses during the last quarter of year 2013 look set to be extremely sensitive for the global security and peace scenario. The activists of the fundamentalist groups may also try to disrupt the global harmony, and the nexus between the terrorist groups and political system may become a real danger for the global security in coming months.
The conflict between the liberal democratic views and fundamentalism will severely disturb law and regulations in various countries. Syria, Iraq, North Korea, Pakistan, Afghanistan, Israel, Egypt, Bangladesh, USA, Australia and India are likely to face grave consequences of the rising fundamentalism.
May Lord Ganesha bless this world with peace and harmony.
With Ganesha's Grace,
Tanmay K.Thakar
The GaneshaSpeaks Team