Peshawar (Pakistan) School Massacre 2014 – an Astrological Analysis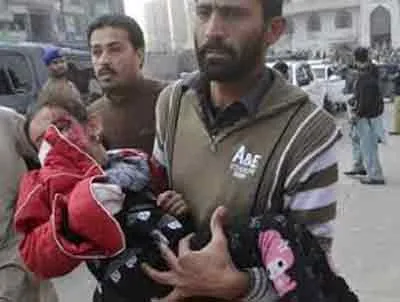 ---
Pakistan to face more challenges on the terror front in 2015
It is almost as if it was waiting to happen. But 132 schoolchildren all below 16 years of age! Even by the ruthless and convoluted logic of terrorists, this school massacre in Peshawar has to rate as one of the most downright barbaric and dastardly in recent history. And the Pakistan government has to stand up and take responsibility, not least because all these years they have been turning a blind eye towards the oft-denied but open secret of the collusion between the country's all-powerful army, its intelligence agency the ISI and the myriad terrorist outfits led by the omnipresent Taliban. After having taken its support for years, the Pakistan government decided to crack down on the Taliban, who then retaliated with this massacre of schoolchildren. The cycle seems to have become too vicious to solve.
Ganesha, with the help of Vedic astrology, predicts that 2015 is going to be yet another critical year for Pakistan on the terrorism front.
---
Pakistan's foundation chart
Get Your Hand-Written Janampatri By Our Experts.
Pakistan is currently under the influence of Venus-Mars Venus Mahadasha period. Venus is the prime significator of harmony and peace. In Pakistan's chart, Venus is severely afflicted and combust in the 4th House, which is why it has been facing this severe terrorist problem since December 2007.
Mars Bhukti indicates that the army's influence will remain very significant in Pakistan's political structure during 2015. The Pakistani army will suppress insurgency mercilessly, but it will create more resentment within the country due to the adverse transit of Rahu.
On the day of the brutal killings in Peshawar, the transiting Rahu was in close conjunction with transiting Moon. Mars is the Lord of the 8th House (mass deaths) and it was in exchange with Saturn, the functional malefic in Pakistan's chart. Also, the transiting Mars was in opposition with Natal Saturn and Sun, and aspecting the 4th House. All these adverse planetary influences are indicating civil strife and ruthless militants killing innocent people.
Pakistan is passing through a very sensitive phase and the Rahu Bhukti starting from 25th February 2015 may remain challenging for its government and security forces.
Talk to an Astrologer Now, First Consultation with 100% Cashback! 
With Ganesha's Grace,
Tanmay K.Thakar,
The GaneshaSpeaks Team
---
---
Get 100% Cashback On First Consultation