After An Unusual Stay In Leo With the Illusionist Rahu, Mercury Re-enters His Palace – Virgo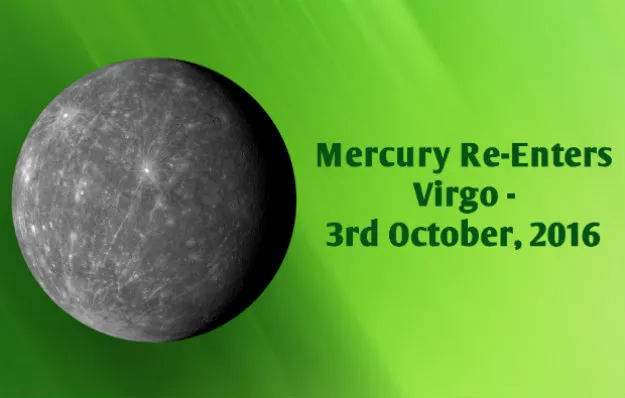 Mercury – the planet of communication, intelligence and logic, will now finally be free from the voodoo of the shadowy Rahu and will be re-entering its Sign of exaltation – Virgo. Mercury will now be given company by the benevolent Jupiter, and as per its usual stay in a Sign, the green-hued planet will stay put in its kingdom for around 18 days before moving to the next Sign – Libra. In this article, find out how this transit will impact you, as per your Moon Sign.
---
Aries
This transit suggests that many of you shall be in a mood to change your job. The reasons may range from dissatisfaction with remuneration, overload of work, to a disappointing pay package. Official travel may increase, and though it will be tiring, your efforts will be appreciated. There may be various things playing on your mind, both professional and personal. Read more about Aries.
---
Taurus
The phase during this transit is conducive for students, and you will be able to focus on academics without much distraction. If you happen to be in the creative field, such as writing, you are likely to do exceptional well. Your efforts will be appreciated, and your moral will get a big boost. While this transit operates your self-expression, too, will peak. Read more about Taurus.
---
Gemini
You will be in the pink of health now, but Ganesha advises you not to take good health for granted, and do some exercises regularly to maintain your health and fitness levels. Your excellent communication skills will help your progress rapidly. Your relations with your siblings are bound to improve, and skirmishes, if there have been any, will be totally forgotten. Read more about Gemini.
Mercury will be in Virgo till 21st October, 2016, after which, He will enter Libra.
---
Cancer
For professionals and businessmen alike, short-distance travel is on the cards, and it will enhance your esteem as a no-nonsense person. You will share a good rapport with your siblings and will communicate more and will be able to confide your deepest feelings without reservations, such will be your level of trust in them. Another way in which you will be able to express yourself is through the medium of writing. Read more about Cancer.
---
Leo
This phase is conducive for you on the financial front. You are likely to get some unexpected financial gains, which will lay to rest all your financial problems. Your rapport with your family members will be good as long as you avoid arguments with them. You may have to massage the ego of some of your family members by showering them with material gifts. Bank work will demand attention. Read more about Leo.
---
---
Libra
Ganesha advises you to be careful on the financial front as expenses are likely to increase, and let them not take you by surprise. You may have to rework your budgets, and study your balance-sheet more carefully to see what you can do to increase your assets and reduce your liabilities. Also, your health may not be as good as you would like it to be, which will entail some unexpected expenses. Read more about Libra.
---
Scorpio
You shall be in a talkative mood, your sense of humor will peak, and you will communicate exceedingly well with your compatriots. The good news is that some unexpected financial gains are on the cards. Ganesha advises you not to waste it, but save it and invest it wisely. You may make new friends, join new groups and get involved in new activities. Read more about Scorpio.
---
Sagittarius
Ganesha advises you to brace up for meetings with your superiors or your company's top brass. You need to avoid arguments with your father or any senior member of your family or company. If you are doing a job, there is a strong likelihood that you may feel so disenchanted with it that you may seriously start thinking in terms of starting your own business. Read more about Sagittarius.
During this transit, Mercury will be given company by Jupiter and the Sun.
---
Capricorn
During the time that this transit operates, there are strong chances of you having to undertake a long-distance trip. Your siblings will play an instrumental part in helping you make rapid progress in life. Lady Luck will be on your side, but don't count your chickens before they hatch, and especially do not do anything reckless like indulging in speculative transactions. You need to mature fast, because an increase in your responsibilities is imminent. Read more about Capricorn.
---
Aquarius
This is a dicey phase for you, and concerns will mount on almost all fronts. Most importantly, joint finances will call for your urgent attention. Your health will be far from satisfactory, and you will have to take appropriate preventive measures so that you don't catch any infections. You must not even eat outside food, or you may develop some stomach problems. Read more about Aquarius.
---
Pisces
Though you are generally very creative, during this transit, your creative juices may not flow so freely, mainly because the logical part of your mind may keep interfering. You may not even be able to maintain your tempo or go with the flow. In the interests of maintaining domestic harmony, Ganesha advises you to strictly avoid arguments with your near and dear ones. Read more about Pisces.
 With Ganesha's Grace,
The GaneshaSpeaks Team
Confused about your career? Professionally, are things not working as per your plans? Then avail the exclusive Remedial Solutions For Career now and get expert guidance and solutions for your career issues.
---
---
Get 100% Cashback On First Consultation