Colour you Should Wear Based On Your Zodiac Sign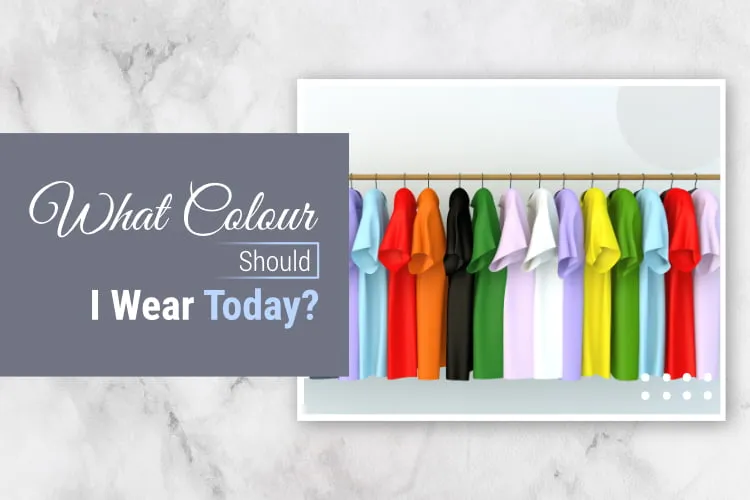 Manners, Maketh, Man! These three words describe everything in the context of half of this guide! To all Girls and Boys, have you ever noticed that people with a good dressing sense carry a good aura and personality? Needless to say that dressing sense contains a huge impact in life be it; lifestyle, luck, success, and so on. So without any ado, let's start unveiling about the best outfit colour as per zodiac sign which will boost your confidence and personality accordingly.
---
Best Outfit Colour for Aries - Yeh laal Rang Inka hai Thakur
By default Aries are Bold, hence, Red or Dark Red goes down well with them. At times, they are super aggressive, red colour works as a healer to remain calm. They easily accept wearing any type of outfit as they feel fit in whatever they wear. How adaptable they are, Chameleon's jobs are in danger we guess. Jokes aside, Aries people must wear a Red shirt or Top on Tuesdays.
---
Best Outfit Colour for Taurus - Uneasy Kapdo ka Bilkul Risk Nai Leneka
Taurians always go with wearing easy outfits. Boys can even attend any marriage with a T-shirt and shorts or Capri. They usually love folded sleeves. Girls choose wearing Salwar Kurti more than anything, don't get surprised if they wear clothes of their sister or friends too. White, Silver and Grey shades are very good for them. Wearing a Pink Colour outfit on Fridays is highly recommended.
Confused about wearing clothes on Karvachauth? Read Auspicious Colour to Wear on Karwa Chauth Based on Your Sun-Sign
---
Best Outfit Colour For Gemini - My Green is My Green, none of Your Green...
Geminians are Intelligent ducks. They are always into new trends of fashion. They won't stick to the old things. Wanna try? Apply Gumstick as much as you can. Finally delivered a PJ Joke LOL. Coming to the point, Green shades, Silver, White, & Bright Yellow are outfit colours for Geminians. Wearing Green Colour Outfit on Wednesdays is recommended for maximum gains.
---
---
Best Outfit Colour For Leo - Rang de tu Mohe Gerua...
Leos come first when it comes to seeking attention. They love to be the centre of attention. That's one of the major reasons that they keep on experimenting on their outfits from dress colour to styles. You can relate them with the Simmba of Bollywood 'Ranveer Singh'. Their Lucky colours are Gold, White, Orange, Red, & Magenta. On Sundays, wearing Orange or Saffron colour outfits is recommended.
---
Best Outfit Colour for Virgo - Hamari Chavi Mein Kisne? Hara Rang Daala…
Virgos are attracted by pastel and pale shades of all colours, from peach and mauve to light blue and light pink. They do like to wear trending or floral outfits. It's difficult for them to move on from old things. They are highly recommended to wear Green colour outfits on Wednesdays.
---
---
Best Outfit Colour for Scorpio - Rough Diamonds with Maroon Colour
The most wonderful fact about Scorpions is they are different from the crowd. Anti-influential, they won't follow anyone blindly. Same goes with following fashion trends, they ought to choose some rare and decent outfits without caring about what people will say behind their back. Brown, grey, purple, plum, cherry red, the deep blue colour are very good for them. They are advised to wear a Maroon colour outfit every Tuesday.
---
Best Outfit Colour For Sagittarius - Yellow Yellow Sagittarius Fellow
Sagittarius natives love their own company. They won't wear clothes to impress others, never in a million years. They like colours like yellow, orange, light yellow, white, purple, & vermillion. At key moments, white can indeed be relieving as well as relaxing. Wearing Yellow Clothes is highly recommended on Thursdays.
Find out more about your career and opportunities coming your way this year, with Career Report 2023!
---
Best Outfit Colour For Capricorn - Hamare Kaale Neele Kapdo ka koi Tod Nahi...
Capricorns are super perfectionists when it comes to fashion. They don't like outdated clothes too. We can say that clothes mean to them something beyond and crucial. That's why they like straight cut clothes. Colours like coffee, dark brown, black, blue are good for them. Every Saturday, wearing black or sky blue clothes is ideal for them.
---
Best Outfit Colour For Aquarius - Purple and Violet for the Wild Cards
Aquarians are independent. They need no efforts in appeasing others. They are calm and balanced. Luckily, old clothes suit them. For achieving heights of success, they ought to wear Purple colour outfits on Saturdays. Turkish, blue, violet or electric green colour clothes will always be good for them.
---
Best Outfit Colour For Pisces - Lime Yellow Colour for the Money Savers
If you are thinking that Pisces spend thousands of rupees in clothes then you are absolutely wrong. They believe more in inner peace rather than just materialistic things. How amazing, isn't it? Mostly they go with mute colours. For them, peach, lemon yellow, light pink, lavender, cream and such colours are amazingly good. Lastly, wearing lime yellow colour outfits is recommended on Thursdays.
Hey pals, colours are super impactful in life and Roti Kapda Makaan is something that we all live for. Hope the recommended colour according to your zodiac sign for your outfits, whether for work or dating, will help you achieve the desired results. CHEERIO!
Want to know what's hidden with your lucky colour and number for your future – Talk to an Astrologer Now, First Consultation with 100%
With Ganesha's Grace,
Astrologers trained by Shri Bejan Daruwalla
The GaneshaSpeaks Team
---
---
Get 100% Cashback On First Consultation