Unlocking the Secrets of Jupiter Retrograde in Aries: Cosmic Revelations Await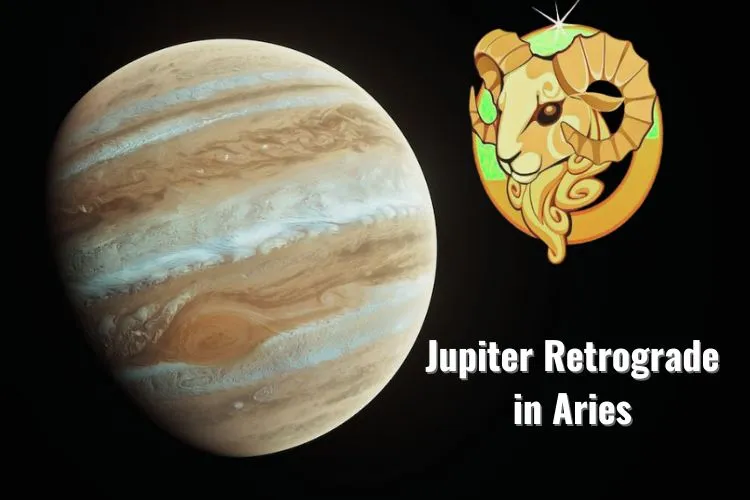 Jupiter, the harbinger of benevolence and wisdom, embarks on a celestial journey of self-reflection as it enters retrograde motion on September 4, 2023. This 118-day retrograde phase, ending on December 31, 2023, promises to unveil hidden treasures and cosmic revelations that could alter the course of your life.
---
Aries: A Golden Era of Financial Prosperity
Jupiter's radiant generosity graces Sagittarians during this period, heralding a remarkable upswing in financial fortunes. Whether you're an employee or an employer, anticipate a substantial boost in your income. This phase promises a golden era of financial prosperity, providing an opportunity to build a healthier bank balance. Consider sharing some of your newfound wealth through charitable endeavors, guided by Jupiter's magnanimous influence.
Read More About Your Zodiac Sign Aries.
---
Taurus: A Shift in Perspective and Health Awareness
Prepare for a significant shift in your life perspective that might incline you toward a more rebellious approach. Your health demands careful attention, urging you to avoid hasty decisions and brace for occasional mood swings. Be cautious when considering promises from individuals or situations, as they may prove deceptive. Maintain harmony in your personal relationships by steering clear of arguments and avoiding involvement with dubious elements.
Read More About Your Zodiac Sign Taurus.
Do You Wish to Make It Big? Find Out How Your Astrological Stars Can Help You Achieve Your Dream. Consult Our Top Astrologers Today.
---
Gemini: Spiritual Awakening and Compromises
A period of spiritual growth and awakening awaits you during Jupiter's retrograde journey. You'll be drawn towards a higher power, nurturing your spiritual side. You may find yourself willing to make compromises in certain areas to maintain stability. While interest in sexual matters may temporarily wane, the period fosters opportunities for long-distance travel and international connections, potentially leading to solutions for ongoing issues.
Read More About Your Zodiac Sign Gemini.
---
Cancer: Stability and Recognition in Your Job
For Cancerians, Jupiter's transit promises job stability and recognition. Your hard work and dedication will likely be acknowledged by superiors, possibly leading to rewards or even a promotion. If you're contemplating a job change, attractive offers may come your way, but sticking with your current position is also a wise choice. A promotion could be on the horizon, bringing new projects and responsibilities that will fuel your enthusiasm and receive well-deserved recognition.
Read More About Your Zodiac Sign Cancer.
Plan Your Year Smartly With The Help Of 2024 Detailed Yearly Report
---
Leo: Reconnect and Expand Your Network
Leo, it's time to reestablish connections with former professional contacts and colleagues. Reach out to them through phone calls or emails. Expanding your network by connecting with professionals online is advised, as you may encounter intelligent and experienced individuals who offer valuable learning opportunities. If you have questions or concerns for your management, now is the ideal time to articulate your thoughts effectively.
Read More About Your Zodiac Sign Leo.
---
Virgo: Financial Focus and Clear Guidelines
Jupiter's transit through your 8th House places financial matters, particularly joint resources, at the forefront of your concerns. You might feel dissatisfied with your financial share in both personal and professional realms. To address this, establish clear guidelines for distribution and entitlement. This period is less auspicious for seeking loans, especially from financial institutions, as meeting repayment terms may prove challenging. Avoid conflicts with the tax department during this phase.
Read More About Your Zodiac Sign Virgo.
---
Libra: Navigating Relationships and Partnerships
For Librans, this period emphasizes the need for careful management of married life, partnerships, and public image, as they might encounter strains. It's a testing phase that will challenge your ability to handle these relationships effectively. Your married life may experience a shift in its dynamics, possibly leading to a waning interest in physical pleasures. If you're single, it could be an opportune time to initiate a significant relationship, provided you approach it with maturity, recognizing its long-term potential.
Read More About Your Zodiac Sign Libra.
For Your Compatibility with Other Zodiac Signs, Check Compatibility: Calculator.
---
Scorpio: Professional Success and Recognition
In your professional life, everything seems to align perfectly during Jupiter's favorable influence. You'll excel at work, earning accolades from superiors for your efficient handling of tasks. The possibility of rewards or a promotion is on the horizon, reflecting your impressive skills and good fortune. Whether you choose to stay in your current position or seek a new job, success appears almost guaranteed during this auspicious period.
Read More About Your Zodiac Sign Scorpio.
---
Sagittarius: A Honeymoon Period in Love
Sagittarians, your desire for love and intimacy intensifies during this phase, thanks to Jupiter's powerful influence. Regardless of the age of your relationship, your love life promises stability and enchantment, akin to a honeymoon period. Jupiter's wisdom may help you resolve past differences with your partner, strengthening your bond. If you're considering starting a family, your efforts are likely to bear fruit, making it a wonderful phase in your love life.
Read More About Your Zodiac Sign Sagittarius.
Sort Out Your Relationship Issues. Avail the Detailed Relationships Advice Report.
---
Capricorn: Smooth Progress and Cooperation
Anticipate a phase of smooth progress and increased cooperation, Capricorn. Your mood will be more relaxed and cheerful, and people around you will be more willing to lend a helping hand. This period presents an excellent opportunity to build new connections and expand your professional network. Keep an eye out for sudden opportunities with significant earning potential and seize them promptly.
Read More About Your Zodiac Sign Capricorn.
---
Aquarius: Extra Responsibilities on Shoulder
You may need to shoulder extra responsibilities within your family or on behalf of a family member during this period. Family challenges may arise, either straining relations or fostering unity in unique cases. Social and external success might take a backseat, potentially presenting challenges in rebuilding your social image.
Read More About Your Zodiac Sign Aquarius.
What Will You Do In Your Life? Get Access To the Premium Junampatri Report.
---
Pisces: Travel and Adventurous Opportunities
You'll experience newfound fearlessness and boldness, leading to increased confidence in articulating your thoughts and ideas innovatively. Unexpected opportunities for short-distance travels and adventurous journeys may arise, making this period intriguing for travel enthusiasts. Support from siblings and cousins will be forthcoming in tricky situations.
Read More About Your Zodiac Sign Pisces.
For Instant Solutions! Talk To an Astrologer Now.
With Ganesha's Grace,
---
---
Get 100% Cashback On First Consultation