Government Job Or Private Job?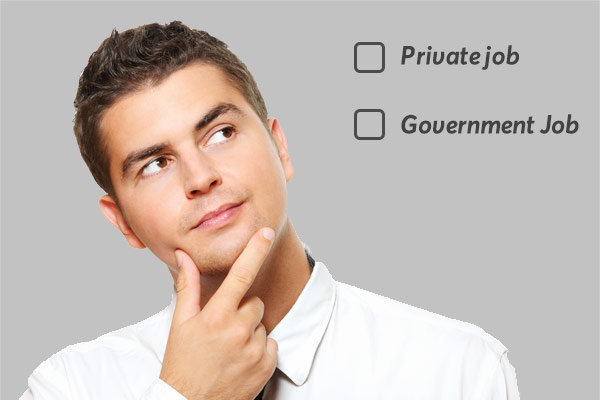 (Image Source: Internet)
Government Job Or Private Job Astrology, Check Government Job Yog In My Kundali, Will I Get Government Job In The Future, Which Is Better - Government Job Or Private Job? Government Job Or Private Job As Per My Horoscope -- Know How Astrology Can Help Solve Government Job Or Private Job Puzzles.
Things To Be Taken Into Account For Government Job Or Private Job Astrology:
When you are troubled by the dilemma of whether to go in for a private job or a government job, you will be surprised to find that the answers to all your doubts can be found in job astrology. Your unique kundali based on your birth details contains all answers to your job queries, such as what chances are there for you to get a government job, when exactly you are likely to get a job, whether it will be a government or a private job, and what are the planets which are influencing your job prospects.
The Only Genuine Source For Govt Or Private Job Predictions Is Job Astrology:
Friends and relatives can offer you advice regarding all your questions related to your government or private job aspirations, but it is only astrology that can offer you invaluable insights and accurate predictions to help you make wise decisions.
Why You Should Seek Astrological Guidance For Govt Or Private Job Queries:
With the help of the fundamental principals of job astrology, and your birth details, Ask An Expert provides thoroughly customised predictions for your government or private job related questions. Your kundali contains great insights about your past, present and future, and only an expert astrologer can glean out these insights and present them to you in a lucid manner. And you are unlikely to find astrologers better than the ones we have in Ganeshaspeaks.com.
Search for A Suitable Job Getting Delayed? Find Out The Real Causes:
Are your planets positioned inauspiciously? Why circumstances are not favouring you in your job search? Is your thinking pattern too negative? These and all questions related to the delays you are experiencing in your efforts to get a job are answered in your job horoscope. The least you can do is to avoid the delay on your part in getting timely government or job astrology advice, which you can find in our service Ask An Expert.
How Job Astrology Can Help You Take Informed Decisions In Your Job Hunt:
The objective of seeking expert astrological guidance for government job or private job related matters is that it can help you take well-informed decisions. The biggest advantage of seeking astrological guidance regarding your job prospects is that you will know whether you are more suitable for a government job or a private job, how soon will you get your desired job offer, and whether you will be stable in your career. Knowing these aspects about your job prospects will give you a lot of peace of mind.
How Our Astrologers Apply Government Or Private Job Astrology Principles:
To understand the cause of your job concerns and to present the answer to you, our Astrologers analyse multiple factors in your Birth Chart. The Sun is the primary indicator of government job. So, if you are looking for a government job, then the placement of the Sun in your Birth Chart needs to be checked. If the Sun is placed in its strong Signs – Aries and Leo or in its friendly Signs, or if it is placed in the 10th House, 11th House or the 6th House, then the chances of a government job may be higher. Additionally, Saturn also has a very important role in blessing a native with good success and stability in government job or government sectors. Apart from this, the Astrologer has to see the dignity of the 10th House as well as its Lord. Even the 6th House has an important role, as it happens to be the House of employment. Moreover, even if you clear any of the above criterion, if your transiting planets and the Mahadasha and Antardasha sequence is not supportive, then it may hamper your government job aspirations. Thus, only an astrologer with sound knowledge of such finer aspects can present an accurate picture for your government job concerns.
Ask An Expert Can Help Speed Up Your Job Hunt Efforts In the Right Direction:
Our service Ask An Expert will give you very satisfactory answers to your government job or private job related queries in a short span of time (just 24 hours) and at a very affordable price. Why delay the sure-shot method to kick-start your career with the right job?
Apart from getting the proper guidance regarding your government job or private job queries, Ask An Expert also gives you remedies to overcome the adverse circumstances, if any, in your path to a stable and prosperous career.
ASK AN EXPERT
Get Accurate Career Answers From Expert Astrologers Trained By Bejan Daruwalla Within 48 Hours.
The detailed forecasts have helped over 50,000,000 customers since 2003. Just ASK.
We have noted your question and details. If you happen to be lucky enough, you will receive your answer for FREE within next 7 Days
100% Privacy Guaranteed
Subscribe Our Newsletters