Effects of the Sun transit in Libra on Pisces Individuals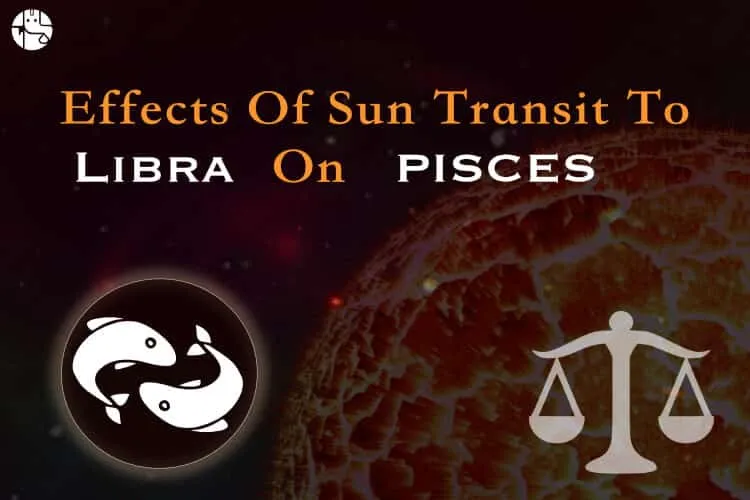 The king or the father of the solar system Planet Sun represents soul, position, power, and authority. One receives promotion, success, and respect in all aspects of life if it is positioned in a benefic house of your birth chart in Janampatri. The Sun will produce some really strong impacts on every zodiac sign.
Sun will transit in Libra on October 18, 2019, and for Pisceans, the Sun is taking place into the eighth house of your birth chart. This house indicates struggles and sudden happenings in life. You need to focus on personal and professional life.
This Sun transit in Libra is likely to bring mixed results for you. This transit may lead to health issues and obstacles in your life. There is a possibility of controversy in the family, so keep up your quiet. This transit will lead a normal love life but you should avoid conflicts with your partner and be more attentive towards your relationship. Read on to know how Sun Transit In Libra is going to affect you.
---
Effects of the Sun transit in Libra on Pisces Individuals
Sun is considered to be the king of planets, but this time you will not get much favor from the Sun transit in Libra. Professionally you would not be able to focus yourself on work. This transit may create obstructions and failures in the path of progress.
Career-wise it would be a challenging period for you. But don't get disheartened by the obstacles that may surface during this period. You are likely to struggle in your endeavors but hard work would be the key to success.
In case of planning things for the future, you need to be very attentive and cautious while executing it. Hasty decision can prove to be expensive for you in the future.
Your boss and employers may not be happy with your work and will demand more effort of yours to complete the given tasks. Your efforts and hard work will not give you the desired result at this time. Your work will not be appreciated and you may be given fewer responsibilities. All in all, you might have a tough time with your boss or seniors.
You may encounter some legal issues during this time. So in order to avoid that pay all due respect to the Law and avoid all sorts of illegal activities and actions.
During this transit, your business or office trip will not provide you favorable or desired results. So do plan properly to take on work-related travel.
You might face issues related to health, so take care of your overall health in order to avoid loss due to such issues. You are advised to take additional care of your health as it might affect your work schedules.
This transit may result in some tension with your family and friends. But you would be able to handle it with ease. Try and maintain an equilibrium in your family life to save the bond you share with them.
The transit of the Sun in Libra may affect your married life. There are chances of clashes with your spouse. You are advised to keep calm and not to put yourself in arguments in order to maintain peace and harmony.
Overall, Be Positive And Stay Focused!
To Get Your Personalized Solutions, Talk To An Astrologer Now!
With Ganesha's Grace,
GaneshaSpeaks.com
---
---
Get 100% Cashback On First Consultation