15th April 2015 – Stockmarket and NIFTY Predictions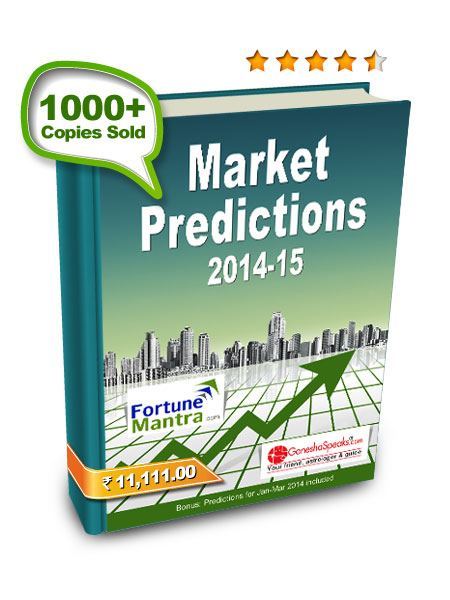 Please consider 10 minutes plus and minus in each prediction, and act accordingly.
Ganesha advises you to compare every prediction with the prediction of the previous time slot.
Friends, the opening trend may be very confusing in the next 3 days. Ganesha foresees it to be misleading because there may either be big jump/s or boring surface trends, which may not let you take a proper decision.
The Stock Market Prediction Book by GaneshaSpeaks for the financial year 2015-2016 has been released.
Friends once again you have witnessed Ganesha's accurate prediction, and the amazing effect of zero weightage day on 9th and 26th March 2015.
Friends, zero weightage may occur 14 times in the forthcoming financial year, which is already mentioned in advance in our Stock Market Prediction Book for 2015-2016.
Today, the Sun is in its Sign of exaltation.
While, the transiting Jupiter too is moving through its Sign of exaltation currently.
While, Mars and Venus both are Swagruhi (that is they are transiting through their own Sign).
Overall, the point is that the ongoing planetary alliance is favourable, and this can also bring you benefits, basis the placements taking place and equations getting formed in your Personal Horoscope.
Ganesha advises you to focus on Intraday only with Delivery capacity. Do not cross your limits and go ahead of your delivery capacity.
How Moon Signs Invite Wealth and Manage Financial Matters
Cancer: You are one those sensitive people, who like to help and understand others. Besides, you are a complete family person and love to cater to your family members' necessities. Therefore, it is not surprising that financial stability is one of the top priorities in your life. Independent by nature, if you start a family business, there is no doubt that it will flourish. At the job front, you can be an efficient boss and a respectable colleague, as you consider the whole office one big family. Since you are born under the Zodiac Sign Cancer, you are likely to be extremely moody, and often confused. But bear in mind that you cannot afford to be the same when it comes to financial matters and business dealings. Your mood swings can act as obstacles in your path of success, cautions Ganesha. Investing in resorts and clubs, heritage hotels and properties, coffee shops or even a residential plots can be beneficial for you.
Leo: You don't mind sharing your good fortune with others. Donating for social causes of a large scale or a smaller one, like contributing for a gift or helping a friend in need is quite common. You are also ready to part with your money when it comes to family troubles or lending to a needy. You might not that much in return often is another story though! The problem of outflow exceeding the inflow may be a regular feature in your financial cycles. You believe in using money, either for yourself or for others. You love to indulge in financial speculations and stocks, shares etc. However, you need to learn to manage your finances more efficiently, so that you don't have to face a financial crunch. This is also important because the lack of money may affect you, a Lion, much more than any other Sign, not because you are a money lover, but because it may imply the loss of respect or loss of power for you – which may be unbearable.
Virgo: One to be extremely dedicated, productive, industrious and eager to grab the opportunities, you tend to be an asset to the organisation you work for. Money is quite important to you. And, financial stability and a secure future come close second. Right from the beginning, you target financial security – in and out of your job. However, it's not just utility or money that rules your choice of profession, it's your passion and natural ability that takes preference here. So, all in all, you look for a holistic picture in matters related to career and finance. Insurance, retirement plans and investments top your priority list. You value your hard-earned money, and would not like to take any risk with it, observes Ganesha. Any threat to your monetary security is good enough to put you in a bad mood, and may cause you to fret and lose sleep. However, you won't mind loosening your purse strings for a loved one.
Plan your investments wisely and earn maximum profits! Order your copy of Market Predictions 2014-15 NOW!
Do you want to know which companies' shares and stocks would be best for you to trade in? Avail Stock Special 1 Month and know 4 scrips that you may trade in to earn maximum rewards. We will also tell you the preferable price points at which you should transact for each company. You may also directly Talk to An Astrologer for reliable guidance on issues related to your personal life, business, career, relationships, education, property matters etc.
With Ganesha's Grace,
Dharmeshh Joshi,
09909941816
www.GaneshaSpeaks.com