Makar Sankranti 2024: The Festival of Harvesting & Kites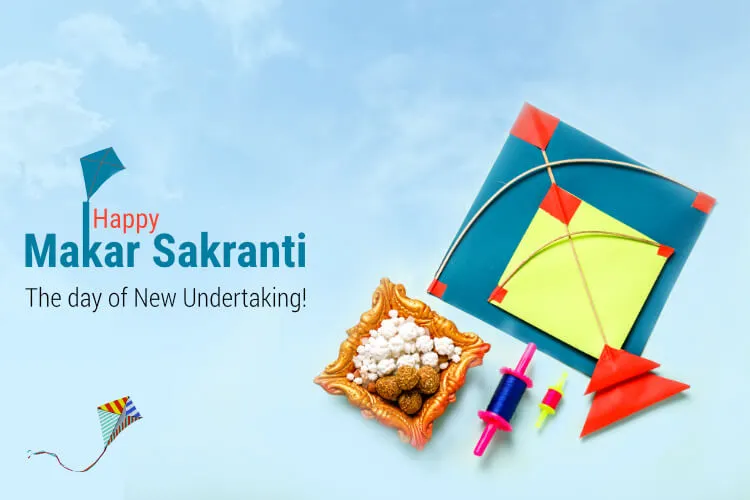 All About Makar Sankranti
Makar Sankranti is a Hindu festival that celebrates the Sun's transition into Makar( Capricorn). It is one of the few traditional Hindu festivals that are observed as per the Solar cycle. The season marks the end of winter and the new beginning of the harvesting season. The day also becomes the harbinger of Magh season. Makar Sankranti is a festival that is celebrated throughout the country in some or another way.
The most advanced concept of this festival is that there are 12 Sankranti in a year, just as 12 Zodiac signs. Well, the thing is, not all Sankranti is the same as the first Sankranti of the year. On this day, the Sun enters into the sign of Capricorn in the nakshatra of Uttarashada.
Do you know what your sun sign is and how it affects your life, get revealed by your free Personalized Janampatri Analysis? 
It is a very sacred, ancient, and highly celebrated festival of the Hindus. The festival is filled with so much sacredness that it even illuminates the life of an individual who is surrounded by darkness and negativity. Such is the stature of this festival. The Makar Sankranti is believed to escalate one's cosmic intelligence, and the individual attains its full benefits.
---
Importance of Makar Sankranti
The deep significance of this jazzy festival lies in its towering dedication to the Sun and other natural resources. It is a time of offering thanks and prayers to all such natural phenomena which are essential in our life. People worship and thank lord Surya for all the success and prosperity bestowed on them. Thus the blessings of the Sun clear all the hurdles which you may face and will make you move ahead in your career.
Struggles in professional life? Solve all career problems instantly with Personalised Career Report.
---
Makar Sankranti Rituals: About Sankranti Celebration In Pan India
India is a country of festivals. Thus, like every other festival, Makar Sankranti is celebrated with lots of decorations. People wear new clothes and savour homemade delicacies which are usually made of jaggery and til. In some parts of India, Khichdi is also eaten.  In Tamil Nadu, the festival is celebrated as a Pongal, and people eat rice boiled with fresh milk and jaggery with great zeal.
In Gujarat and Rajasthan, Uttarayan or Makar Sankranti is celebrated as a grand festival in these two states. Kite flying or Patang Utsav is the major attraction on this day. Its celebration begins in December, and the skies are filled with colourful kites.
In Bihar and Jharkhand, people plunge in rivers and ponds and feast upon seasonal delicacies as a celebration of a good harvest. The delicacies include Chura, sweets made of til, etc.
In Andhra Pradesh and Telangana, it is a four-day festival. A day before the Makar Sankranti is known as Bhogi, in which people get rid of old things and burn them into the bonfire. The next day is the prime day known as Pedda Panduga when people don new and colourful attires and offer prayers and traditional food to gods as well as their ancestors.
In Kerala, the festival is known as Makaravilakku, i.e. an artificial light that is created three times on Sabarimala hills is joyously celebrated in Kerala on this day. Thousands of visitors come to witness this light as it is believed to be a symbol of celestial light.
---
Makar Sankranti and Its Astrological Significance
Makar Sankranti has a divine nuance to it as well. This period is supposed to be of optimum importance for sages and yogis for a new initiative in their spiritual odyssey. In general, people consider this time to be a herald of fresh beginnings and letting go of any horrid memories and associations of the past. Another aspect of this day is that on this auspicious day, the Sun comes from the Dakshinayan towards Uttarayan. This position of the Sun is very auspicious. From a religious perspective, on this day, Surya leaves all the issues with his son Shani Dev and comes to meet him at his house.
This is why the day of Makar Sankranti is also associated with happiness and prosperity. Makar Sankranti 2024 is more special and powerful as Capricorn stellium is going to make this Makar Sankranti more phenomenal where not one or two but a whopping four planets (Sun, Jupiter, Saturn,  and Mercury) will make a transiting in Capricorn in the upcoming month. This phenomenon in astrology is known as a stellium. What a way to begin the year — with this monumental, history-changing Capricorn stellium!
Like every year this year also Makar Sankranti 2024 will be celebrated on 15th January throughout the nation on Magh Krishna paksha Dwitiya. On this auspicious occasion, we must perform Surya Puja and Magha Nakshatra Puja as well as chant sacred mantras. On the occasion of Sankranti, we must avoid acts like marriage, intercourse, oiling the body, shaving/cutting, and initiating new ventures.
---
Makar Sankranti Wishes!
On this new year and the day of the radiant festival of Makar Sankranti, let's look at the brighter side of life with new hopes and celebrate this festival with great devotion, fervour, and vivacity. Wish you all a Joyous Makar Sankranti.
To Get Your Personalised Solutions! Talk To The Best Astrologer Now.
With Ganesha's Grace,
The GaneshaSpeaks.com Team
Astrologers trained by Shri Bejan Daruwalla.
---
---
Get 100% Cashback On First Consultation