Celebrate The Glory Of Sita Navami 2023 And Receive Divine Blessings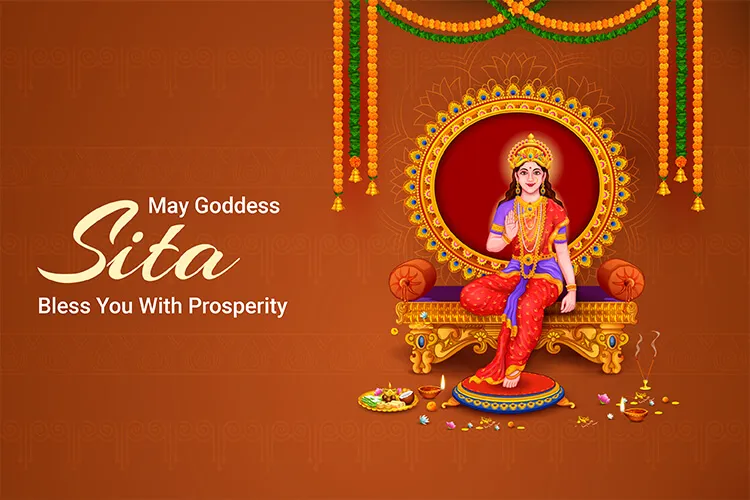 Sita Navami is celebrated as the birthday of Sitadevi, the embodiment of Goddess Lakshmi and spouse of Lord Rama. This day is also well-known as Sita Jayanti or Janaki Navami. It is said that Goddess Sita emerged in front of King Janak who rescued the child and looked after her as his daughter. Let's read more about Sita Navami 2023.
Also Read: Narasimha Jayanti 2023 – The Birthday Of Lord Vishnu's 4th Avatar
---
---
Sita Jayanti Celebrations
Sita Navami is well-known among married women who conduct fasting on this day for the longevity of their better half. It is observed as a terrific celebration with colossal fervour and dedication in Ayodhya, the place in Uttar Pradesh where Lord Rama was born, Bhadrachalam in Andhra Pradesh, Rameswaram in Tamil Nadu, and Sita Samahit Sthal in Bihar.
Sita Darshan, Aarti, and Maha Abhishekam are the huge customs that invite the positive quality of Goddess Sita on this land. Enthusiasts participate in a major parade in reverence of Sitadevi, Lord Rama, Lord Hanuman and Lakshman. They read the Great Epic 'Ramayana' by assembling at the temples of Lord Rama. Bhajans (devotional songs), and Aarti are a portion of the significant magnetism of Sita Jayanti.
---
Astrological Significance Of Sita Jayanti
It is said that Sitadevi took birth during Pushya Nakshatra. And, Lord Rama had also taken birth in the same propitious period in the Hindu Chaitra month. Mata Sita was born on Tuesday, while Lord Rama was on Navami Tithi. Additionally, Goddess Sita and Lord Rama's wedding was conducted during Shukla Paksha of Chaitra month. Sita Jayanti comes precisely following one month of Rama Navami as per the Hindu calendar.
---
Personality Of People Born Under Pushya Nakshatra
In the event that Pushya turns out to be your Nakshatra or birth star, you are ruled by the planet Jupiter, the Lord of heavenly knowledge. Nourishment is the nature related to an individual born under Pushya Nakshatra. As Sitadevi took birth during this time on the earth, she was sensible, modest, genuine and stayed devoted to Lord Rama.
Men born under this period are self-regarding. They are curious about others' opinions about you. They don't think upsides and downsides prior to beginning any work. They aren't aware of their expertise, strength, and capacities. But in all, they love to move forward until they achieve success.
Women born under this time are delicate, sweet, and reverential individuals. They should stay mindful of their well-being as there are chances of suffering from health issues. In the event that you took birth on Pushya Nakshatra and are a newly wedded Hindu lady, you are fortunate. In any case, to boost your luck, you ought to appease Sitadevi and perform Sita Navami puja for the longevity and victory of your life partner.
---
---
---
---
---
---
Get 100% Cashback On First Consultation