Rishi Panchami 2023 Vrat – Significance And Rituals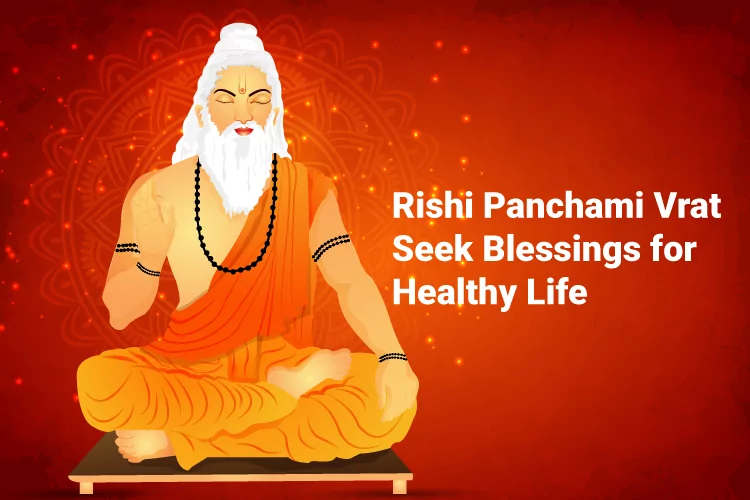 The Rishi Panchami Festival: It's Date, Tithi And Importance
Well, the important Rishi Panchami festival is now near. Rishi Panchami is celebrated on the fifth lunar day of Shukla Paksha (Waxing Moon Fortnight) in the month of Bhadrapad, as per the Hindu calendar. It falls on the very next day of Ganesh Chaturthi. This year Rishi Panchami falls on September 20, 2023. Rishi Panchami usually falls one day after Ganesha Chaturthi. It is a worship of sapata rishi i.e. Kashyapa, Atri, Bharadwaja, Vishvamitra, Gautama Maharishi, Jamadagni and Vashishtha. In Kerala, this day is also celebrated as a Vishwakarma puja. Rishi Panchami Vrat primarily involves people expressing respect, gratitude, and remembrance to the great sages who contributed a lot to the welfare of society.
It is believed that fasting on Rishi Panchami Vrat is beneficial to one and all but this fast is more specifically observed by the women. The festival of Rishi Panchami is a woman's way of expressing devotion, gratefulness, faith and respect towards one's husband. Fasting on this festival can destroy the sins which one has committed unknowingly. So, let's learn about this festival, the story behind it and the puja rituals associated with it.
---
Timing and Date of Rishi Panchami
Rishi Panchami puja is on September 20, 2023. The puja muhurat is from 11:01 AM to 01:28 PM. Hence, the total duration will be two hours and twenty-seven minutes.
Rishi Panchami Tithi Begins –
01:43 

PM

 

on

 Sep 19, 2023
Rishi Panchami Tithi Ends –
02:16 

PM

 

on

 Sep 20, 2023
Learn more about other auspicious days for you this year through Your 2023 Report which answers and offers steps for the year ahead.
---
The Purpose Of Fasting On Rishi Panchami
As per the Hindu tradition, women who are experiencing menstruation or period (the regular discharge of blood and mucosal tissue from the inner lining of the uterus through the vagina) are forbidden to undertake religious activities or involve themselves in domestic works (including kitchen work) till they are in that state. They are even prohibited to touch things related to religion. If this requirement has been breached by mistake or due to other reasons, it leads to Rajaswala Dosha among the women who have violated this norm. Women fast on Rishi Panchami to get rid of this dosh.
Rishi Panchami is also known as Bhai Panchami. Sisters tie rakhis to brothers on this day in the Maheshwari community. Sisters fast on this day and pray for their brother's long life. They consume food only after performing the puja.
Bhai Dooj is yet another festival that foretells the love between brother and sister.
---
The Story Behind Rishi Panchami
As per the tradition, there once lived a Brahmin with his devoted wife in Vidarbha country. The Brahmin was having a son and a daughter. He married his daughter to a cultured Brahmin man but the girl's husband met with an untimely death, rendering the girl to lead the life of a widow. She came back to her father's place and began living there again. Some days later, the girl got worms all over the body. It created problems for her. This worried her parents, who visited Rishi to seek a solution to the problem.
The enlightened Rishi peeped into the past lives of the Brahmin's daughter.  Rishi told the Brahmin and his wife that their daughter had breached a religious rule in her past life. She had touched some kitchen utensils while she was menstruating. Thus, she had invited the sin which was getting reflected in her present birth. It is stated in the holy scriptures that a woman who is in menstruation period should not touch religious things and kitchenware. Rishi further told them that the girl had not observed the Rishi Panchami Vrat, that is the reason why she had to face these consequences.
The Rishi also told the Brahmin that if the girl undertakes the Rishi Panchami fast with full faith and devotion and seeks forgiveness for her sins, she will get rid of her past actions (karma) and become free of the worms on her body. The girl did what she was told by her father and she got free of the worms.
---
The Puja Vidhi And Rituals To Be Undertaken On Rishi Panchami
After taking a bath, put on clean clothes on Rishi Panchami day. Make a square-shaped diagram (Mandal) using haldi, kumkum and roli at a clean place in your home. Place the image of Sapta Rishi (the seven sages) on the Mandal. Pour pure water and Panchamrut over the image. Do their tika using sandalwood (Chandan). Put on a garland of flowers and offer flowers to the Sapta Rishi. Make them wear the sacred thread (Yagyopavit). Offer them white clothes. Also offer them fruits, sweets, etc. Put incense etc at the place. In several regions, this process is undertaken on the river bank or near a pond. Women don't consume cereals after this puja. Rather they consume a special type of rice on Rishi Panchami. So, make the best use of the Rishi Panchami festival, do away with all your wrongs and gain what you want.
---
What to Eat in Rishi Panchami Vrat ?
With every culture, the tradition of eating changes in Rishi Panchami. In earlier days, devotees used to consume fruits that grow underground instead of food prepared from the grains. This day is significant for Jains. As there are two sects in Jainism, the shwetambar cult celebrates rishi Panchami as the end of Parshujan Maha Parva while the Digambar cult considers this day as the beginning of Maha Parva.
In Maharashtra, a special meal is cooked on this day known as rishi Panchami bhaji. It is cooked with seasonal vegetables. Usually, tubers are used while preparing this dish. This bhaji is cooked in a way, the way rishis used to prepare i.e. simple and without spices. On the day of Rishi Panchami, devotees who observe fast, consume this bhaji for opening the vrat.
The main ingredient of this bhaji is Amaranth leaves- chawli, elephant foot yam- suran, sweet potato-shakarkandi, potatoes- aloo, snake gourd- chichinda, peanuts- moongfali, pumpkin-kaddu, colocasia leaves- arbi ke patte, colocasia- arbi, and raw banana. All these vegetables are cooked in pots on the gas stoves. Earlier people used to cook this bhaji in earthen pots, nowadays, it is replaced by metal pots.
Thus, Rishi Panchami Vrat is dedicated to the selfless hard work of sages. It is a day that allows the devotees to cleanse their mind, body, and soul. It also strengthens the digestive system through fasting the whole day.
Attract Good Luck With Your Personalised Horoscope On The Auspicious Day Of Rishi Panchami! – Talk To Expert Astrologer Now!
With Ganesha's Grace,
The GaneshaSpeaks.com Team
Astrologers trained by Shri Bejan Daruwalla.
---
---
Get 100% Cashback On First Consultation