Rang Panchami 2024 – An Extension Of Holi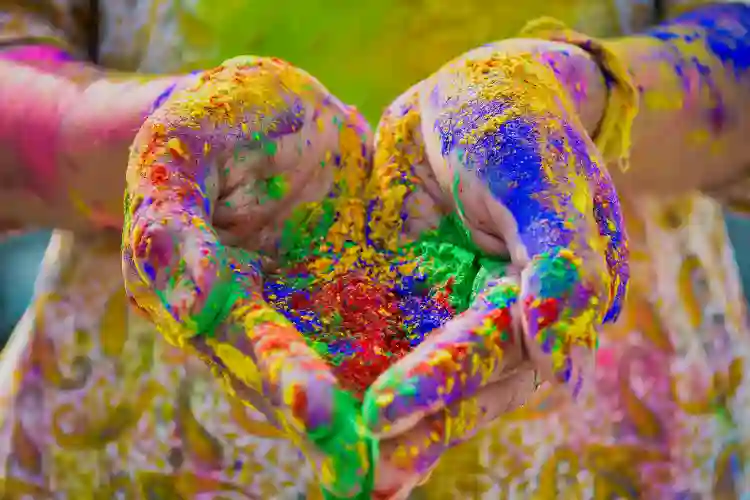 Rang Panchami Significance
As the name implies, Rang Panchami has five colours and represents the five components that make up the human body and the cosmos. The Pancha Tattva (five elements, Agni (fire), Prithvi (earth), Jal (water) and Vayu (air), as well as Akash (space), are celebrated by people in Panchami's Ranga by playing colours. Holi festivities start at Phalguna Purnima Tithi and end at Rang Panchami in many parts of the world.
---
Rang Panchami History
In the past, Holi celebrations lasted several days over a certain season. It was a time when Rang Panchami ended Holi festivities; then, the colours slowly faded away. But the truth is that Rang Panchami is just another way to represent Holi which is celebrated in Krishna Panchami Tithi of Krishna Paksha during the month of Chaitra.
Performing Puja with a dedicated mind and heart is believed to ensure the blessings of the Durga Goddess on this day. The remembrance of the same also denies the faults or Doshas in your Kundli.
Rang Panchami is extremely auspicious and is considered a significant practice for the Hindus. As everyone knows, Holika Dahan is connected by a big fire one day before Holi. During Holi, the fire lit purifies all the rajasic and tamasic particles in the atmosphere. It produces a pure aura in the area and fills the atmosphere with an enormously positive effect that helps unlock different deities in colours. Rang Panchami is also a festival to share the happiness of cleansing.
Rang Panchami is also a sign of triumph over Rajas and Tamas, which honours the 'Panch Tatva,' the universe (earth, light, water, sky, and wind). The human body is supposed to consist of five elements as well. Veneration on Rang Panchami Day is held with a special collection of ceremonial rites to revere the incarnated manifestations of the heads of Gods.
---
Rang Panchami Dates and Timings
Rang Panchami 2024 Date: Mar 30, 2024, on Saturday
Panchami Tithi Begins: 08:20 PM on Mar 29, 2024
Panchami Tithi Ends:  09:13 PM on Mar 30, 2024
Know more about the auspicious days, timings, and more with Vedic Panchang.
---
Rang Panchami Rituals And Celebrations
Rang Panchami is celebrated mainly by people living in Uttar Pradesh, Madhya Pradesh, Maharashtra and some northern Indian areas. This festival is observed only after a five-day Holi festival cycle (the fifth day following Holika Dahan).
Many people believe that the Rang Panchami and Holi both are the same, but they are praised for a completely different purpose. Let us speak in various ways about the form of celebration.
Rang Panchami In Indore – A procession led by a water tank with a high-pressure jet, two ceremonial cannons and a camel circumambulation of the town is usually held during the Indore and Maharashtra festival. Everyone on the street is coloured.
Panchami Tithi is celebrated as traditional at Indore in Madhya Pradesh. Colourful processions in the city take place on this day. The colours give the whole city a distinct feeling. People are coming out of their homes with musical instruments. Readers should be aware that it is named "Ger." This procession includes people from all faiths and castes. The colourful treat Indore seems to be looking forward to this day.
Rang Panchami In Maharashtra – After Holi's celebrations end, the Maharashtrians participate in the Rang Panchami festivities, which are, of course, incomplete without colours. From Dhulandi onwards, the people from Maharashtra play Holi with great pleasure until they reach Panchami Tithi.
On Rang Panchami, gulal(colours) are widely used. Scrumptious delicacies continue to be Rang Panchami's prime highlight, including Puran Poli as the most wanted item. The fishermen's group is believed to be unique to this day.
How do the unique planetary positions of 2024 impact your life? Know with your 2024 Horoscope!
On this day, they take pleasure at a whole new level. Dahi Handi is also kept at several places where the women throw colours at the young people who split Matka (This custom of Dahi Handi is carried out by men who form a human ladder to break the handi or earthen pot containing curd, situated at a very high spot). Those who break the "Matka" are finally rewarded with many donations.
Rang Panchami In Rajasthan – The temple in Jaisalmer hosts many functions on the occasion of the Rang Panchami. Indigenous people participate in folk dances and different activities. Orange and turquoise colours are also scattered in the air on this particular day.
Hindu devotees worship Lord Krishna and Radha in some places on this day. They conduct puja rituals to pay homage to Krishna/divine Radha's union. This festival will also inspire and preserve people's love.
The most enchanting aspect of Rang Panchami is expected to be traditional Palkha dances, often by the fishing tribes and communities in almost every corner of the world.
The joy of Rang Panchami is worth seeing in the temples of Bihar, Vrindavan, Delhi and Mathura. The speciality of glory is playing colours, eating sweets, visiting relatives, dancing to religious songs, etc. Tourists and enthusiasts in the country play Holi with various rituals and traditions vividly and enthusiastically.
For more detailed and personalised rituals based on our birth chart, you can consult our Expert Astrologers.
---
Things To Remember During Rang Panchami
Mix GangaJal into the water that you use daily and use it on Rang Panchami day to wash your hands and feet.
Goddess Lakshmi is also regarded as the Goddess of wealth. Offer flowers to Goddess Lakshmi to guarantee the influx of money and wealth in your household.
After that, offer the Goddess flowers and light a ghee lamp.
In front of the idol of Goddess Lakshmi, light a flower incense stick.
The white colour is very dear to Goddess Lakshmi so that you can offer the Goddess of wealth with white sweets.
You can also appease the Goddess of wealth by performing Lakshmi Puja.
---
Conclusion – Rang Panchami
The Spiritual Forces are said to be more than destructive powers on the day of Rang Panchami. Barsane of Radharani has special worship in his temple on that day and profits from darshan. It is assumed that Shri Krishna was playing Raslila with the gopis on this day and was celebrating the colour game one day after Rang Panchami.
Attract Good Luck With Your Personalised Horoscope On The Auspicious Day Of Rang Panchami! – Talk To Our Expert Astrologer Now!
With Ganesha's Grace,
The GaneshaSpeaks.com Team
Astrologers trained by Shri Bejan Daruwalla.
---
---
Get 100% Cashback On First Consultation