Facing Difficulties In Life? Find Out If You Have Any Dosha In Your Kundli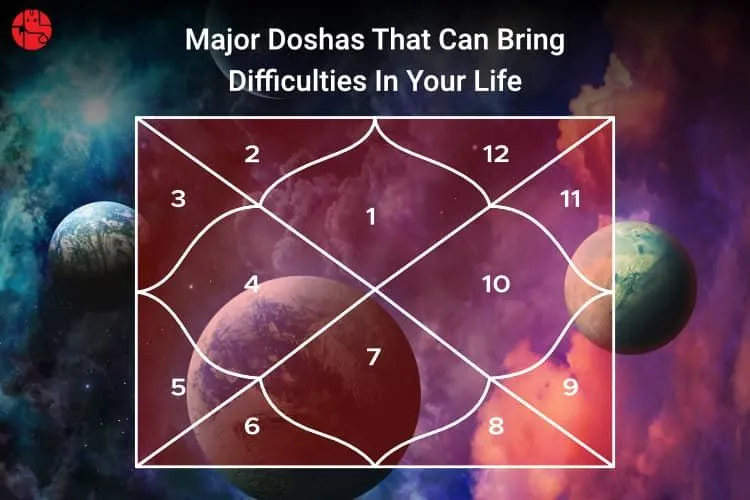 Do you ever feel that problems in your life come in gangs to attack you when you are least prepared for them? You may be experiencing the onslaught of multiple difficulties in life. It may be financial instability, friction in your relationship, fear of losing a job, family issues, health problems, and the list goes on…
Needless to say, life is a journey where difficulties and challenges will arise, but you have to summon the courage to face them. No matter the kind of challenges or difficult situation you might be passing through in life, you have something deep within you that can help you to overcome the difficulties. Of course, it is not going to be easy!
So, while you may rant and rail against the difficulties in life, your free online Janam Patrika can help you to know the reason behind them. Yes, you heard that right. There are certain planetary combinations in your birth chart that create certain doshas and can bring obstacles in your life.
Now let's take a minute to know about the four major doshas in Janam Kundli that can be the reason behind your challenges in your life. But, do not lose hope, you can sort out these challenges and overcome them like a Hero with the help of our astrologers.
---
Major Doshas That Can Bring Difficulties In Life
In case you are facing unending problems in your life, you need to find out if any of the below doshas is present in your horoscope according to date of birth. You can access your free online Janampatri to find it out! Following are the main doshas that may bring serious problems and hardships in your life:
1. Kaal Sarp Dosha
Kaal Sarpa Dosha is considered to be the main reason for the demotion of an individual from a high position. When all the major planets are placed between Rahu and Ketu, Kaal Sarpa Dosha is created. It brings along a lot of struggles, unhappiness, and disturbances. It can cause many difficulties like failure in business, physical and mental weakness, delayed or unhappy marriage, etc. Hence, if it is not treated with proper Vedic rituals, it may become the cause for repeated obstacles and misfortunes in life.
2. Pitra Dosha
Pitru or Pitra Dosha is a planetary flaw that means a karmic debt of the ancestors, which is to be paid by the person afflicted with Pitru Dosha in the Kundli. It is formed when your forefathers have committed any mistakes, crimes, or sins in their life journey. In return, you have to pay the karmic debt by experiencing different challenges or punishments in your life. This Dosha is created when Sun or Moon are in conjunction or aspects Rahu or Ketu in your birth chart. The malefic effects of this Dosha become severe when the conjunction takes place in the 1st, 5th, 8th, or 9th house of the birth chart. Hence, if you are facing never-ending troubles, Pitru Dosha may be the reason for the pain and agony in your life. You can take guidance from our astrologers for all your issues and concerns related to Pitru Dosha.
3. Nadi Dosha
Nadi dosha is one of the most inauspicious doshas in the birth chart. While Kundli matching for marriage, it is important to check the Nadi Dosha. If it is present in your Kundli, then it can create a lot of problems in your married life, especially in concern with childbirth. You may also face health concerns. This serious dosha is potent enough to cause many problems in your married life. Hence, it is essential to identify this dosha in your Kundali.
4. Manglik Dosha
Manglik Dosha is another planetary flaw that may act like an eclipse on your happy married life. Manglik Dosha is formed when Mars is afflicted in the Janam Kundali. It is considered malefic, and if it is present in the horoscope according to date of birth, then the marriage is bound to be doomed. Manglik can be the reason behind the delay of marriage, challenges in your married life, disputes, health issues, etc. But, certain remedies can help you to counter the malefic effects of Mangal Dosha.
The above-given doshas are only a few to mention, there are many more that can impact negatively on your life. So, take the prudent step of getting your birth chart analyzed. The first step to overcoming obstacles is to find out if you have any dosha in your birth chart through free online kundali. Our astrologers will also help you to map out a path to solve your crisis.
With Ganesha's Grace,
GaneshaSpeaks.com
Talk to our Astrologers First Consultation with 100% Cashback
---
---
Get 100% Cashback On First Consultation