Holi – The Festival of Colours and Its Significance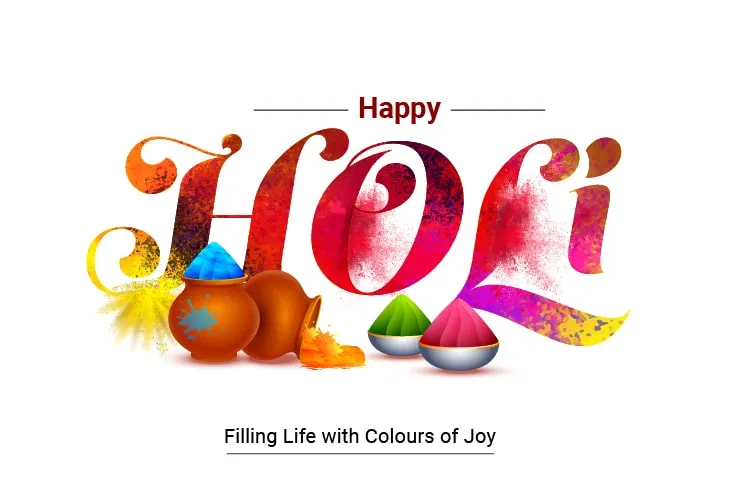 Holi – the festival of colours, love and brotherhood, is also known as Holika or Holika Utsav in various parts of India. According to the Hindu calendar, Holi comes on the Phalguna Purnima (Full Moon), which falls in the months of February or March. It is celebrated with great fun and frolic across various regions of the country. It marks the blooming of spring and a final goodbye to the winter season. According to the Puranas, the day of Holi is also referred to as Vasant Mahotsav or Kama Mahotsav.
---
Holi Celebration Date 2024
Holi Puja Timings:
Holika Dahan: Mar 24, 2024
Holi (Dhuleti): Mar 25, 2024
Purnima Tithi Begins: 09:54 AM on Mar 24, 2024
Purnima Tithi Ends: 12:29 PM on Mar 25, 2024
Holika Dahan Muhurta: 23:13 PM to 00:40 AM, Mar 25
Moreover, The festival of colours – Holi happens a day earlier in West Bengal and Odisha; in these regions, it is celebrated as Dol Jatra or Dol Purnima on the day of Holika Dahan. Surprisingly, in some parts of India (such as Mathura and Vrindavan), festivities start a week earlier and is celebrated with full enthusiasm.
Find Out How to Celebrate Holi According to Your Zodiac Sign.
---
Importance and Significance of Holi (Dhuleti)
According to tradition, ideally, the preparation for Holi needs to start from Maha Shivaratri onwards, which usually falls a few weeks before Holi. The festival of colours is not about getting rid of the waste and negative energies from our lives and homes but much more. According to Puranas, it is the time for people to consider this period between Holi to Diwali as a time for achieving and setting their goals and achieving their targets. This specifically meant people to take this time around as important and work on their shortcomings and weaknesses. Well, Holi is a pledge day when you take account of your shortcomings and accept your flaws and mistakes. And, thus promise yourself not to repeat them and overcome them. In a real sense, Holi is not about mindlessly playing with colours or creating a nuisance, but it is all about uprooting the negativity from your life.
---
---
Importance Of Holi Puja: Holika Sthapana Rituals and Puja Samagri (materials)
On this auspicious day, it is believed that all sorts of negativity and fear can be conquered by performing Holika Puja on Holi. Holika Puja bestows power, wealth and prosperity.
Perform Puja with Full Vedic Rituals Online to Gain Success and Prosperity in your life.
Holika Puja is performed before Holika Dahan. It is set at an appropriate time only after consulting Hindu Panchang. Also, the puja is performed using the right puja samagri.
Holi Puja Samagri
Following materials or puja samagri should be used for performing proper Holika Dahan Puja.
One bowl of water, beads made of cow dung cakes,
Roli, Rice which is not broken (also called Akshat in Sanskrit)
Fragrances like Agarbatti and Dhoop
Flowers, raw cotton thread, turmeric pieces, unbroken lentil of Moong, Batasha, Gulal powder, and coconut
You can also include fully grown grains of freshly cultivated crops like wheat and gram in the Puja items.
---
Holika Sthapana
The place where Holika has to be raised is rinsed with cow dung and the holy water of the Ganges. A large wooden pole is kept in the centre, and various small and medium-sized wooden sticks and logs are kept surrounding the middle pole. It is then decorated with the beads of cow dung cakes, usually known as Gulari, Bharbholiye or Badkula. Idols of Holika and Prahlada, made of cow dung, are placed on the top of the heap. Further, the Holika pile is decorated with shields, swords, sun, moon, stars and other toys made of cow dung. Moreover, people also bring in old items to burn in the holy pyre.
On the eve of Holi, Holika Dahan takes place. The holy pyre is set to fire, and it symbolises the victory of good over evil and resembles the triumph of true devotees.
---
Holi – Celebrating the Day of Holi with Colours
After Holika Dahan, the next day is celebrated as Holi, where people play with Holi colours by applying on friends, relatives and other family members. Moreover, people enjoy spraying colour water on each other using spraying toys like pichkaris or pouring buckets down. People also play the drums and beat dholaks as per the traditions.
Find Holi Celebrations in Different Parts of India.
Also, people enjoy the Holi delicacies like gujiya, mathri, malpuas and other traditional Holi dishes with great joy. Along with these special savour foods, Bhang and Thandai are the special drinks that are placed in the Holi festival. No doubt, Bhang helps to enhance the spirit of the Holi. But, be cautious as consuming more Bhang can be harmful.
---
Holi – Fill Your Life with Colours
Playing with colours, exchanging delicacies and dancing on the drum beats, Holi enhances the brotherly companionship and improves relationships. Holi is not only about rituals, playing colours and burning the pyre; it helps to improve the relationships and sends the message of brotherhood. So, let's bring in all and play the festival of colours filling our life with hues of happiness, joy and fun.
With Ganesha's Grace,
The GaneshaSpeaks.com Team
Astrologers trained by Shri Bejan Daruwalla.
---
---
Get 100% Cashback On First Consultation