The Importance And Other Facts About The Onam Festival 2023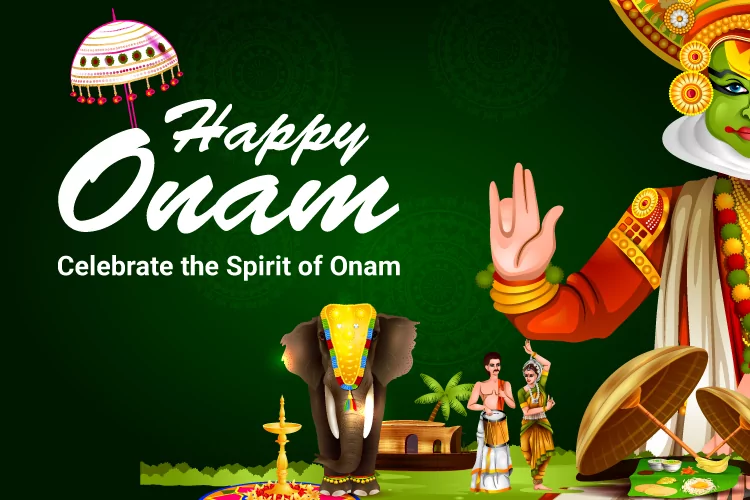 Onam Festival 2023- Significance & Celebrations in Kerala:
Onam is an annual harvest festival held primarily in Kerala, India. It is the most important festival in Malayalee culture, and it takes place in the month of Chingam (August-September), the first month of the Malayalam calendar, and lasts ten days. Though it is primarily a Malayalee harvest festival, it is mythologically related to Malayalee-Hindu folktales. Onam, like other Indian religious festivals, is observed by people of all castes and religions.
---
Onam Festival 2023 – Date And Tithi
Thiruvonam falls on Tuesday, August 29, 2023
Thiruvonam Nakshathram Begins – 
02:43 

AM

 

on

 Aug 29, 2023
Thiruvonam Nakshathram Ends –
11:50 

PM

 

on

 Aug 29, 2023
Find more auspicious dates and timings for the month with Vedic Panchang.
---
About Onam Festival – The Significance
For decades, Onam has been a part of the Malayalee culture. Yes, Onam is not a Hindu festival but a Malyali harvest festival. There are records of Onam celebrations dating back to the Sangam era. About the year 800, during the reign of the Kulasekhara Perumals, Onam celebrations were recorded. It is thought that the entire month of Chingam was celebrated as the Onam season back then. Chingam is a welcome month for people in Kerala after the rainy month of Karkidakam, which brought with it many hardships.
You can remove hardships and obstacles from the path of your success with authentically performed Ganesh Puja.
The festival heralds the arrival of spring and the beginning of harvest season. Onam symbolises the season's renewed vigour and excitement, and it's celebrated with traditional fervour, including temple visits, family get-togethers, gifting each other Onakkodi, and plenty of merrymaking.
---
Onam Festival – The Legend Of Onam
Kashyapa had two wives, Diti and Aditi, who gave birth to demons (Asuras) and demigods (Devas), respectively. Indra, the king of demigods, went to war with the king of Asuras, as was customary at the time for a king attacking another kingdom to gain additional territory. Mahabali, the King of the Asuras, defeated Indra and took control of Indra's domain. Kashyapa returned from the Himalayas to find Aditi weeping over the defeat of her son, Indra. Kashyapa understood the source of sorrow through divine wisdom. He tried to comfort Aditi and instructed her to pray to Lord Narayana.
He taught her the Payovrata ritual, which begins on the twelfth day of the bright half of Kartika Sukla paksha Dwadasi and ends on the twelfth day of the bright half of Kartika Sukla paksha Dwadasi. Lord Narayana appeared before Aditi and told her that if she performed the Vrata with a pure heart, he would take birth in her womb and assist Indra. Aditi later gave birth to a son of unusual radiance on the twelfth day of the bright half of the month of Bhadrapada.
Balichakravarthi (Bali, The Emperor) or Mahabali was the grandson of Hiranyakasipu's devotee Prahalada. Bali, like Prahlada, was preoccupied with the worship of God and the spiritual and material advancement of his subjects. Mahabali, who was conducting the Viswajith sacrificial rite, proclaimed that he would give anyone whatever they wanted during the Yagna.
Vamana arrived at Yoga-shala. The sages gathered there noticed the young lad's exceptional effulgence shape as he approached them. Mahabali proceeded to receive the Brahmin boy with all conventional honours and bestowed upon him an eminent seat befitting a holy person's rank. 'Master!' Bali exclaimed. It's a stroke of luck that you've chosen to honour me by being here. Whatever it is that you crave, I am here to fulfil it.' Vamana said with a smile: "You don't have to give me anything spectacular. It will suffice if you give me the area covered by three of my footsteps."
Hearing him, Bali's preceptor, Shukracharya, who could see into the future, told Bali that the one who had come to seed a gift from Bali was Lord Narayana Himself, who had assumed this form. He told Bali not to make any promises to the lad. Bali, on the other hand, was a king who would never break his word, and he promised his Guru that he would never do so. He was adamant about giving Vamana everything he wanted because it was a sin to break one's word, and he had to uphold his promise. Shukracharya insisted on not fulfilling Vamana's demand because he had come to deprive Bali of all his belongings. He said that Vamana didn't really need anything because he already had everything he needed.
Bali, on the other hand, was determined to keep the promise made to Vamana and apologised to his Guru for disobeying his advice. Bali had prostrated at the feet of his preceptor, Shukracharya, before embarking on the war with Indra, and on his guidance, he performed the Vishwajit Yagna, from which he obtained extremely powerful weapons. He was only able to defeat Indra thanks to Shukracharya's assistance. Bali was not willing to follow the same preceptor's advice this time. 'Because you have not heeded your Guru's terms, you will be reduced to ashes,' Shukracharya cursed Bali. Bali stood firm, saying, 'I am prepared to face any consequences, but I will not break my promise.'
Shukracharya's efforts to persuade Bali to give Vamana the land he wanted were in vain. Vamana then assumed his celestial form and stood for the third foot of soil, measuring the entire earth with one foot and the sky with the other. Vamana then sent Mahabali to the netherworld.
Lord Mahavishnu, incarnated as Vamana, liberated Emperor Bali, the most benevolent king, by sending him to the netherworld. Vamana rose in stature until he was towering over the heavens. He weighed the entire earth with only one foot. He claimed all of heaven with the other. Bali also owed him one square foot of land. Bali offered his head as the alms for the third move of land that Lord Vamana had requested. The Lord gave Bali permission to visit his people once a year, honouring his deep loyalty and sense of sacrifice. As a result, Keralites celebrate the Onam festival to commemorate Lord Mahavishnu's advent as Vamana Avatar and to rejoice in Emperor Mahabali's annual visit to meet his people.
---
Onam Festival – Celebration And Rituals
Onam is observed with great pomp and vigour for the entire ten days. These are the rituals and celebrations that took place during these days.
On Attam, family members get up early in the morning and put on new "Onakkodi" clothing. They worship and mount Thrikkakara appan or Vaman Vishnu idols.
On the east side of their houses, Malayali women draw various "Pookkalam," floral designs. To welcome King Mahabali or Maveli, they light lamps and sing traditional Onam songs (Onappattukal).
A swinging ceremony is held on Thiru Onam, in which a swing is slung from a high branch of a tree. This swing is decorated with roses, and women ride it in turns, singing melodious songs.
On the third day of Onam, people host a grand feast called "Onam Sadya" for their relatives and mates. They prepare at least 13 dishes on banana leaves, including rice, vegetable curry, curd, and Payasam (sweet stew). On Onam, payasam is considered a must-have Onam Special dish. Milk, rice, sugar, and coconut are used to make it.
At various locations, the popular "Vallamkali" or Snake Boat Race is held. Hundreds of huge, decorated boats with at least seven drums compete in the race in Alappuzha, Kerala. People come from all over the country and the world to witness this grand Onam case.
On the ninth day of Onam, the family's dependents and tenants give vegetables and coconut oil as gifts (Onakazhcha) to the family's eldest member, known as "Karanavar." This practice is mostly practised by Kerala's Nair sects.
Various cultural activities and festivities are held in temples and religious places during the Onam festival, especially on the tenth day. Ornaments are put on elephants, and grand processions are carried out.
---
Conclusion – Onam Festival
Onam is a harvest festival since it is at this time of year that the people of Kerala gather their rice harvest and praise God for the food and prosperity.
In addition to the lessons learned from Vamana and Mahabali's Onam tale, the significance of the Onam Festival encourages people to once again instil the values of truthfulness, fairness, dignity, and peace so that Mahabali can see his subjects happy when he returns on Onam day.
Attract Good Luck With Your Personalised Horoscope On The Auspicious Day Of Onam Festival! – Talk To Expert Astrologer Now!
With Ganesha's Grace,
The GaneshaSpeaks.com Team
Astrologers trained by Shri Bejan Daruwalla.
---
---
Get 100% Cashback On First Consultation