Observe Mohini Ekadashi Vrat This 2023 And Get Blessings Of Prosperity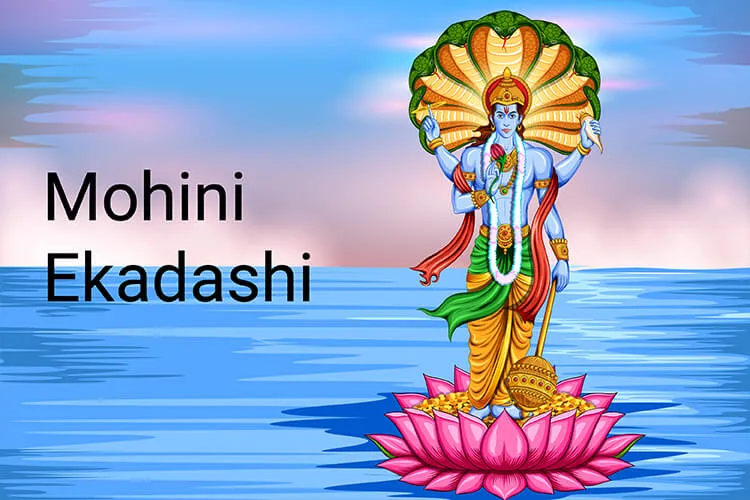 As per the Hindu time schedule, Mohini Ekadashi 2023 is approaching and celebrated among Hindus. The main aim of this festival is to wash away any ill deeds done by an individual, along with those carried out in their past lives. According to Indian practices, Mohini is the name given to the hidden expression of Lord Vishnu. The Lord showed up in this appearance on the Ekadashi tithi, hence this day started to be remembered as 'Mohini Ekadashi'.
Also Read: Know About The Hindu Trinity: Brahma, Vishnu And Mahesh.
This day is observed in the Vaisakh month among North Indian parts and surrounding areas, however; according to the Tamil calendar, it falls during 'Chithirai', while it occurs during the 'Jyestho' month of the Bengali schedule, and in the Malayalam schedule, Mohini Ekadashi takes place during 'Edava'. Hindu enthusiasts celebrate this event to receive divine grace for leading a joyful and prosperous life.
---
Mohini Ekadashi 2023 Date
Mohini Ekadashi occurs on the 11th day of the Shukla Paksha during the Hindu Vaisakh month. It usually occurs during the months of April or May. The dates of Mohini Ekadashi 2023 are as below:
Mohini Ekadashi: May 1, 2023, Monday
Parana Time: 05:40 AM to 08:19 AM
On Parana Day Dwadashi End Moment: 11:17 PM
Ekadashi Tithi Starts: 08:28 PM on Apr 30, 202
Ekadashi Tithi Ends: 10:09 PM on May 01, 2023
Get your Personalized Janampatri to know about yourself in detail.
---
Mohini Ekadashi Significance
It is believed that when one observes Mohini Ekadashi Vrat with complete commitment, they can gain such great karma (punya) that can not be accomplished even by travelling to pilgrimage places or doing noble works. The individual who conducts this fast gets as many rewards as receiving them when donating 1,000 cows. The person also gets liberated from the ceaseless pattern of birth and death, thereby achieving salvation. Hence, this occasion is extremely revered in Hindu religion.
---
Mohini Ekadashi Vrat Katha
The Hindu folklore says that on the day of Mohini Ekadashi, Lord Vishnu had appeared as Mohini. When Amrit (Nectar) was found during the Samudramanthan (chiring of the sea), a question arose between Devtas (divine beings) and Daityas (devils) on who could have it. At that point Vishnu appeared as a delightful lady, Mohini. Daityas (demons) continued appreciating the charm of Mohini, while the Devtas drank the Amrit at the same time. That is the reason this day is known as Mohini Ekadashi.
Lord Rama had also conducted the fast of Mohini Ekadashi while looking for Sitadevi, and furthermore by Yudhishthir during the time frame of Mahabharata. Subsequently, they were soothed from each of their sufferings.
---
Mohini Ekadashi Legends
As per the ancient texts, there was a region called Bhadravati on the banks of Saraswati river, which was administered by King Dhrutimaan. He was exceptionally a devout follower of Lord Vishnu. Among his 5 children, the fifth one, Dhrishtabuddhi was a miscreant. He got into immoral acts with ladies, betting, and furthermore indulged in taking meat and liquor. As a result, the ruler got disturbed and deserted him. From that point, Dhrishtabuddhi lived through the days by selling his jewellery and garments. But later, being troubled with thirst and craving, he showed up at the Ashram of Sage Kaundinya.
Around then, it was the month of Vaishakh, and the Sage was taking a bath in Ganga river. Due to this, water beads sprinkled from Sage Kaundinya's wet garments on Dhrishtabuddhi and he became intelligent. At that point, he admitted all his wrong doings in front of the Sage, and begged him for a resolution of achieving salvation from his deeds. In this way, Sage Kaundinya encouraged him to do fasting on the Ekadashi of the Shukla Paksha to purify all his sins. Eventually, he got liberated from his ill deeds by observing the fast, sat on Garuda bird and arrived at Vishnu Loka.
Are you facing any ill effects in your life? Access your personalised Remedy Suggestion Report from experts and come out of problems easily.
---
Mohini Ekadashi Rituals
The individual observing Mohini Ekadashi Vrat must obey the below rituals from the previous night (the 10th Lunar Night).
Wake up early in the morning, mainly before sunrise.
Take a bath after applying a paste of sesame seeds (Til) on the body.
Place a Kalash embellished with a red cloth in front of the statues of Lord Vishnu and Shri Ram.
Light a diya (lamp), burn some incense and worship the deities by offering flowers and fruits.
Share the Prasadam with everyone and along with donating money, food or clothes to Brahmins.
Sing devotional songs in groups during the night to appease the Lord.
---
Avoid These On Mohini Ekadashi
Avoid consuming rice and barley on this day, as it is believed a bad deed and also nullifies your righteous acts.
Do not take food given by other people and outsiders.
Avoid consumption of Tamasic food like onion, garlic, liquor, meat, etc.
Avoid getting angry, violent, critical or doing ill acts on this day.
Observing full abstinence is also suggested on Mohini Ekadashi.
Attract Good Luck With Your Personalised Horoscope On The Auspicious Day Of Mohini Ekadashi! – Talk To Expert Astrologer Now!
With Ganesha's Grace,
The GaneshaSpeaks.com Team
Astrologers trained by Shri Bejan Daruwalla.
View All Festivals
---
---
Get 100% Cashback On First Consultation