Guru Nanak Jayanti – our heads bow in your respect Guru Dev!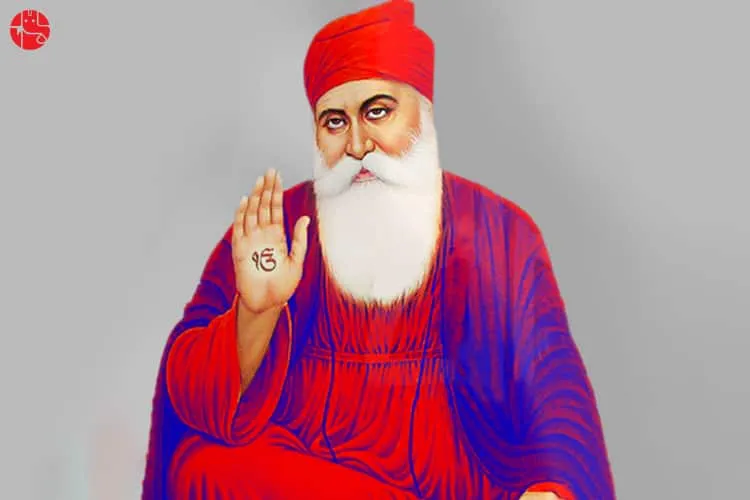 Guru Nanak Dev is considered by many to be a medium of morality, loyalty, truth, and spirituality in the human world. To commemorate Guru Nanak Dev's birth anniversary, Guru Nanak Jayanti, also known as Guruparb, is celebrated. It is the world's most sacred festival for Sikh and Sindhi communities. This year, Guru Nanak Jayanti 2023 will be celebrated on 27th November. This day is celebrated all over the world with a lot of prayers, customs, zeal, and happiness.
---
Life History of Guru Nanak Dev
Guru Nanak Dev was born on 15th April 1469, to an accountant Kalyan Chand Das Bedi and Mata Tripta, in Talwandi village. He was born in a Hindu family but was surrounded by Muslims. The elder sister of Guru Nanak was married to Jai Ram in 1475. Guru Nanak stayed with his sister and brother-in-law. At the age of 16, he started working under Daulat Khan Lodi. On 24th September 1487, he married Mata Sulakkani. They had two sons, Sri Chand and Lakhmi Chand.
Taking a step towards his endeavour for social justice and the well-being of all, he became the founder of Sikhism. Faith, honesty, spirituality, and humanity are the few to mention principles of Sikhism. For this great endeavour, the Sikh community revered Guru Nanak as the supreme power of their community. On 22nd September 1539, Guru Nanak's life came to an end in Kartarpur, Pakistan.
---
Guru Nanak Dev – The Great Spiritual Healer
Guru Nanak is respected and worshipped as a religious guru. He is also known as a spiritual healer. He started the composition of Guru Granth Sahib by contributing 974 hymns. Guru Granth Sahib is the holy book of the Sikhs. There are hymns in the scriptures, and everything is written in a poetic and musical style. Guru Nanak dev believed in selfless service to humanity, social justice, and prosperity for all.
Not only the Sikhs but people all over the world have faith in the miraculous powers of Guru Nanak. The celebration of his birth anniversary promotes communal harmony also. The festival is celebrated every year with great fervour and reverence to Guru Nanak Dev. During his lifetime, he opposed many religious and superstitious evils. He gave many life lessons to the people, which carried the essence that God is one and his worship is for the followers of every religion.
---
Guru Nanak Jayanti – Meaning
Guruparb is made up of two words: "Guru," which means "teacher," and "Parb," which means "day". On Guruparb, Sikh and Sindhi communities all over the world honour Guru Nanak Dev as their teacher. Since Guru Nanak Dev enlightened humans with his knowledge, this day is also known as Prakash Utsav. Guru Nanak Dev Ji Birthday is a Hindu festival celebrated on the full moon day of the Kartik month. Every year in the months of October or November, according to the Gregorian calendar, people celebrate Guruparb. Traditionally, it is a three-day festival. The preparations for Prakash Utsav begin two days before the festival.
November 27, 2023 is the Guru Nanak Jayanti date this year.
---
Importance Of Guru Nanak Jayanti
As per Hindu Lunar Calendar, Guru Nanak birthday is celebrated on Kartik Purnima. He is the founder of Sikhism. Guru Nanak Gurpurab is the way of celebration that makes his disciples and devotees remember the teachings that he uses to emphasise. It gives a message that one should live life in a right and ethical way.
On the day of Guru Nanak Jayanti, Guru Granth Sahib – the sacred book of the Sikhs, is read with full devotion. It is said that, on this day, priests read Guru Granth Sahib for about 48 hours, non-stop, before the festival commences.
---
The Teachings Of Guru Nanak Dev
Guru Nanak Dev's teachings have enlightened and inspired his followers and still continue to do so in the present day. To achieve success in life, follow Guru Nanak Dev's teachings:
Always work diligently throughout your life and worship the Lord God, who is present everywhere.
Rather than complaining about the lack of anything in life, one should always learn to be satisfied.
One should concentrate on contributing a small portion of one's earnings to the less fortunate.
Food is the most important need for a human body to remain stable and healthy. However, one should avoid displaying a selfish attitude.
The presence of God can be seen in all living things.
In Vedic Astrology, Saturn is also considered as the teacher; it is the planet of discipline. You get rewards for your hard work based on your karmas and planetary position in your birth chart.
So, why not Get Free Janampatri to know its impact on your life.
---
Rituals for celebrating Guru Nanak Jayanti
Early in the morning on Guru Nanak Jayanti, take a holy bath. Chant the "Nit Nam" Panch Vani after that.
Visit the Gurdwara and listen to Gurbani or Kirtan.
With a dedicated and pure mind, one should listen to the Ardaas.
Make contributions to the Langar.
A religious program (Jagran) is organized.
Finally, offerings are made to the Guru and then distributed to the public, wishing each other Happy Guru Nanak Jayanti.
---
Rituals Of Guru Nanak Jayanti Followed At Gurudwaras
The most important ritual is reading Guru Granth Sahib at Gurudwaras in front of all the devotees. Nagar Kirtan – the procession of the Sikh devotees, is conducted a day before Guru Nanak Jayanti.
The procession includes a palanquin. In this ritual, the holy book is carried, and the devotees follow the palanquin by reciting and chanting the religious prayers and hymns. The celebrations of Guru Nanak Jayanti start at around 3 am early in the morning and will end by about 6 am. This time is called Amrit Vela.
As per Guru Nanak, early morning is the most auspicious time for praying; hence he asked his devotees to pray at the early hours of the day. Since then, the rituals have been followed. After Amrit Vela, devotees spend their day with Katha and Kirtan rituals at Gurudwara.
On this day, Gurudwaras are decorated and hymns are sung, even fireworks are used to celebrate this auspicious and special day.
---
Guru Ka Langar – The Most Important Part Of The Festival
The Langar is a very vital part of the Guru Nanak Jayanti. Lunch is prepared for the large community, and it is called Guru Ka Langar or Guru Nanak Jayanti Kangar. It is the most nutritious, tasty, and vegetarian meal. Furthermore, all the food items are prepared under very hygienic conditions by the devotees of the Sikh community. One of the most famous dishes during this festival is Kada-Prasad – a sweet.
Guru Ka Langar denotes that all people, irrespective of caste, creed, status, can come and eat good food under one roof. Thousands of devotees come together to prepare wholesome, clean food and serve many people who visit Gurudwara.
---
Offerings and Dishes on Guruparb Or Guru Nanak Jayanti
Below are the most popular dishes and drinks that devotees serve on Guru Nanak Jayanti-
Sweets: Desi Ghee and Flour Halwa, Kada-Prasad, Rabri Kheer, Badam Halwa, and Gajar Halwa.
Drinks: Jaswant Sherbat, Lassi, and Chaach.
Snacks: Paneer Tikka, Amritsari Chhole, and Kulche.
Meals: Sarson Ka Saag and Makke Ki Roti, Chhole Bhature, Daal Makhani, Punjabi Kadhai Pakodi, and Hariyali Paneer Tikka.
---
Closing Note
The principles or rituals inaugurated by Guru Nanak Dev were not only popular among the followers of the Sikh community but also followed by many others in the current century too. By following the life lessons given by Guru Nanak Dev, you will not only make your life successful but can also achieve your desires and goals. You will attract more positivity and happiness in life.
To Get Your Personalized Solutions, Talk To An Astrologer Now!
With Ganesha's Grace,
GaneshaSpeaks.com
---
---
---
Get 100% Cashback On First Consultation