Cancer Career and Business Horoscope 2022: Planets Are Opposing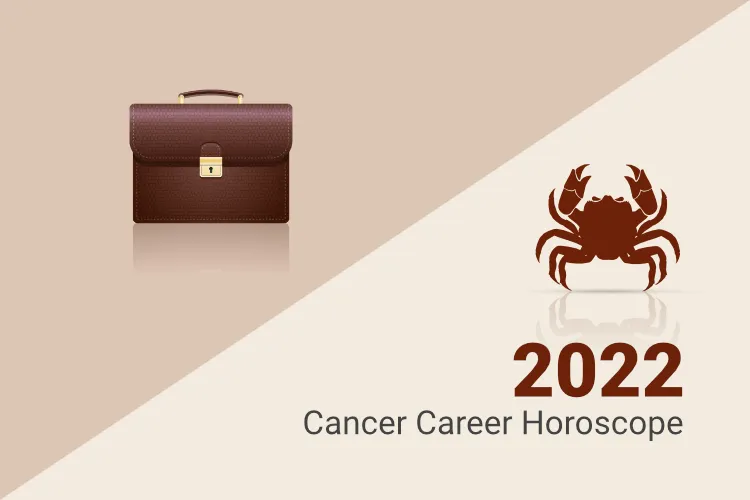 Natives of Cancer Zodiac signs may face issues in their profession during the initial months of 2022.
As per Cancer Horoscope 2022, the planetary positions are not very favourable in terms of career. However, due to the planetary positions, you may come across a lot of tricky situations at work.
You may have issues or rifts with your colleagues and seniors. They may not support you under any circumstances.
We advise you to not worry about the current situation, and it may get improved post the first quarter of 2022. To know about your career in the year 2022, access your Free Personalized 2022 Report.
Improvements Suggested
During this time, it is advised that you try to stay away from trouble as much as possible.
Do not be a part of office politics; stay away from gossip because, in the end, the entire blame can fall on you, and you don't want this to happen.
Make sure your work is up to the mark, and the quality of work is not compromised as you may have hidden enemies at work who are waiting for you to make mistakes.
But give them no chance and instead work harder than before and let your work scream volumes.
Ray Of Hope Seen
As mentioned before, after the first quarter, you may get new work opportunities, and your professional life may be enhanced.
The initial issues that you may have faced would gradually decrease, and your relationship at work may improve. If they do not improve, you don't have to worry as they post the first quarter. You may get new work opportunities.
Work opportunities that you were waiting for and working hard to achieve.
The planets support you tremendously, and some natives may even get a job in an MNC with better perks and salary.
So, make sure you keep your preparation strong. Make sure you up your interview game. Take classes on how to improve your interview skills, or you could also watch videos on Youtube.
Hone your Interview skills Cancer Peeps, because you need it now like never before.

Anything About Business
People in business, just like working employees, need to exercise caution in the year 2022.
We advise you to practice Yoga and Meditation religiously as this phase would be quite stressful for you. In addition, you would need to stay calm and composed to handle the business issues you may come across.
Business people are likely to fall into disputes with their employees and workers, which may harm their business activities.
Hence, try to maintain your patience because you don't want the business being hampered.
Try to talk to your employees and conduct the meeting with them. Make sure you keep the agenda for the conference very clear. Let them their targets and how they have to achieve them.
If you don't have KPI s marked in the company, set a KPI within the company and ask them to work for it. Let them know the consequences as well if it is missed.
Make A Business Process
Create a proper plan and a process in your business and a written document that could minimise verbal conflicts created within the organisation.
During this time, you're advised to keep control over your speech to avoid falling into verbal combat with the employees. Once the process is created, everything would be in writing, and nobody would pass the buck on others. Access the Free Personalized 2022 Report to know what the stars have in store for you.
Cancer Career and Business Horoscope 2022: Overview
Folks in the creative field may get excellent ideas and thoughts to expand their horizons. In addition, those who are self-employed may be able to negotiate skillfully in their respective areas.
This is the right time to go ahead and think of a job switch. It is time to update your resume, Capricorn folks. This is a good time for a job hunt, there are chances that you may receive job offers, and you should consider them twice before rejecting them.
If you are working as a businessman, you may have good ideas to go with and have good results from the chances you take. You can also get a new opportunity for partnership and deals that you have been waiting for a long time. This year calls for rejoicing, as the uncertainty may end, and you may have a stable work life. So keep calm and wait for these good times.
Capricorn 2022 Career Predictions:- Overview
Make sure that you do not invest money in any work till the middle of the year 2022. Likewise, it would help if you didn't start a new partnership business until September of the year 2022.
After the first quarter, you may get new work opportunities, and your professional life may be enhanced. Some of you may even get a government job by clearing the Civil Services Examination.
Job employees may maintain an amicable relationship with their boss but promotion and an appraisal are still not on the cards.
Your boss and seniors may perceive your diligent work and appreciate your generous contribution to the growth of your organisation.
Overall, this year may be average for both employees and business people.
On the career front, you require some more focus.
Be positive and keep the good thoughts flowing. You are excellent in your job, but a lack of concentration may affect your performance.
The last week of the year may give you chances to do business deals, so be careful as one wrong step from your side, and your responsibilities may be given to the others. If you are working as a businessman, you are likely to be flooded with good partnership deals in the year of August.
You can expect appreciation and a raised status for your professional front. Therefore, the year 2022 may have many achievements professionally.