Aries Career Horoscope 2022: Taking Initiative in Everything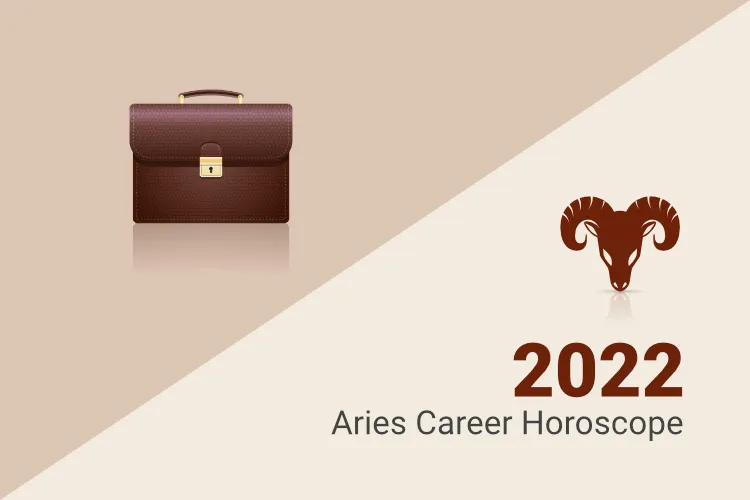 2022 is a mixed bag when it comes to a career for the Aries Natives. To one end, progress may be made for those who work hard and have vast connections. But, on the other hand, the people who live within the formality of a 9 to 6 job would see nothing special.
This year is all about going out and about. Your work should scream volumes for you!
Try to take the initiative within your team, and also take some extra additional responsibilities. Your organisation should see you as their asset for some developments and changes.
With all the efforts put in, you can see some changes & progress during the middle of the year.
For those who are employed or looking for a job, you would have to double your efforts at this moment. To know about your career in the year 2022, access your Free Personalized 2022 Report.
Stay Vigilant Says Aries 2022 Career Horoscope
Along with working hard, try to stay vigilant as there may be misunderstandings with colleagues or your boss.
It would be better to stay focused on work and try not to get involved in office politics or office gossip. As the entire blame could fall upon you, leading to a rift between you and your colleagues.
Hence, stay away from office politics. Instead, it would be better to focus entirely on your work, as growth is what you should focus on.
Growth demands a temporary surrender of security. It may mean giving up familiar surroundings, leaving your personal bubble but limiting patterns, safe but unrewarding work, values no longer believed in, and relationships that have lost their meaning.
Aries Career 2022 Fresh Prospects Are Awaiting
If you're looking for a new job, you'll likely get one during the second half of the year. Adopting the approach of patience is highly recommended, though.
The initial part of the year may not be quite favourable for a job switch. Hence, try to sail through and apply for new jobs and interviews in the second part of the year.
Be thoroughly prepared though, invest the first half of the year in preparing and researching. After which, you can support the second half in appearing for interviews.
Do note there are more effective, more practical skills, more opportunities at the door.

Add More Zeros to the PayCheck Says Aries 2022 Predictions
Few Aries Natives may take up freelancing work to add more zeros to their paycheck. It is a beautiful opportunity so try to give it your best.
However, if you are doing this as a side business, make sure your work is not affected. Plan your work and your freelancing project so that they don't clash with each other.
Freelancing work would add more revenue to your work and more reputation to your efforts.
If you are involved in any business or planning to get into one, you need to be cautious while meeting and dealing with new clients.
Be more focused & attentive; only then you'll be able to crack some profitable deals this year. There is a high possibility for travel. Have you packed your bags yet?
Those with high brand value cannot say 'No' to very hectic business trips. Sorry Pals!! So, make wise decisions to maintain good gains.
Further, your relations with your business partners may be satisfactory. However, you are advised to avoid new partnerships during this year. This step can lead to more tension and confusion in the decision-making process. It would also lead to problems of business difference which would not be easy to deal with. Therefore, balance your energy to make sure you maximise your gains this year in your versatile way. Access the Free Personalized 2022 Report to know what the stars have in store for you.
Aries 2022 Career Horoscope: Overview
The year 2022 has mixed career results. At one end, there may be progress for those working hard and having foreign connections. But some who have been into mundane routine activities are likely to see some struggle in finding their progress.
However, job employees will make desirable progress during the latter part of this year. You may maintain amicable relations with your colleagues, you will likely, but there could be some misunderstandings with managers, so stay vigilant.
If you are looking for a new job, then you are likely to get one, but maybe in the second half of the year only. So patience should be the first virtue that you should adopt this year.
Some may take new freelance work for extra income, as this would add more revenue to your work and even find some reputation for your efforts.
If you are involved in any business or planning to get into one, you need to be cautious while meeting and dealing with new clients. There are possibilities that you can be deceived should you be casual in your working relationship with them. Along with that, you should be more focused and attentive as well.
Finally, balance your energy to make sure you maximise your gains this year.