Pisces Career and Business Horoscope 2022: Year of Achievements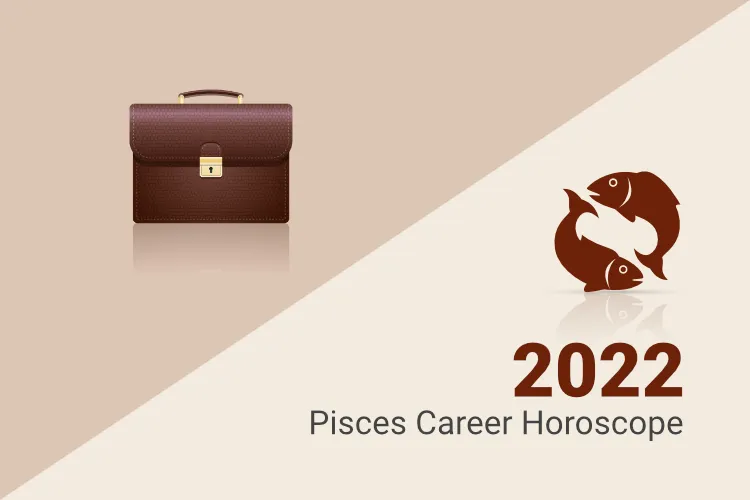 Pisces career horoscope 2022 says that you are likely to shine brightly. Being content is one thing, but striving to achieve more can be your secret recipe for success. The stars suggest you should never stop hustling and aim for the sky.
Pisces career in 2022 shows that the outcomes are likely to be in your favour, and this year is gonna be a truly inspiring one.
You may not know dear Pisces, but you have the ability to make decisions that can help you advance your goals. If you're looking for a Pisces 2022 career horoscope, you'll probably know that this year is likely to provide you with plenty of options. To know about your career in the year 2022, access your Free Personalized 2022 Report.
Pisces Career Horoscope 2022: Getting High on Creatives
You are known for your powerful imagination and creativity. The performance you give will be depicted in the graphs of the organisation when they go up. The stars suggest that you are likely to excel in your work. Professionals working in the fields like photography, designing, architecture may get an award of recognition for their outstanding work. This year's prediction says that you are having all the chances to showcase your abilities. Do not let them slip away from your fingers and grab the opportunity just like you would granola.
Because of your unique personality, many of the individuals who work with you are inspired, which is a great thing. Pisces career horoscope 2022 predicts that your career is about to take off, and the planets are all in your favour. So go ahead and take advantage of this year's job opportunities.

Pisces 2022 Career Horoscope: Let's Talk Business
Businessmen may get full support from their business partners. There's also a possibility of your ex-business partner coming back with a business proposal. Consider it, but don't be enticed by promises of a high rate of return on your investment. Various opportunities for growth and development are ensured to turn up after the first quarter of the year. In addition to this, virtual meetings may be used more frequently to communicate with international clients.
Your business may take a smoother turn after the mid-year. Salaried employees should not make any rash decision this time. You will maintain a good relationship with your colleagues and seniors. Your boss will be impressed by your performance and may offer you a good raise. Some of you may even get a government job this year. A transfer near your native place and desired location may happen this year. If you have enough confidence inside you, nothing can stop you from achieving your goals. No doubt challenges will be there, but you can overcome them with your determined efforts.
After the mid-year mark, your business may take a more positive turn. This is not the time for job people to make any hasty decisions. The stars advise you to keep good relations with your coworkers and superiors; it'll help you in the long run. Your manager or team leader is likely to be impressed by your work and may give you a raise as a result.
Pisces career horoscope 2022 also predicts that some of you might receive a federal job, or you might get a transfer closer to your hometown and ideal location. Always remember, champ, nothing can stop you from accomplishing your goals if you have enough faith in yourself. There will undoubtedly be obstacles, but with your persistent efforts, you can conquer them all. Access the Free Personalized 2022 Report to know what the stars have in store for you.
Pisces Career and Business Horoscope 2022: Overview
Overall the Pisces career horoscope 2022 just tells you to shine bright like a diamond, as that can be your hidden gem for the year. You have the power to make your own choices and decisions, plus when you have multiple options in hand, why waste it, yeah?
Satisfaction is the key theme this year as that is what you'll be getting; sounds a little unsettling? Well, stop doubting yourself and your predicted future. The work which you'll be starting soon is bound to give you something that you never really dreamed of. Piece of info to be happy about? In difficult times, your coworkers are likely to be there for you.
Creative Pisces are likely to have a colourful year as they may get an award of recognition for their outstanding work. Never doubt yourself, Pisces being a water sign, has the ability to flow and do unexpected things.