Sehwag was destined to create history, says Ganesha.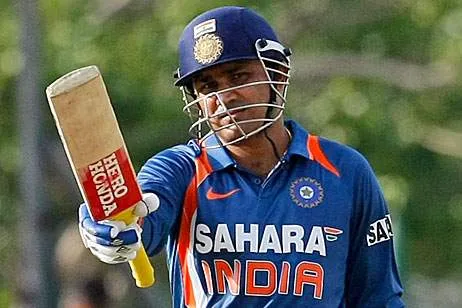 An iconic player, the one considered a nightmare for the opposite team, Virendra Sehwag recently created history. This right-handed opening batsman and a part time right-arm off-spin bowler had once quipped, "I don't believe in technique, I believe in performance. If you are tough, whether you have technique or not, you'll survive." And, on 8th December, 2011 Viru, as his fans, followers and friends fondly call him, showed the real strength of his character, and went to play an epic knock. Sehwag has always managed to raise the bar, but this time around he has done something which has lent a whole new dimension to his career. The smashing innings where Viru scored 219 runs off just 149 deliveries during the 4th ODI between India and West-Indies at Indore is sure to go down in golden words in the international cricketing history.
A right mix of determination, physical stamina, aggression and technique, Sehwag's battling style has remained an enigma for many. People, in the stands and at homes, could be literally seen biting their nails. The anxiety reached a crescendo when Virendra Sehwag the Nawab of Najafgarh was steps away from creating a cricketing landmark. The hopes and expectations of cricket lovers were duly met. He did it! His critics, who, time and again, have doubted his abilities had no choice this time, but to eat their words.
Viru holds the record for scoring the fastest triple hundred in a test-match. He is the only Indian cricketer who has scored two triple hundreds. In ODIs too, he has been a priceless asset. His 15 centuries and 37 half centuries bear a testimony to that. However, his unorthodox style and shot selection have often come under the scanner, and many have criticised him for throwing away his wicket. But this Arjun Award winner and recipient of Padma Shree has silenced his critics on more than one occasions.
Had Sehwag not taken the risks, he would not have been able to break Sachin Tendulkar's record of the highest individual ODI score. He survived two run-out chances and was dropped twice in the course of his mammoth 219 runs' innings. His will power surely had a strong support of Lady Luck! With due credit to Sehwag blazing style and talent, it may also be noted that stars and planets played a noticeable role in helping Virendra Sehwag set the world record on 8th December, 2011. Ganesha, with the help of Vedic astrology, explains how these planetary positions helped him achieve this milestone.
20th October 1978
02:45
Delhi
Vargotam planets – Lagna, Ravi; Chan, Fortuna
Virendra Sehwag has Vargottama Leo Ascendant and the Lord of Ascendant Sun is also Vargottama, which makes his chart extremely powerful. He also has Yogkaraka Mars, the planet of sports, conjuncts Venus in the 3rd House. This makes him an aggressive player who can crush any team with his pace and power.
On the day of the match, i.e on 8th December, 2011, when he scored a record-breaking double century, the transiting Mars was passing through the Ascendant in conjunction with the natal Saturn. Astrologically, Mars is the commander and planet of action. The aggressive Mars is the giver of courage and physical energy. His innings symbolised fighting-spirit, aggression, passion and enthusiasm. The Mars effect? was evident in the innings he played against the West Indies on December 8th. Also, Moon had a significant impact on his performance as it always plays vital role and make things happen. On the day when played the iconic innings, the transiting Moon was in Krittika Nakshtra, which is ruled by Sun. Sun is the Lord of Ascendant and is very strong in Viru's chart. The transiting Moon trine transiting Mars played vital role in creating such a historic event.
With Ganesha's Grace,
Tanmay K.Thakar,
The GaneshaSpeaks Team
---
---
Get 100% Cashback On First Consultation