Ganesha foresees a great time ahead for Satnam till January, 2016….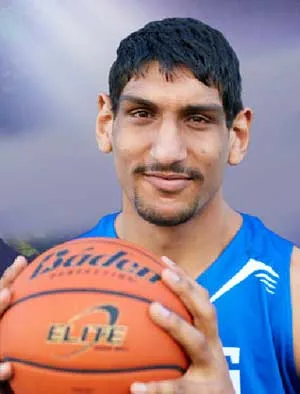 A 7 feet 2 inches tall, well built Punjabi lad is sure to make it big in the field of sports or areas requiring physical strength! Satnam Singh Bhamara doesn't betray this perception as he has created History by becoming the first ever Indian to be drafted into the NBA! At just the young age of 19, this hulk is making headlines and that too for the right reasons. Satnam was born in a small village called Ballo Ke, located in the Barnala district of Punjab, India. Being a person with amazing height even at the age of 9, he was always advised by people to become a Basketball player. And now, after a lot of struggles and perseverence, this mighty man has struck gold! At this golden moment in Satnam's life, Ganesha takes a look at his Solar Horoscope and predicts the way ahead for him. Let's take a look….
---
Satnam Singh Bhamara,
Satnam Singh Bhamara,
Date of Birth : 10th December, 1995
Time of Birth : Not Known
Place of Birth : Chawke (Ballo Ke), Punjab, India
SOLAR CHART:-
As the Birth time of the player is not available, details are based on Solar Horoscope (Surya Kundli) with help of Birth date and Place only.
---
Astrological Observation
Currently Jupiter is transiting through the 9th House of Satnam's chart. It is aspecting Sun posited in the 1st House and Ketu on 5th House of his chart, till 14th July 2015.
After that, it will transit through the sign of Leo. It will be aspecting the natal Saturn and the planets in the 2nd House in his chart.
Retrograde Saturn will be transiting over his natal Sun of the Solar Chart till 1st August 2015.
Rahu is transiting over natal Rahu and Ketu Transiting over natal Ketu, till January 2016.
---
Astrological Predictions
1) What are the factors responsible for Satnam's distinct achievement?
Considering planetary transits mentioned above, Ganesha feels that Since he is born with Sun in Scorpio sign, it shows that he has great energy and stamina which is generally required for one to excel as a sports person. He has a cluster of 4 planets, namely Jupiter, Mars, Mercury and Venus! So, it can be noted that the planet of physical strength and stamina- Mars is conjunct with so many planets, which further empowers Mars. Also. Jupiter is in his own House(Moolatrikona) and Mars also is very strong as he is placed in a friendly sign. So, the unlimited energy and vigour of Mars is being channelised in a positive way and thus contributing for the uniqueness of Satnam, says Ganesha.
2) How will his performance in the team be?
The transit of Jupiter is very favorable for Satnam till 11th August, 2016, he will surely be able to give best of his performance and will be able to utilise his inherent skills and techniques to a great extent.
3) Do his stars promise a bright future after this?
The stars which are important for the player, are united and posited in the 2nd House . Especially the lord of the 5th House(Talent) and the 6th House (Strength and Vitality), Jupiter and Mars respectively are in combination with Venus(significator of performance) in the sign of Sagittarius. This indicates that he has the mettle, power and ability to succeed in future as a Basketball player on the International level.
4) Will he inspire other Indians to make it big in future?
Surely, he will be inspiring the Indians to make take up a future in Basketball because his stars are conducive for him to set an example to be a successive sportsman in this game.
5) What cautions should be taken by him?
He will have to be careful post 25th January 2017, when Saturn will be transiting through Sagittarius sign. It may give him sickness or some physical injury on and/or even off the field.
Ganesha wishes a great time ahead to Satnam Singh Bhamara and hopes that he makes it really big on the International Arena.
With Ganesha's Grace,
Rantidev A. Upadhyay
The GaneshaSpeaks Team
---
---
Get 100% Cashback On First Consultation