Murali gets past Shane Warne in wicket-tally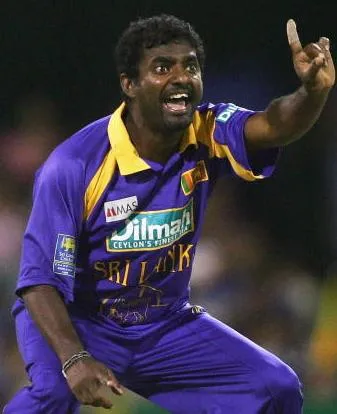 One of the greatest cricketers in the world, the player with the most debatable bowling style, the man with a kind-heart (he is an ambassador for the United Nations World Food Program and anti-poverty campaigner), Muttiah Murlitharan is one of the most successful off-spinners the world of cricket has ever seen.
Murali, as he is popularly known, has hit the headlines recently as he has left Australian leg-spinner Shane Warne behind in the wicket-tally. Murali has claimed 709 test wickets and topped the list of wicket-takers in the world. Ganesha would like to say something on this super spinner.
Muttiah Muralitharan was born on 17th April 1972 at Kandy, Sri Lanka. Muralitharan played his debut test match against Australia on Aug 28-Sept 2, 1992. In test cricket his average is nearly six wickets per Test.
---
Lagna Chart of Murali
As the birth details are not available, Ganesha considers Surya Kundali i.e. Sun in the first house. Ganesha feels that stellium of lord of the Ascendant i.e. Mars, lord of the 10th house of career i.e. Saturn and lord of the 2nd house of wealth i.e. Venus (significator of fame and wealth) is placed in 2nd house, which strengthens his horoscope and establishes him on the pedestal of popularity in world of cricket.
Ganesha feels that in Muralitharan's chart, lord of the 3rd house of arm i.e. Mercury is placed in Pisces sign and dispositior of Mercury is Jupiter, which is occupying its own sign in 9th house of luck, which enables him to use his wrist artistically.
Muralitharan held the record in 2004 when he overtook West Indian fast bowler Courtney Walsh's mark of 519 wickets; this was a great achievement for Muralitharan and since then there was no looking back for Muralitharan. A record was made for maximum wickets in the world. By taking 709 wickets he broke world record of Shane Warne.
Get Your Hand-written Janampatri By Our Experts.
---
Muttiah Muralitharan holds a number of world records, and several firsts:
The highest number of international wickets in Tests and ODIs combined (1155 wickets as of 14 July 2007).
The most 10-wicket hauls in a match at Test level (20 times). He is the only player to take 10 wickets/match against every Test playing nation.
The most 5-wicket hauls in an innings at Test level (60 times).
Fastest to 350, 400, 450, 500, 550, 600, 650 and 700 Test wickets, in terms of matches played.
Only player to take 10 wickets in a Test in four consecutive matches. Murali has achieved this feat twice.
Only player to take 50 or more wickets against every Test playing nation.
Muralitharan and Jim Laker (England), are the only bowlers to have taken 9 wickets in a Test innings twice.
7 wickets in an innings against the most countries (5).
Most Test wickets taken bowled (153 times), stumped (37 times) and caught & bowled (30 times). Bowled by Muralitharan (b Muralitharan) is the most common dismissal in Test cricket (excluding run out).
Most successful bowler/fielder (non-wicket keeper) combination – c Mahela Jayawardene b Muttiah Muralitharan (62 times).
Most number of Man of the Match awards in test cricket (18 times), jointly held with Jacques Kallis.
---
Ganesha observes that on 3rd December 2007, transiting Moon was passing through Virgo sign and was in trine aspect with Natal Moon, lord of the Ascendant i.e. Mars and lord of the 10th house of career i.e. Saturn and Muralitharan struck during the third day's play at his home ground of Asgiriya Stadium in Kandy and it was the Doosra that brought him the world record. When Paul Collingwood played down the wrong line to lose his middle-and-off stumps.
Ganesha feels that In Muttiah Muralitharan's Chart, Rahu is placed in 10th house and lord of the 10th house (house of career) i.e. Saturn is placed in 2nd house and Saturn is debilitated in Navamsha chart, which give birth to controversy in his career. Murali's career has been beset by controversy. Suspicions about his bolwing action were whispered soon after his debut against the Australians in 1993. During this period, transiting Rahu was passing through 8th house of scandal and transiting Ketu was passing over lord of the 10th house i.e. Saturn, then he was called for throwing while touring Australia in 1995-96, first in the Boxing Day Test at Melbourne by Darrel Hair and later in the one-day series that followed. During 1995-96, transiting Ketu was passing through Ascendant over lord of the 5th house of sport i.e. Sun (significator of reputation). The controversy did not die away. He was called again on the 1998-99 tour to Australia, this time by Ross Emerson. During 1998-99, transiting Saturn was passing through Aries sign over exalted Sun and transiting Rahu was passing through 5th house of sport, but every time, he was cleared by the ICC after biomechanical analysis at the University of Western Australia and at the University of Hong Kong in 1996, because of lord of the 9th house of luck i.e. Jupiter and lord of the 5th house of sport are in trine aspect.
Ganesha feels that In Muttiah Muralitharan's Chart, transiting Jupiter is passing through 9th house over Natal Jupiter and is in trine aspect with lord of the 5th house of sport i.e. Sun (significator of government and reputation), which indicates that he may be nominated for any sport award during 2008. At present Muttiah Muralitharan is passing through favorable period. This period will keep Muttiah Muralitharan on top in world of cricket.
Wishing a good luck and May lord Ganesha bless Muttiah Muralitharan.
For Instant Solutions! Talk To an Astrologer Now.
With Ganesha's Grace,
Hitendra H Thakor,
www.GaneshaSpeaks.com
---
---
Get 100% Cashback On First Consultation