Manika Batra In Tokyo Olympics 2021
Published on July 19, 2021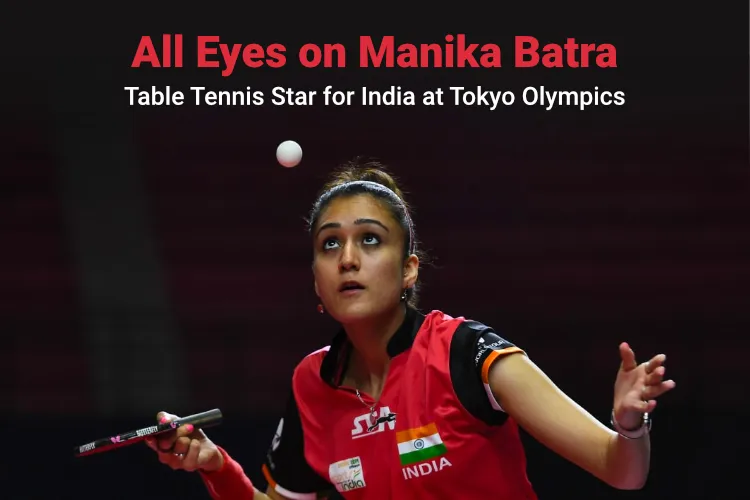 Not very long ago, Manika Batra was just starting to make waves as a rising table tennis star, but her rise to fame peaked when she won multiple medals at the Commonwealth Games, including an unprecedented gold in the women's singles and team competition, which happened quite quickly. Despite having gained praise for her success in Gold Coast, Manika recognises that she can still do better. Especially when it comes to her fitness, she thinks she has more space for development.
Manika Batra has started his journey with a win against an 18-year-old Indian girl from Delhi. Another triumph over Feng followed that success in the semi-final of women's singles and another victory over Yu in the final to add another Gold to his collection.
Manika was celebrated in the entire country for winning four medals in the CWG, making her the most successful individual athlete (2 Gold, 1 Silver and 1 Bronze).
The country's 66 medals included 26 Gold, where weightlifters, shooters, boxers, and racquetball players did quite well. One of these stars was Manika. It can be stated with absolute certainty that she is one of the most inspiring tales of the Gold Coast for India.
Now, as the Tokyo Olympics is just a week away and the Indian women's team is training for an inspirational game, we should look to Manika Batra's forthcoming tennis game performance.
Table Tennis: Tokyo Olympics Manika Batra
Date Of Birth: June 5, 1995
Place of Birth: Delhi
Time Of Birth: Unknown (Solar chart)
Solar Chart Of Manika Batra :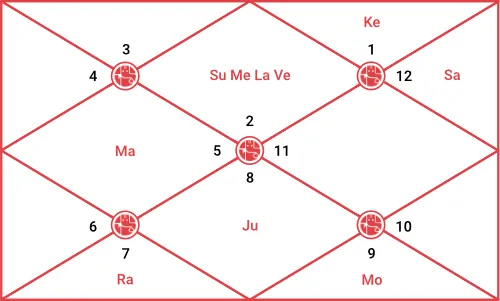 Planetary Positions For Manika Batra In Tokyo Olympics
According to the astrological chart, the Manika Batra Taurus ascendant is present. Mercury and Venus are found in the Taurus zodiac sign. Mars, the red planet, located in the constellation of Leo. Rahu is in the Libra sign of the zodiac. Jupiter, the retrograde planet, is in the Scorpio sign. The planet of the moon is located in the Sagittarius zodiac sign. Saturn is broken into pieces as a result of this astronomical event. The first planet in the Aries zodiac sign is named Ketu.
Are you concerned about your future? Find out what your planets unfold about your future with your Personalised Janampatri.
Final Match (Women) – Table Tennis Tokyo Olympics
Date OF Women's Final Match: 29th July 2021
Time Of Women's Final Match: 08 PM To 10 PM
Venues: Metropolitan Gymnasium, Tokyo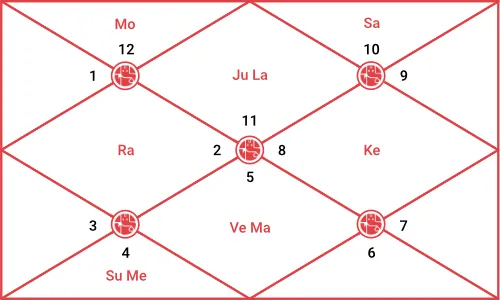 Astrological Analysis Of Manika Batra In Tokyo Olympics
According to the Solar charts of Manika Batra and the final match (women's) table tennis). Aquarius Sun (4th house lord) Jupiter (7th house fame) and Mercury (2nd & 5th house lord) are aspecting planet Mars (7th house fame and 12th house abroad) with a complete aspect, while Jupiter (8th house lord) and Venus (1st & 6th house lord) are aspecting Sun (4th house lord) and Mercury (2nd & 5th house lord) with a square aspect. During the third aspect, planet Saturn is aspecting planet Rahu, which is aspecting planet Saturn (9th-destiny and 10th-activity, social status-house lord) with the 10th aspect. Planet Rahu is aspecting planet Saturn with the third aspect. The planets Venus and Mars are currently transiting across the surface of Mars (7th & 12th house lord).
Rahu is travelling through the systems of Mercury, Venus, and Jupiter, as well as the Sun. Manika Batra lunar chart shows that the Moon is in the Sagittarius sign and the ultimate match is in the Pisces sign. As such, this period is especially challenging for Manika Batra. She will have to put in more effort and labour to get the Gold and enrich her professional life.
You can also enrich your life by utilising your Career Report to learn about the job opportunities in these hard times.
Ending Note
In the last two years, she has blossomed beyond the belief of herself. Manika's sparkling yet self-controlled smile indicated that she was happy to have won the Gold for her nation, and now in the upcoming events, She has her sights set on making it into the top 20.
Aiming To Overcome Your Health Issues & Get in Fighting Shape? Consult Our Top Astrologers Now
With Ganesha's Grace,
Astrologers trained by Shri Bejan Daruwalla
The GaneshaSpeaks Team