BCCI Elections 2013 – Will N. Srinivasan get re-elected?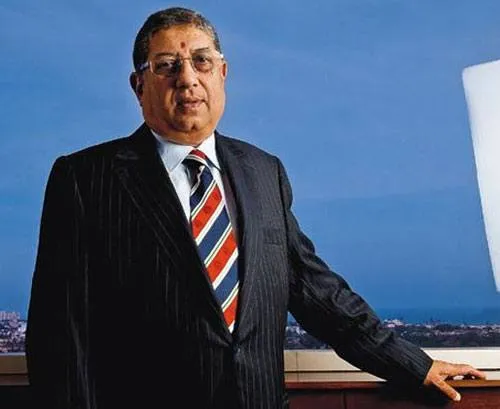 Amidst smouldering controversies on spot-fixing in IPL and the role of its disgraced and beleaguered president N. Srinivasan, Board of Control for Cricket in India (BCCI) is set to elect its new President on 29th September 2013. The Board meeting is likely to witness a high-pitched battle between the supporters of N. Srinivasan (who despite the innumerable charges and a strong opposition is contesting the election) and his adversaries within BCCI. Many a times, matters related to BCCI have been taken to the Courts. Embattled but defiant N. Srinivasan recently announced his desire to contest for the top-post in the upcoming BCCI Board elections to be held in Chennai. The upcoming election has created a great amount of curiosity and furore among Indian cricket lovers, and everyone is speculating whether N. Srinivasan can retain his position as the BCCI president for the third consecutive term or a new person will be elected for the post? Ganesha takes a look at the chart of BCCI and tries to arrive at a conclusion on this crucial election.
BCCI
Inception Date – 4th December, 1928
Mr. N. Srinivasan's Surya Kundli
Date of Birth: 3rd January, 1945
Time of Birth: Unknown
Place: Chennai
---
Astrological observations:
Currently Rahu, Ketu and Saturn are transiting through the 6th and 12th House of nodal axis in BCCI's chart. Hence, this period will be mostly challenging and difficult for BCCI.
From the Moon chart, Saturn and Rahu are transiting through 3rd House and Ketu is transiting through the 9th House in BCCI's chart. This indicates forming of new equations.
BCCI is under the effect of a Saturn and Rahu conjunction, hence it is likely to go through various changes. Saturn and Rahu are transiting through a close proximity to the Natal Sun, hence disputes are likely to occur within BCCI. Court may have to intervene in the decision making process followed within BCCI and its other activities.
The transition of Jupiter is also not opportune for BCCI, as Jupiter is transiting through its 8th House, and such a transition of Jupiter, it being the 5th House Lord, indicates troubled times ahead.
Saturn and Rahu combination in Dasha and Bhukti also indicate a few surprises.
Currently, the Ascendant Lord Mars is in a stage of debilitation in the 9th House in BCCI's chart, and this indicates murky and a dishevelled state of affairs.
---
Astrological predictions:
Ganesha feels that controversies are going to arise in the election process of BCCI.
All the matters related to the election may not go smooth, and run into a rough weather.
Quite a few surprises may upset the apple-cart within BCCI.
Jupiter's current transit indicates disputes and manipulations within BCCI itself.
At the time of election, on 29th September 2013, four major planets will be transiting through the 12th House in BCCI's chart, namely, Mercury, Venus, Saturn and Rahu. Sun will be directly aspecting the 5th House. All these indicate some amount of troubles. A foreign organisation may also interfere in the affairs of BCCI.
On the whole, Ganesha feels that controversies will haunt BCCI, and the entire election process may not be easy and smooth. There will be several challenges for BCCI in conducting the election in a fair and a transparent manner. The upcoming election is also likely to have a major fallout in the coming days on the Indian cricket and the cleansing process it has initiated against all wrong practices. The Life ban imposed on Lalit Modi by BCCI will not have any immediate effect on the Indian cricket or administration within BCCI, however it may have some future impact, which BCCI may have to deal with.
On the whole, it will be rather difficult for N. Srinivasan to get re-elected, amidst all the controversies surrounding him. Also, the planetary transits indicate some amount of trouble for him, which are unlikely to abate soon. The court is likely to come into the picture with regard to BCCI President election, feels Ganesha.
Since the upcoming election is likely to be plagued by many unpalatable issues, therefore some kind of reshuffling can be expected within the BCCI administration. Ganesha does not, though, completely rule out the possibility of N. Srinivasan getting re-elected as the president for the third consecutive time, however, as aforementioned, the present planetary transits and return indicate heavy odds and difficulties for him. On the contrary, it is also likely that India may see a new person at the helm of affairs within BCCI.
With Ganesha's Grace,
Bhavesh N. Pattni
The GaneshaSpeaks Team
Talk to our Astrologers First Consultation with 100% Cashback!
---
---
Get 100% Cashback On First Consultation