Priti Patel's come back as Home Secretary of UK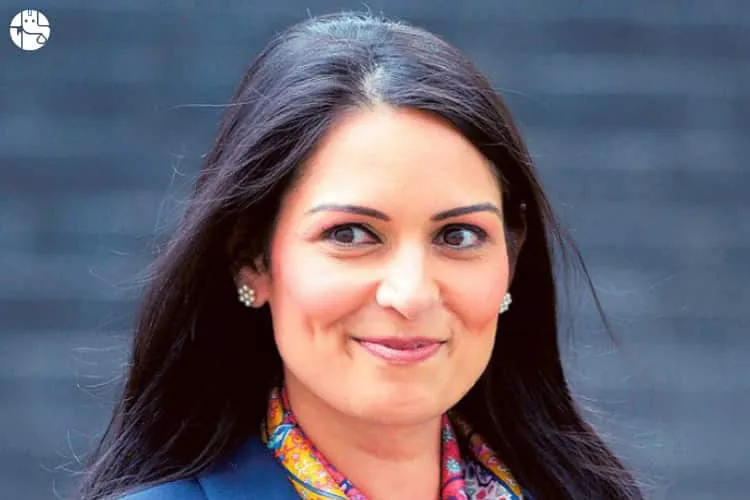 Ms. Priti Patel, an ardent Leave campaigner, took charge as Britain's first Indian-origin Home Secretary in the newly-unveiled Boris Johnson Cabinet replacing Sajid Javid, who in turn will become Chancellor.
An MP for almost a decade, London-born the 47 years old Ms. Patel was elected to Parliament in 2010 for the constituency of Witham in Essex. She was just 38. Just after four years, she achieved ministerial rank as an exchequer secretary to the Treasury and then Employment minister after David Cameron's 2015 general election victory.
Want to know what kind of future will you have? Click here for free astrology reports.
---
Priti Patel Facts
-A critic of former Prime Minister Theresa May's approach to Brexit
She was among the rebel Tory MP s who consistently voted against the former Prime Minister's withdrawal agreement with the EU as a "Bad deal for Britain", which ultimately sealed May's term as Prime Minister. She campaigned to leave the European Union (EU) in 2016, and since leaving the government has been an outspoken critic of former UK Prime Minister Theresa May's approach to Brexit.
-"Save The British Curry"
English-born to Indian parents Ms. Priti Patel launched an appeal to "Save The British Curry" in the EU referendum campaign which argued that the post-Brexit immigration system would be fairer to those from outside the EU and ease a shortage of chefs for Indian restaurants in Britain.
-Patel's Resignation: Priti Patel quits cabinet over Israel meetings row
Theresa May promoted her to Secretary of State in the Department for International Development (DfID) in 2016 until she was forced to resign the post in 2017 amid a scandal over allegedly failing to disclose meetings with officials in Israel without informing the UK Foreign Office. She had maintained it was a private visit and Boris Johnson, then UK foreign secretary spoke out at the time to back her. Priti Patel was later appointed as international development secretary. She is a prominent guest at all major Indian diaspora events in the UK.
Are you concerned about your career growth? Ask our astrologer!
-An avid supporter of Prime Minister Narendra Modi
The Gujarati-origin politician is also seen as an avid supporter of Prime Minister Narendra Modi in the UK. As a member of the UK parliament's influential Foreign Affairs Committee (FAC), she was part of the team that recently released its damning report warning that the UK was falling behind in the race to engage with India at the end of a lengthy Global Britain and India parliamentary inquiry.
---
Priti Patel's Astrological Predictions:
1. Future prediction of Priti Patel
Jupiter, being the lord of first house in her Surya Kundli, has been transiting very favourably. Post-November, she will be passing Jupiter's return through the 10th house of political and government arena. Hence, these all factors indicate that she would achieve a higher position during this period. She would achieve heights and would be in a respectable position in her political and government circle. People will honour her as she has worked hard to gain this higher position. She would be successful in any course of action. She might feel restless during this period and would not be able to keep calm. She may have to travel for various reasons during the period.
2. Will Priti Patel be successful in making the Tories the party of law and order again?
Saturn, being the benefic planet of her Moon Sign will be transiting through its sign, and this event will occur in the 11th house. As Saturn is a harsh taskmaster, this period will be a period of power and position in the political and government arena. She will implement a disciplined approach in her actions. Despite hurdles and obstacles in her path, she will be able to find a victorious way ahead. Sometimes, she needs to be cautious while taking any essential strategic decisions. Otherwise, it may prove a boomerang.
She will be respected by international government authorities too. Moreover, her relations with internal government officials and ministers will be cordial.
In short, this will enable her to receive happiness and recognition that she deserves. She is likely to use the best of her wisdom and will also be able to perform better. Despite some challenges, she will turn out to be an excellent bureaucrat.
Conclusion
Priti Patel, who was forced to resign from Theresa May's government after revelations she had conducted secret meetings with the Israeli government, has been brought back into the Cabinet by new prime minister Boris Johnson. Priti Patel, an Indian origin Brexit right-winger, took charge as Britain's first Indian-origin Home Secretary in the newly-unveiled Boris Johnson Cabinet on July 24, 2019. Priti Patel had been a prominent member of the "Back Boris" campaign for the Conservative Party leadership and was widely tipped for the plum post in his frontline team.
Ganesha congratulates Priti Patel on her appointment as UK's New Home secretary and wishes her all the best.
To Get Your Personalized Solutions, Talk To An Astrologer Now!
With Ganesha's Grace,
Acharya Bhattacharya,
The GaneshaSpeaks Team
---
---
Get 100% Cashback On First Consultation