Political Puzzles and Strategical Miscalculations May Weigh Heavily Upon 'Amma' in 2016!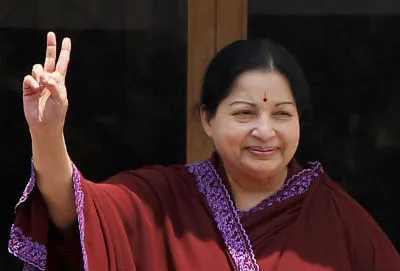 Popularly called the 'Puratchi Thalaivi' (which means 'revolutionary leader' in Tamil) amongst the Tamil masses – Jayalalithaa Jayaram is one name people always remember when they talk about politics, power and women leaders! Holding the office of the Chief Minister of Tamil Nadu for 5 terms is no mean feat! The strong lady CM, who is the General Secretary of her party – the All India Dravida Munnetra Kazhagam (AIADMK) has enjoyed great popularity and success in even areas other than politics – she was one of the most famous faces of Tamil cinema, having acted in over 140 films in Tamil, Telugu and Kannada languages and won various film awards. Though she became the first incumbent Chief Minister to have been disqualified due to conviction in a disproportionate assets case, she bounced back and resumed office on May 23. The elections are round the corner in Tamil Nadu and the political pundits have swung into action with their guesswork and analysis of the pre-poll situation in the southern-most state of India. How will the designs of the destiny affect the powerful and sober power woman? Will she be able to pass one more important political test of her life? Let's find out…
Jayalalithaa – CM of Tamil Nadu
Date of Birth: 24th February, 1948
Time of Birth: Not Known
Place of Birth:- Mysore, Karnataka, India
SOLAR CHART

[Owing to the unavailability of credible birth-time of Jayalalithaa, the analysis and predictions have been done on the basis of the Solar Chart/ Surya Kundli with the help of her birth-date and birth-place only.]
---
1) What planetary combinations have been ensuring such enormous power and a stable political ride for Jayalalithaa?
Ganesha observes that Jayalalithaa is born with very strong planetary placements and combinations. Her Chart reflects tremendous potential, leadership skills and capabilities. She has the Sun – a karaka of politics, power and fame placed in the airy sign of Aquarius along with a retrograde Mercury. This results into the formation of the Budh-Aditya Yoga. This Yoga confers great intellect and decision-making powers on the Tamil Nadu CM. Moreover, the mutual aspect between the Sun-Mercury and the Moon-Mars also renders great power to her Chart. These inter-relations between 4 of the most important planets has blessed her to gain prominence and success in public life as well as political career! Moreover, the conjunction of the Moon and Mars results into the formation of the Chandra-Mangal Mahalakshmi Rajayoga.
Ganesha further notices that the tough lady is blessed with a Swagruhi Jupiter and an exalted Venus. This enables her to hold sway over the masses in Tamil Nadu and only due to such powerful planets has she been able to hold the office of the Chief Minister for 5 terms!
---
2) What picture do the planets present for her in the upcoming months?
Important Astrological Predictions:
Jupiter will be transiting in the Sign of Leo and its inter-relation with some of the Natal planets will be as under:
1. Transit over Natal Moon and Mars. 2. 7th House Aspect on Natal Sun and Mercury in Aquarius. 3. 5th Aspect on Natal Jupiter in Sagittarius. 4. 9th Aspect on Natal Rahu in Aries.
Rahu will be transiting over her Natal Mars and Moon, post 30th January, 2016. Ketu will be transiting over her Sun and Mercury during this period.
Transiting Saturn will be aspecting her Natal Mars, till January 2017.
Astrological Predictions:
The transit of Jupiter will provide the required benevolence for her to maintain her popularity as well as to ensure a politically stable ride. But as Rahu and Ketu have already entered the Signs of Leo and Aquarius respectively, things may now turn tricky anytime! Controversies, unforeseen problems, administrative blocks, communication errors, etc. may dampen things for her.
Saturn's aspect on her Natal Mars and Moon will not allow her to get complete satisfaction and may also make her over-reactive to certain situations in the near future. So, she Jaya will need to keep a check on her emotions and aggression.
---
3) Will her political journey witness some drastic changes in the months to come or will she manage to keep her position unchallenged?
Ganesha feels that Jayalalithaa will have to be prepared for unexpected change of political fortunes, as the effect of Rahu and Ketu on her Natal planets may give embolden her detractors to point fingers at her and if they are not handled carefully, then it may dent her prospects. It is very likely that this election season will not be a cakewalk for Amma and she will have to put in best efforts to ensure that things do not take an unfavourable turn. Jupiter's benefic influence may prove to be a relieving factor till August 2016.
Possible Threats:
She will have to adopt very cooperative attitude as well as she will have to keep away from making controversial statements in the media or public. The planetary transit of stars may instigate her to make unpleasant statements which may damage her prestige and in turn effect her election campaign.
Probable Opportunities:
'Amma' would be getting better support from her political as well as personal contacts and relations maintained by her. She may win mote love and affections of voters and protect her popularity and image during the campaign till 11th August, 2016. Her position would be much stronger during this time. There may be tougher period while facing various political issues post this period till January, 2017.
Ganesha wishes a great time ahead to Jayalalithaa, CM of Tamil Nadu.
To Get Your Personalized Solutions, Talk To An Astrologer Now!
With Ganesha's Grace,
Rantidev A. Upadhyay
The GaneshaSpeaks Team
---
---
Get 100% Cashback On First Consultation