Aung San Suu Kyi – understanding the gritty leader & her intriguing life with the help of Astrology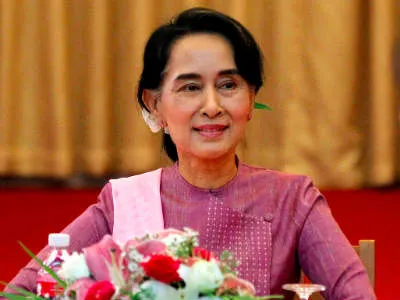 If you want to get an idea of what power and political clout means, then sample this: Social Democratic Politician, State Counsellor of Myanmar, Leader of the National League for Democracy and Minister of Foreign Affairs in the President's cabinet! Here, the description of multiple individuals is not being presented, instead these are all the positions held by one woman – Aung San Syuu Ki – the figure who wields power and holds a position equivalent to that of the Prime Minister in Myanmar ! The exuberant Suu Kyi's father is Aung San – the man who is known as the Father of the modern-day Myanmar and the one who founded the Burmese Army and negotiated the freedom of Burma with the British Empire and her mother, Khin Kyi was a prominent political figure who was appointed as the Burmese ambassador to India and Nepal. The powerful lady graduated from Lady Sri Ram College in New Delhi, India and also holds a degree in Philosophy, Politics and Economics from the St. Hugh's College, Oxford. Internal conflicts, political turmoil, house arrests, detention, suffering, imprisonment, protests, violence, turbulence, civil movements, political campaigns, elections and a lot more – Suu Kyi has seen it all!
Currently, her stars seem to be shining bright in her case, and there seems to be a new era that will begin in country, which has otherwise been a witness to a lot of political instability – Myanmar. Let's get to know what picture do the stars present about the tough lady in this Exclusive Astrological Feature.
Aung San Suu Kyi
19th June, 1945
Rangoon (Yangon), Myanmar
SURYA KUNDLI
The bold Burmese Stateswoman has the Sun placed in the Gemini sign with strong Mercury which indicates that she is very strict, very hardworking and has very high moral standards. It also tells us that she has a very strong sense of duty. She is very clever and possess great abilities to effectively express her ideas and thoughts and this is a very positive sign for a . She has her own ideas and principles and ways and a piercing intellect.
---
The Charisma Factor:
She has Venus placed with Mars which makes her a charismatic leader who wields strong influence over the people of her country and even her worldwide followers as well. It indicates that she has a great deal of magnetism, latent power and energy. She is determined to put her ideas in practice. Moreover, it is to be noted here that her Mars is placed in its Swakshetra (Aries) which makes it very strong. No wonder she possesses so much physical power and resiliences and has been able to withstand so many challenges in her life so far!
Following the Jupiterian Principles?
Jupiter happens to be the Atmakaraka in her Chart. Thus, she is sincere and devoted leader who, throughout her life, has consistently stood by truth, honesty and non violence.
---
Struggles, Challenges and Imprisonment:
However, life has never been easy for her. She has the Sun placed in combination with Saturn. It gives her the qualities of perseverance, self-discipline, organizational skills and the ability to maximize the effectiveness of all the available resources. Ambition is likely to be a powerful motivating force within her personality, and, once she is able to clearly make out what her aims and goals are, then careful planning and effective execution can help her to achieve the goal. But, at the same time it also indicates confrontation and harassment from the ruling class and authorities. The pro-democracy leader remained imprisoned – largely under house arrest in her rundown family home on the banks of Inya lake in Rangoon – for almost two decades. This is the negative side of the same combination.
The adverse planetary configurations:
She also has Saturn and Rahu conjunction in Gemini. It is also to be noted here that there are two simultaneous Doshas or negative combinations present in the Gemini Sign in her Chart – The Sun-Rahu conjunction and also the Saturn-Rahu conjunction. The negative energy generated by these two Dosha affected her peace of mind and created terrible obstacles in her path. When these planets are in conjunction, the combined effect of their powers is rather strong and negative. Thus, her life has always been full of struggle and turbulence due to such adverse planetary combinations.
---
Top Honours and Recognition:
The planets do present the humans with challenges, but if these challenges are overcome with due perseverance and courage, then the rewards are also quite handsome. And literally, Aung San Suu Kyi gained international acclaim, having received many honours, including Rafto Prize, Sakharov Prize, Nobel Peace Prize, Jawaharlal Nehru Award etc. She is an honorary citizen of many countries including Canada, and she was an honorary member of The Elders.
---
Fortunes in the coming months:
At present, the transiting Jupiter is moving over the Natal Jupiter in her Chart. Suu Kyi was once a political prisoner and is now the State Counselor, a newly-created role akin to the Prime Minister. Her determined efforts to achieve a peaceful transfer of power and advance the national reconciliation will help her country to begin a new era.
Although the transiting Jupiter will continue to act in her favour, it will be a monumental job for her to reconstruct the country and help it to regain its bearings. She will definitely make a fresh start, but running through the grim statistics on poverty, educational attainment and more, it is clear that she will be facing huge problems as the year progresses. The transiting Saturn in Sagittarius during the year 2017 will create a lot of hurdles in her path. At times her authoritarian and high-handed ways or inability to delegate, to share power may bring stiff resistance and challenges after June 2017. Also, her health may remain a cause of concern during the year 2017.
To Get Your Personalized Solutions, Talk To An Astrologer Now!
With Ganesha's Grace,
Tanmay K. Thakar
The GaneshaSpeaks Team
---
---
Get 100% Cashback On First Consultation