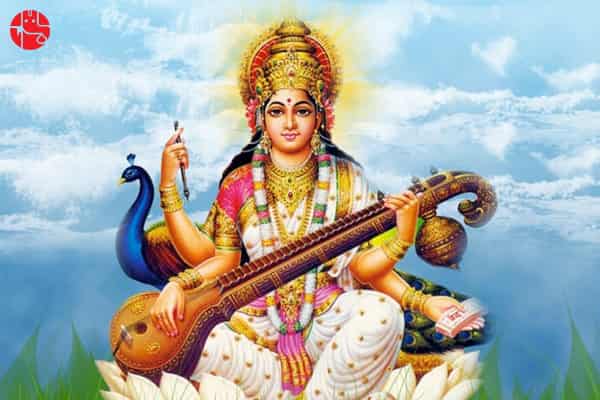 (Image Source: Internet)
Vasant: The Queen Of Seasons 
Poets have written many poems on the innate beauty of nature and women – the symbol of power. A well-adorned woman looks gorgeous like a queen. Similarly nature also appears very beautiful during springtime – the queen of seasons. Hence, Lord Shri Krishna has described himself as spring season in the Shrimad Bhagwat Gita. He has also mentioned that springtime is a symbol of prosperity. The spring season begins on the 5th day of the Magha month. Thus, Vasant Panchami is described as highly significant by Sages in our scriptures. According to the scriptures, Mother Saraswati incarnated on
Vasant Panchami day
from Lord Brahma's mind. Hence, it is considered as the best day for students to worship Mata Saraswati - the goddess of knowledge, wisdom, arts and music. Vasant Panchami is an excellent day for auspicious activities and marriages. This festival is also celebrated as Shri Panchmani and Saraswati Panchami.
The Main Legend/Story Behind This Festival 
The most popular story associated with the festival is that of the legendary poet Kalidasa. According to the story, Kalidasa was a simpleton and was tricked into marrying a princess who didn't respect him. A crestfallen Kalidasa wanted to end his life but just before he could commit suicide, the goddess Saraswati appeared before him and asked him to take a dip in the river. Kalidasa did as he was told, and emerged from the water an intelligent, knowledgeable and cultured person, who would eventually become a renowned poet. That is why on this day, the goddess is worshipped so that she may bestow the gift of knowledge to her devotees.
Rituals On Vasant Panchami
To achieve writing excellence in studies and to overcome any obstacles or failures, you can chant "Om Shree Saraswatyai Namah" or "Om Aim Klim Sauh Shri Mahasaraswatyai Namah". Also worship the Vignaharta God – Ganeshji, it will be surely beneficial. Natives who are suffering from lack of concentration, should regularly chant "Om Hrim Aim Hrim Om Saraswatyai Namah".  You can gain knowledge by  worshipping mother Saraswati and also by chanting "Om Aim Saraswatyai Namah" mantra of mother Saraswati on every Thursday and Sunday for 51 or 108 times.  Mother Saraswati originated from Sattva Guna  and she is very much fond of white things. Hence, mother Saraswati's blessings can be obtained by donating or offering white items like milk, curd, butter, white clothes, sugar, white sesame seeds and rice grains. Apart from this, mother Saraswati is adorned with yellow flowers, and yellow coloured dresses are also worn while worshipping her.
Best Day For Getting Married 
Astrologically, this is also considered as the best day for weddings. As the season changes during this period, we experience rapid changes in our health. Thus, worshipping Lord Dhanvantari on this day leads to good health. This is also regarded as an auspicious day for buying new things and making investments. According to astrology, this is also a good day for starting new activities.
This year, Vasant Panchami is falling on the 16th of February 2021, Tuesday. 
Muhurats of Vasant Panchami are: 
Panchami Muhurat: 07:21 AM - 12:22 PM
Panchami Tithi Starts: 15th of February, 2021, 10:06 PM 
Panchami Tithi Ends: 17th of February, 2021, 12:16 AM 

Worshipping Mother Goddess Saraswati during the muhurat is really auspicious and help you gain knowledge, wisdom and prosperity. Get more information on Panchang Today.
With Ganesha's Grace,
The

GaneshaSpeaks.com

Team
Read About Similar Festival Article (Panchami):