Enjoy Lohri, The Festival Of Richness And Plenty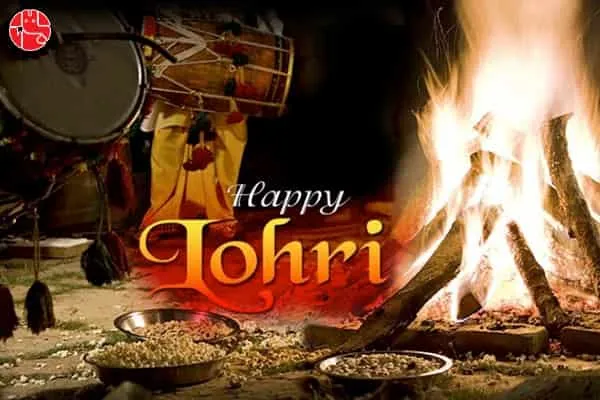 Lohri is celebrated on the 13th of January every year and marks the last few days and culmination of Winter. In 2018 too, it falls on 13th January. Lohri is not only one of the most important festivals of Punjab but is also celebrated in Jammu and Kashmir and other states. The gatherings and celebrations make Lohri a community festival. Lohri is called Lohi in rural Punjab. Lohri falls around the same time as Makar Sankranti and Bhogali Bihu. You can also see 2023 Panchang.
---
The Origin Of Lohri
Some people believe that Lohri has derived its name from Loi, name of the wife of Sant Kabir. Some also believe the term comes from the word 'Loh' which means light and warmness of fire. Another belief is that Holika and Lohri were sisters. While the former perished the later survived in the fire with Prahlad.
---
Lohri's Importance In Life's Ceremonies
Lohri is an exceedingly auspicious day as it celebrates fertility and the spark of life.The first Lohri of a newlywed bride and a newborn child is considered very propitious and important. In the houses that have recently witnessed a marriage or childbirth, the Lohri celebrations will reach a higher pitch of excitement. The newly married women try to look their best. The in-laws of the bride present her with new clothes and beautiful jewellery. A grand celebration is arranged for the newlywed couple where a lot of guests are invited, and during these celebrations, many gifts, innumerable blessings and good wishes are showered upon the couple, who is seen beaming radiantly with happiness! The mother of a newborn child, who seems to be in the prime of her beauty because of the joyful occasion, sits beautifully dressed with her child and receives gifts from family members and close ones.
---
Lohri's Significance For Farmers
Lohri holds a vital place in the lives of farmers as well. It is associated with the harvest of the rabi crops. Sugarcane products, for example, jaggery, are central to Lohri celebrations, as are nuts which are harvested during this period. The farmers along with their families pray for abundant crop production in the coming year. Punjabi farmers see the day after Lohri as the financial new year. New agricultural tenancies commence on Lohri and rents are collected on this day by the landlords. You can get your finances boosted on the auspicious occasion of Lohri.
---
Lohri And Its Mythology
Over time, people have also associated Lohri to the tale of Dulla Bhatti who is the main character of many Lohri songs which express gratitude towards him, for helping people. He lived in Punjab during the reign of the Mughal emperor Akbar. He was regarded as a hero in Punjab. Besides robbing the rich, he rescued poor Punjabi girls, being forcibly taken to be sold in the slave market of Middle East from the Sandal Bar region. He arranged their marriages to deserving boys and also provided them with financial and material help. Amongst them were two girls Sundri & Mundri(married in 1614) who gradually became central to the main theme of Punjab' folklore. These are ancient stories.
Well, you can trace your destiny if your buy our Janampatri.
---
Rituals During Lohri
People gather around bonfires, offer sweets, puffed rice and popcorn to the bright flames of Lohri, sing songs and exchange greetings. Lohri rituals are performed, with the accompaniment of special Lohri songs. Singing and dancing form an intricate part of the celebrations. People wear their brightest clothes and come to dance(Bhangra and gidda) to the beat of the dhol. On this day children go from door to door to collect funds for community bonfires which are lit in the evening.In various places of Punjab, about 10 to 15 days before Lohri, groups of teenage boys and girls go around the neighbourhood collecting logs for Lohri bonfire. In some places, they also collect items such as grains and jaggery which are sold and the sale proceeds are divided amongst the group. Kite flying on Lohri is popular in some parts of Punjab, people get onto their rooftops and fly kites of various sizes and colours.
---
Importance Of Bonfire On Lohri
The bonfire ceremony differs depending on the region of Punjab. Some places folk Lohri goddess is made out of cow dung and fire is kindled underneath it and her praises are sung, while in others the Lohri fire consists of cow dung and wood and no reference to the goddess. The bonfire is lit at sunset in the main village square. People toss sesame seeds, gur, sugar-candy and rewaries in the bonfire, sit around it, sing and dance till the fire dies out. Some people perform a prayer and go around the fire. This is to show respect to the natural element of fire. People also pour milk and water around the bonfire.
---
Fun And Frolic On Lohri
A seasonal favourite, Sarson da saag- cooked mustard greens, and Makki di roti is usually served as the main course at a Lohri dinner. The Sindhi community also celebrates Lohri or Lal-Loi is what it's known as amongst Sindhis, with great aplomb. Thus Lohri is celebrated with great enthusiasm and engagement everyone, and like all other festivals, it's a festival that bonds!
Ganesha wishes all a very Happy and Prosperous Lohri 2023.
With Ganesha's Grace,
The GaneshaSpeaks Team
To Get Your Personalised Solutions! Talk To Astrologer Now.
---
---
Get 100% Cashback On First Consultation