Worship Maa Katyayani on the sixth day of Navaratri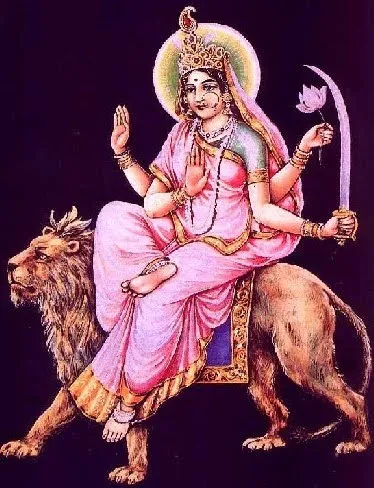 The 6th day of Navaratri festival is dedicated to Maa Katyayani, the 6th Avtar of Goddess Durga. Once there was a great sage named Katya and it was his wish that Maa Durga be born his daughter. He practiced austere penance for several years to please the Gods. The trinity of Gods – Brahma, Vishnu and Shiva – got enraged and they designed Goddess Durga, who was an end result of the abilities of all deities. Since she was born to Katya, she was called Katyayani.
Maa Katyayani has 3 eyes and 4 hands. She holds a sword in Her one left-hand and a lotus in another. The other 2 hands respectively show protecting and allowing actions. If you make vow of fasting and worshipping her, she would bless you with the husband you have wished and prayed for. If a lady's marriage is getting delayed due to one or the other reason, she may worship Maa Katyayani to remove obstacles that may be causing delays in her marriage.
Maa also blesses you with better health and wealth. By worshipping Maa Katyayani, you may develop great strength to fight all disease, sorrows and fears. In order to destruct the sins accumulated over your several lives, you should religiously worship Maa Katyayani. Read more about worshipping Maa Katyayani
Chant this mantra to worship Goddess Katyayani…
कात्यायनि महामाये महायोगिन्यधीश्वरि ।
नन्द गोपसुतं देविपतिं मे कुरु ते नमः ॥
Kātyāyani mahāmāyē mahāyōgin'yadhīśvari |
Nanda gōpasutaṁ dēvipatiṁ mē kuru tē namaḥ ||
Navratri is a special occasion. A time for new beginnings and offering your dedication and reverence to the Goddess Shakti. This Navratri, bring home and institute a Meru Prusth Shree Yantra – a beautiful, divine symbol of the blessings of Goddess Lakshmi herself.
With Ganesha's Grace,
The GaneshaSpeaks Team
---
---