Jaya Parvati Vrat Importance, Rituals & Other Facts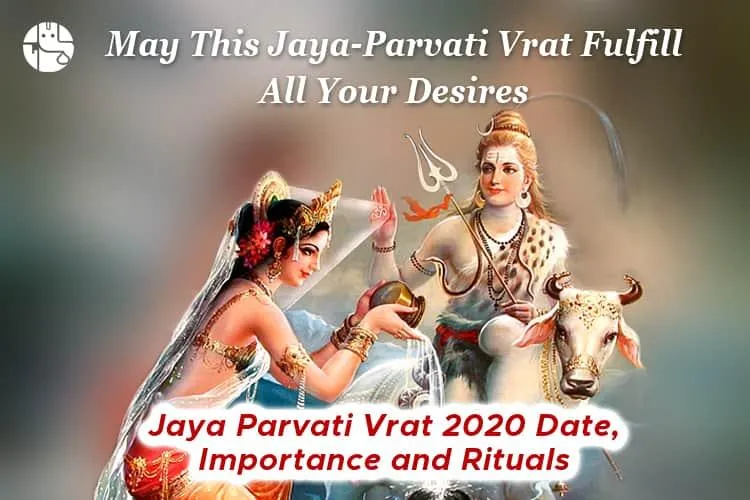 Jaya-Parvati Vrat is a five-day ritual observed in the month of Asadha. Most women from the Western part of India, especially Gujarat, celebrate it with great devotion and abstinence. It starts on the thirteenth day of the Shukla Paksha. It is believed that young girls observe this fast or Vrat to get wishful husbands while married women keep it for the prosperity and well-being of their husbands.
---
Shiv Parvati Vrat Dates 2023
Below are dates that mark the Jaya-Parvati Vrat in 2023
Jaya Parvati Vrat on 

Saturday, July 1, 2023

Jaya Parvati Pradosh Puja Muhurat/Timings: 07:23 PM to 09:24 PM
Jaya Parvati Vrat Ends on Monday, July 6, 2023
Trayodashi Tithi Starts: 01:16 AM on Jul 1, 2023
Trayodashi Tithi Ends: 11:07 PM on Jul 1, 2023
---
Jaya Parvati Vrat Significance
The Jaya-Parvati ritual is performed for a happy conjugal life. Women observe this fast to get good husbands and assure love and happiness in their married life. It is believed that those who devotedly follow this quick are blessed with special favours from Lord Shiva and Goddess Parvati.
Besides the happiness in marriage, women also observe this fast for the well-being, prosperity and overall progress of their family. Devotees who strictly adhere to the fast or Vrat rituals are bound to get blessed with desired favours from the deities.
Get divine assistance through astrology and brighten your prospects. Get Remedial Solutions for Personal Issues with the most effective guidance by our experts.
---
The Story Behind Jaya Parvati Vrat Festival
As per scriptures, the storyline of the Jaya-Parvati Vrat is associated with a Brahmin woman who observed this Vrat get rid of a curse on her husband. It is believed that the woman and her husband were ardent devotees of Lord Shiva and spared no pain in exhibiting their devotion for the deity.
They were satisfied with all that they had, but being called a childless woman was unbearable for the woman. One fine day she succeeded in getting Lord Shiva's propitiation and instantly asked for a child as a boon. Lord Shiva asked the couple to worship a Linga placed in a secluded place in the forest. Both followed the deity's advice; however, unfortunately, the man got bit by a snake while he was on his way to collect flowers for the Puja.
Helplessness made the woman turn towards Lord Shiva, who granted her wish of getting back her dead husband to life. Besides, they were immensely blessed with their most awaited want of having a son. In this way, the ritual of worshipping Lord Shiva and Goddess Parvati came into being. Women follow this ritual wholeheartedly to get bestowed with innumerable blessings from the deities.
Get a complete guide to your life by opting for our  Janam Kundli Analysis and get personalised solutions with absolute accuracy.
---
Puja and Rituals On Jaya Parvati Vrat Festival
Goddess Jaya is the centre point of the Jaya-Parvati Vrat. It is believed that devotees who strictly adhere to these fast guidelines are blessed with favourable wishes from the Goddess. Abstaining from eating salty foods or salt in a diet for five days is a must for the fast. Avoiding eating vegetables and wheat items is also followed during this period.
Jaya Parvati Vrat Vidhi
On the first day of the fast, Javara or wheat seeds are planted in a small earthen pot and are placed at the place of worship in one's home. Then, the devotees perform Puja of this pot for five days continuously. The jar containing wheat seeds is watered every day at the time of Puja. Vermillion or Kanku is put on a necklace-like strand made of cotton wool which is known as Nagla. This strand is kept around the edges of the earthen pot.
On the night before the last day of the fast, women observe Jaya Parvati Vrat and stay awake all night singing hymns and bhajans.
They recite Aartis in praise of Lord Shiva and Goddess Parvati. This night vigil is carried forward till the next day, which is celebrated as Gauri Tritiya. This long night vigil is called Jaya-Parvati Jagran.
On the very next day of Jagran, which is the last day of the fast, the wheat seeds in the earthen pot grow into wheatgrass and are immersed in a nearby river, pond or any water body. Along with a puja, several rituals are observed after which women break their fast by consuming a wholesome meal consisting of cereals, vegetables and salt.
Parvati vrat is an auspicious fasting period that goes on for five consecutive days. The festivities begin on Trayodashi Tithi in Shukla Paksha and ends on Tritiya Tithi in Krishna Paksha.
Unmarried women observe the fast for being blessed with good husbands, whereas for married women to gain marital bliss and longevity for their husbands. If you begin Parvati vrat once, you should continue for 5,7,9,11 or 20 years consistently.
To Get Your Personalized Solutions, Talk To An Astrologer Now!
With Ganesha's Grace,
The GaneshaSpeaks Team
---
---
Get 100% Cashback On First Consultation