Know The Date of Masik Kalashtami 2020 And Rituals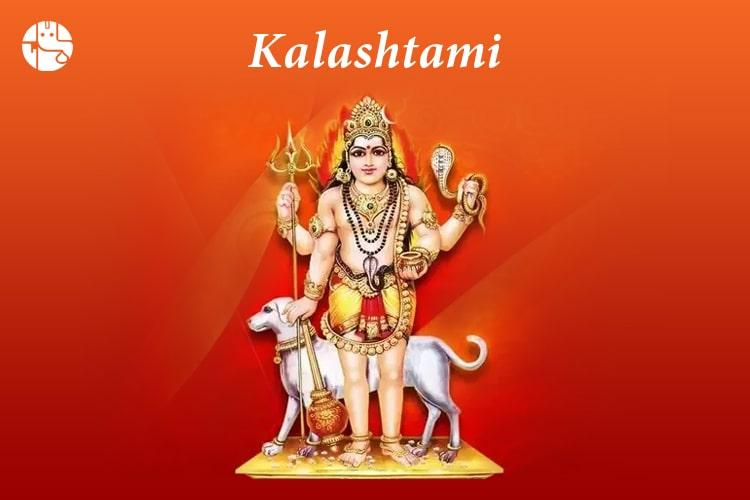 Kalashtami or Kala Ashtami is one of the most important festivals of the Hindus. This is the festival dedicated to Lord Bhairav. Kalashtami is celebrated in every Hindu lunar month on the eighth day during the waning phase of moon i.e on the Krishna Paksha Ashtami tithi. The 8th day after the full moon day, which is also called Astani Tithi after Purnima, is considered as the most favorable day to get the blessings of Lord Kaal Bhairav. On the day of Kalashtami, devotees worship Lord Bhairav and also observe a fast to please him and get blessings.
As per the Hindu calendar, there are a total of 12 Kalashtamis in a year. Out of that, the one which falls in the month of Margashirsha is the most significant and is celebrated as Kalabhairav Jayanti. Kalashtami 2020 is a very important festival and it is believed that when Kalashtami falls on a Sunday or Tuesday, it is very auspicious as these days are dedicated to Lord Bhairav.
Significance of Kalashtami:
The significance of Kalashtami is mentioned in 'Aditya Purana'. According to Aditya Purana, the main deity to be worshipped on Kalashtami is Lord Kaal Bhairav. Lord Kaal Bhairav is also known as the avatar of Lord Shiva. In Hindu mythology, 'Kaal' means time and 'Bhairav' refers to 'the manifestation of Shiva. Therefore, Kaal Bhairav is also called the 'God Of Time'. This day is very important for the followers of Lord Shiva and thus they celebrate and worship Lord Bhairav with full devotion.
It is said that once during a discussion between Brahma, Vishnu and Mahesh, Lord Shiva got angry due to the remarks passed by Lord Brahma. He took the avatar of Mahakaleshwar and cut the 5th head of Lord Brahma. It is also believed that Kaal Bhairav is the fierce avatar of Lord Shiva who was born to end the temper of Lord Brahma. Since then, devotees worship the Kaal Bhairav avatar of Lord Shiva. Moreover, there are certain things that one should never offer to Lord Shiva. Know the list of things which you should refrain from offering, to be safe from Lord Shiva's anger.
Upcoming Kalashtami Date in 2020
14th May 2020, Thursday
Important Timings For Kalashtami
Ashtami Tithi Timing Begins: 5.21 AM, 14 May
Ashtami Tithi Timing Ends: 6.51 AM, 15 May
Rituals To Be Performed On Kalashtami:
Kalashtami is an important day for the devotees of Lord Shiva. By performing specific rituals on this day helps the devotees to receive the blessings of Lord Shiva. Below are some of the rituals to be followed on this day:
Get up early in the morning (before sunrise) and take an early bath.

Perform a special puja for Lord Kaal Bhairav to get his blessings and seek forgiveness for all the sins. 

One can also observe a fast on this day. The one who observes Kalashtami Vrat is blessed with prosperity, happiness and success in life. Will the planetary alignments in the year 2020 help you to get the desired success?

Access our Free 2020 Yearly Report to know more!

Recite Kaal Bhairav Katha and chant mantras dedicated to Lord Shiva.

Also, in the evening, visit Lord Kaal Bhairav's temple and offer a special prayer.

On Kalashtami, special puja and prayers are offered to ancestors as well, in the morning, so that their souls experience peace. 

Donate food, clothes, money, etc to brahmins.

Feed black dog (considered as the vehicle of Kaal Bhairav) with milk, curd and sweets.
For personalized rituals consult our expert astrologers!
Masik Kalashtami Dates In 2020 And Timings
| | |
| --- | --- |
| Date | Tithi Timings |
| 17-Jan, Friday | 17 Jan, 7:28 AM – 18 Jan, 5:33 AM |
| 15-Feb, Saturday | 15 Feb, 4:29 PM – 16 Feb, 3:14 PM |
| 16-Mar, Monday | 16 Mar, 3:19 AM – 17 Mar, 3:00 AM |
| 14-Apr, Tuesday | 14 Apr, 4:11 PM – 15 Apr, 4:51 PM |
| 14-May, Thursday | 14 May, 5:21 AM – 15 May, 6:51 AM |
| 13-Jun, Saturday | 12 Jun, 10:52 PM – 14 Jun, 12:59 AM |
| 12-July, Sunday | 12 Jul, 3:48 PM – 13 Jul, 6:09 PM |
| 11-Aug, Tuesday | 11 Aug, 9:07 AM – 12 Aug, 11:16 AM |
| 10-Sept, Thursday | 10 Sep, 2:06 AM – 11 Sep, 3:35 AM |
| 09-Oct, Friday | 09 Oct, 5:49 PM – 10 Oct, 6:16 PM |
| 08-Nov, Sunday | 08 Nov, 7:29 AM – 09 Nov, 6:51 AM |
| 07-Dec, Monday | 07 Dec, 6:47 PM – 08 Dec, 5:17 PM |
To Summarize: 
Kalashtami - the festival of Lord Bhairav, is marked with full enthusiasm and devotion in different parts of the country. Worshippers are also bestowed with the blessings of Lord Shiva. Praising Lord Bhairav on Kalashtami will help devotees to remove all the sufferings, pain, and negative energies from life. Thus, Kalashtami is the most suitable and auspicious day to propitiate Lord Kaal Bhairav.
To Get Your Personalized Solutions, Talk To An Astrologer Now!
With Ganesha's Grace,
The GaneshaSpeaks.com Team