Why Do We Celebrate Kal Bhairav Jayanti?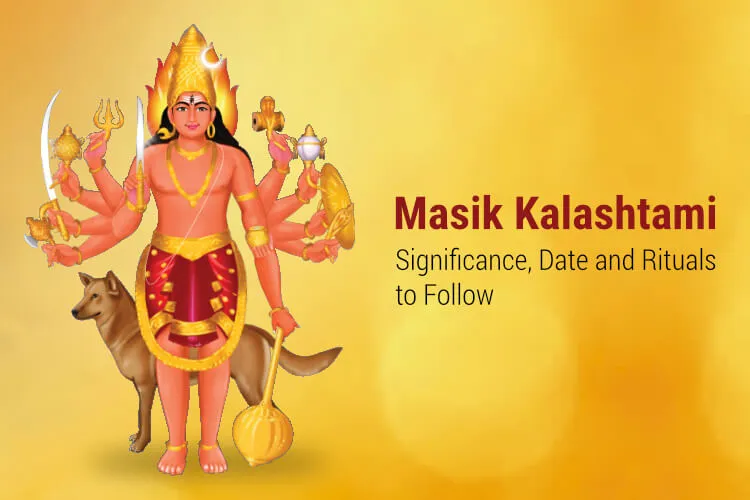 The Hindu festival of Kal Bhairav Jayanti is observed to appease Kaal Bhairav. People also call it Kala Ashtami, Kalashtami, and Kal Bhairav Ashtami. Lord Shiva had manifested profoundly as Kaal Bhairav, who is depicted as a ferocious deity carrying a head in one hand. It is believed that the head carried by the Lord is one of the 5 heads of Lord Brahma, cut off by Lord Shiva to abolish his ego. He sits on the Black Dog as his Vahana (vehicle). As per the Puranas, Kaal Bhairav is characterised as the 'Lord of Time'. He is also popular as Kshetra Palaka, the guardian of the Universe.
Kalashtami is observed usually in both the Northern and Southern regions of India. In the Hindu calendar, the day is marked for celebration 12 times a year. But the festival of Kalashtami that holds the most significance is the Kal Bhairav Jayanti that we will read about further.
Get an online Puja ritual done by expert Pandits to bring peace, prosperity, and auspicious events in your life.
---
Date For Kaal Bhairav Ashtami 2023
According to the Hindu lunar calendar, the Ashtami Tithi of Krishna Paksha marks the day of Kal Bhairav Ashtami. This is the Ashtami after Poornima (8th day after Full Moon). The North Indian Purnimant calendar marks the eminent Kal Bhairav Jayanti during the month of Margashirsha. This year, Kal Bhairav Jayanti will be celebrated on a Tuesday, 05 December 2023.
---
Significance And Benefits Of Kalashtami Puja
Ardent followers of Kal Bhairav revere this renowned day to remove obstacles and problems from their lives. They observe and revere this special festival for getting the lord's blessings in health, wealth, success, and prosperity. Lord Bhairav endows one with a protective shield and showers his grace to his adored devotees. In ancient scripts, Kal Bhairav is mentioned as the 'God of Nivaaran' of aspirations. He also aids his devotees when suffering from ill-health and saves them from mishaps.
It is said that Kaal Bhairav is a protector of temples and pilgrims. When the Pujari steps out for the day, he submits the keys of the temple to the Lord. The travellers also worship the Lord when they visit the temple. The 'Lord of time', as he is attributed, suggests using time valuably on one's spiritual journey. This Lord of Time showers his grace to the individuals who treasure their time.
There are many temples dedicated exclusively to Kal Bhairav, some of which are located in Tamil Nadu, Bihar, Punjab, and Andhra Pradesh. Devout followers visit the temples on Saturdays and Kalashtami to experience his powerful presence and adorning veneration.
Get your premium Janampatri hand-crafted by experienced astrologers and make the best choices and moves in areas such as career, business, finances, and relationships.
---
Kalashtami Puja Rituals And Celebrations
Staunch followers of Kaal Bhairav worship him on this day to remove problems from their life. Observing a fast is also believed to be one of the ways to appease him. The Aditya Purana portrays beautifully how prominent and significant Kaal Bhairav is! Kaal literally means time and Bhairav characterises Lord Shiva. Hence, devotees of Lord Shiva also offer prayers to Kaal Bhairav with immense affection, and each year they celebrate the festival magnificently. Below are some of the rituals followed by devotees on this day:
Observers take a sacred dip in holy rivers on this occasion.
Shiva Kathas and Shlokas along with Mantras are recited addressing Kaal Bhairav.
The puja rituals begin with offering flowers, fruits and Madira (wine or alcohol) to the Lord.
People also pay tribute to the Lord by visiting Kaal Bhairav temple closeby and offer their prayers to gain his blessings.
Feeding food to black dogs is also considered auspicious on this day. One can feed items like milk and prasadams prepared at home.
The Pujaris of the temples carry out Kalashtami Puja Vidhi with various ritualistic chants and offerings. People also stay awake for the night to impress the Lord.
Sunday is considered as an auspicious day to worship Kaal Bhairav. Hence, the festival of Kalasthmi occurring on Sunday is deemed to be highly glorious. People of almost all the regions of India worship Lord Bhairav on Kala Ashtami with complete ardour and excitement. So, let's take this year's Kalashtami on another level by showing immense devotion and honour for the Lord!
To Get Your Personalized Solutions, Talk To An Astrologer Now!
With Ganesha's Grace,
GaneshaSpeaks.com
---
---
Get 100% Cashback On First Consultation