Worship Goddess Shailputri On Navratri First Day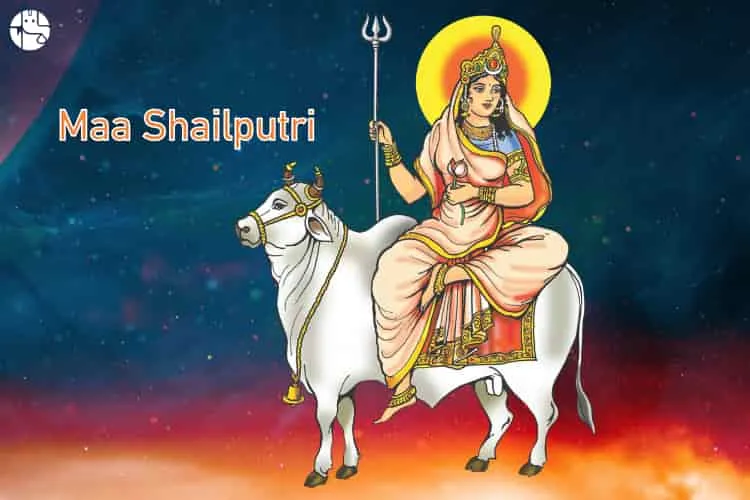 Maa Shailputri is the daughter of Himalayas. The word Shail in the Sanskrit language means Mountain, and Putri means daughter. Thus, Shailputri means Daughter of the Mountains. Goddess Durga is known by this name because she has incarnated from Himalayas – the Emperor of Mountains. Also, she is the first avatar, amongst the nine different avatars of Goddess Durga. Hence, Maa Shailputri is worshipped on the first day of Navratri.
---
---
Goddess Shailputri Embodies The Powers Of Lord Brahma, Vishnu And Shiva
Maa Shailputri is mounted on a bullock, and has a lance in her right hand, and holds a lotus flower in the left hand. She is worshipped on the first day of Navratri, as the embodiment of the powers of Lord Brahma, Vishnu and Shiva. Shailputri Maa rides a bull, & carries a trident (Trishul) and a lotus in her hands. In her previous birth, Goddess Shailputri was the daughter of Daksha Prajapati. She was named Sati and was highly devoted to Lord Shiva since her childhood. Later on, she was married to Lord Shiva.
---
Mata Shailputri Can Help You Experience Completeness In Life
Maa Shailputri has many divine powers. While meditating on the first day of Navratri, a devotee should focus on the body parts of Muladhara Chakra. From here onwards, the journey of Navratri Sadhana begins. The Yog Sadhana starts by chanting Shailputri Dhyan and Mantra. This goddess fulfills all the materialistic desires, and you can thus experience completeness in your life. The devotee needs to keep his or her mind focused on the Muladhara Chakra.
Furthermore, perform the puja by following Vedic rituals. You can now book your personalised puja, where our Vedic Panditji will follow all the traditional Vedic rituals and procedure to generate the maximum positive energy from the puja.
---
The Mantra And Other Facts About Maa Shailputri:
Maa Shailputri Dhyan: Vande Vanchhit Laabhaya Chandrardha Krita Shekharaam Vrisharudham Shooladharam Shailputrim Yashasvinim.
Maa Shailputri Mantra for the first day of Navratri: Om Sham Shailputraye Namah. (Chant 108 times).
Colour of the first day: Grey.
Prasad of the first day: Banana and Ghee made from cow milk & Crystal Sugar.
---
---
---
Get 100% Cashback On First Consultation