Worship Maa Shailputri on the first day of Navaratri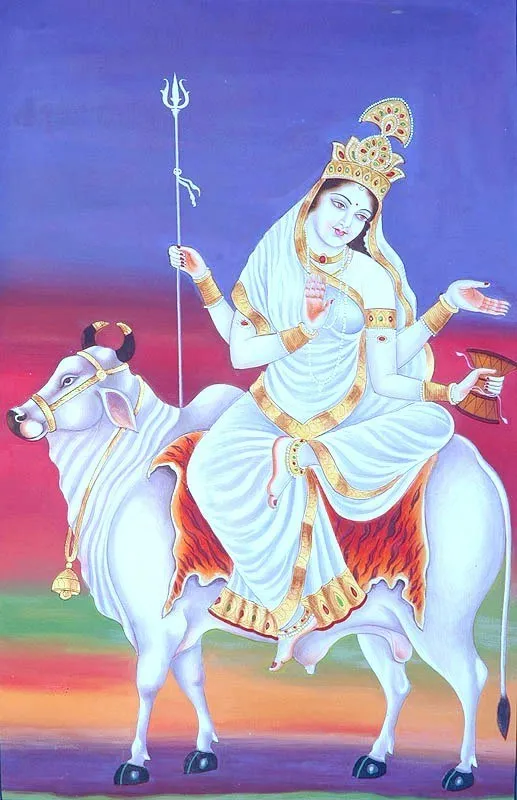 One of all nine forms of Devi Durga is worshipped every day in Navaratri. The first form of Maa Durga is Shailputri, who was born to the King of Mountains. "Shail" means mountain and "putri" means daughter. Hence, she is called Shailputri – the daughter of mountain. Maa Shailputri, an absolute form of Mother Nature, is worshipped on the first day of Navratri. She is also referred to as Goddess Parvati, the consort of Lord Shiva and mother of Lord Ganesha and Kartikeya. The image of Maa Shailputri is a divine lady, holding a trishul in her right hand and lotus flower in her left hand. She rides on Nandi, a bull.
Maa Shailputri is the goddess of the muladhara chakra or root chakra, and upon awakening this Shakti one begins their journey to spiritual awakening and to their purpose in life. Without energising the muladhara chakra one doesn't have the power and strength to do anything worthwhile. It is said that one should worship Maa Shailputri to make full use of the precious human life. Therefore, this Avtar of Goddess Durga is worshipped on the first day of Navratri.
---
Chant This Mantra to Worship Maa Shailputri
वंदे वाद्द्रिछतलाभाय चंद्रार्धकृतशेखराम |
वृषारूढां शूलधरां शैलपुत्री यशस्विनीम्‌ ||
Vandē vāddrichatalābhāya candrārdhakr̥taśēkharāma |
vr̥ṣārūḍhāṁ śūladharāṁ śailaputrī yaśasvinīm‌ ||
Navratri is a special occasion. A time for new beginnings and offering your dedication and reverence to the Goddess Shakti. This Navratri, bring home and institute a Meru Prusth Shree Yantra – a beautiful, divine symbol of the blessings of Goddess Lakshmi herself.
With Ganesha's Grace,
The GaneshaSpeaks Team
---
---
Get 100% Cashback On First Consultation