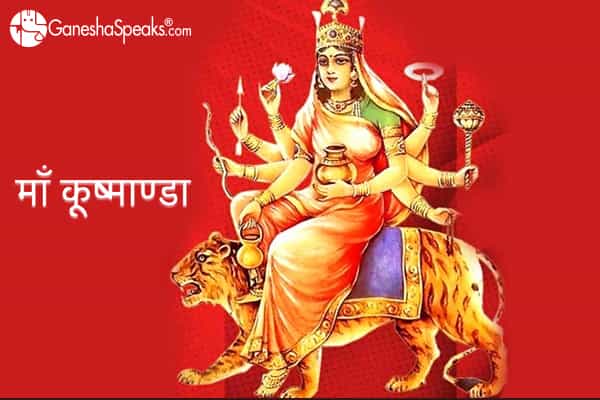 (Image Source: Internet) 
Maa Kushmanda Resides In The Inner Portion Of The Universe 
The fourth avatar amongst the Shakti Roopas is Maa Kushmanda. She will be worshipped on the fourth day of Navratri i.e. 12th October 2018.  The name  Kushmanda means a little warm cosmic egg, which has originated from the following words. Ku means Little, and Ushm means Warmth, Heat or Energy, whereas Anda means the Cosmic Egg or Universe. Maa Kushmanda resides in the inner portion of the universe or Surya Lok, and she radiates a solar aura. It is believed that when only darkness prevailed all around, Goddess Kushmanda created the universe with her Sankalp i.e. resolving power. 
Maa Kushmanda  Likes Pumpkin As A Sacrificial Offering 
As per the religious scriptures, during the ancient times, Maa Shakti created this universe as an Anda which means cosmic egg, just by flashing a splendid smile. Bhimaparvat is the abode of  Maa Kushmanda. She is also known as Ashta Bhujadhari – the goddess with eight arms. Maa  Kushmanda holds a kamandalu, bow, arrow, lotus, a jar of nectar, discus, and mace in her seven hands, respectively. Whereas, there is a rosary (japa mala) in the eighth hand, which is capable of bestowing the eight Siddhis and nine Nidhis. Lion is the vehicle of Goddess  Kushmanda. In the Sanskrit language, the word Kushmanda refers to a Pumpkin, as she likes it the most, as a sacrificial offering. The grace of the Goddesses can overcome all sufferings.
You can win her special grace, if you buy and worship the Lagna Vighna Yantra Golden Plated
. 
Kushmanda Goddess Bestows Long Life, Popularity And Strength 
On the 4th day of Navratri festival 2018, the mind of the worshipper enters the Anahata Chakra, wherein he/she should remain focused. Just by worshipping Maa Kushmanda, the devotee can get rid of all his/her ailments and sorrows. Moreover, he/she is blessed with a long life span, popularity, strength and good health. Our life should see all round progress. For that to happen, we need to know our future in all areas.
You can know it and succeed in life if you buy the Detailed Life Report
.
The Mantra And Other Facts About Maa Kushmanda: 
Maa Kushmanda Dhyan: Sura Sampoorna Kalasham Rudhira Plutameva Cha Dadhanaa Hastapadmabhyam Kushmanda Shubhadasthu Me. 
Ma Kushmanda Mantra: Om Devi Kushmandaye Namah. (Chant it 108 times). 
Colour of the fourth day: Orange. 
Prasad of the fourth day: Malpua and Doodh Paak
Governing Planet: It is believed that Goddess Kushmanda provides direction and energy to the Sun. Hence God Sun is governed by Goddess Kushmanda.
With Ganesha's Grace,
Acharya Agastya
Subscribe Our Newsletters